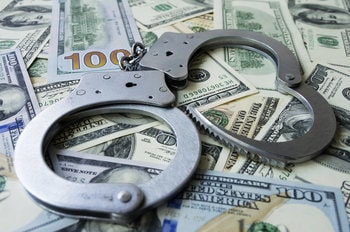 Mortgage fraud occurs when a potential homebuyer, seller, or mortgage lender omits important facts or provides false information to complete a mortgage transaction.
When you can only complete a deal if everyone involved doesn't know pertinent details, it's probably fraudulent
If you misrepresent data the lender requests, or "forget" to provide information you know matters, you may be committing fraud
If a lender pushes you out of your comfort zone or asks you to sign blank forms, there may be fraud involved
Unfortunately, the increasing demand for homeownership and higher home values may be fueling a rise in mortgage fraud. While there are shady lenders out there, the FBI says the "vast majority" of mortgage fraud is perpetrated by borrowers against lenders. You want to avoid being either a perpetrator or a victim.
Types of mortgage fraud schemes
Here's a brief overview of some of the most common types of mortgage fraud schemes.
Employment income fraud
Sometimes, applicants report false income information to get a bigger loan or a better deal. They may even bring fake W-2s or pay stubs to support their claims. It's a red flag to lenders if you claim a high income on the application, but have few assets to back it up. Or if your job title doesn't match your income. Home-based businesses or ride share drivers don't typically earn six figures. And if you say you earn $200,000 a year but have $7.57 in the bank, you'll arouse suspicion.
To catch fraudulent borrowers, lenders usually require you to sign a form 4506-T, which allows them to verify your income with the IRS.
Occupancy fraud
Some mortgage applicants claim that they plan to use the subject property as a primary residence when their true intention is to rent it out. They may do this to get a lower interest rate, put less money down or use a government-backed loan. (Most government-backed home loans can only be used to purchase a primary residence.)
It's suspicious to lenders if you claim you're buying a primary residence if you already own a home. Especially one nearby, and it's not listed for sale or rent. If you call it a primary but then fix and flip it, the lender can pursue you for committing fraud.
Home appraisal fraud
Home appraisal fraud means inflating the appraised value of a property. It requires the cooperation of at least one insider (an appraiser and possibly someone a lender), and you may be a victim if you're not aware.
Fake renovations or key missing data on the appraisal report are signs the most common signs of home appraisal fraud.
Flipping fraud
Flipping is a close relative of appraisal fraud. There is nothing wrong with buying a house, quickly improving and reselling it for more. The fraud occurs when it is bought and resold by one or more "straw" buyers to establish a falsely higher value. The fraud deceives the final, innocent buyer. There may be an appraisal fraud in there as well.
Straw buyers (fake buyer fraud)
Sometimes an applicant with good credit hides the identity of the real buyer. In this case, the real buyer could not qualify for a mortgage, so the "straw" or fake buyer gets the mortgage who would not be able to qualify for the mortgage. Once the home sells, the deed of the property may be transferred to the actual borrower. The fake buyer may be a victim of identity theft and have no idea his or her name, credit, and financial information was used to commit fraud.
Related: How to Use a Gift for Your Down Payment
Protect yourself against mortgage fraud
These tips can help you reduce your risk of mortgage fraud and ensure your transaction is legal and safe.
Never lie on a mortgage application
Make sure that all the information you provide on a mortgage application is 100% accurate. If you are caught lying on a mortgage application, your lender could demand that you repay the entire loan immediately or foreclose and take back your home. The FBI may also get involved and charge you criminally.
Stay away from aggressive lenders
Beware of sellers who try to force you to use their lender, agent or appraiser. Look out for lenders contacting you with unsolicited offers. This is different from you requesting rates and receiving offers in response to your inquiry. Don't work with anyone who pushes you to fudge facts or asks you to sign blank or incomplete paperwork. Don't give your private information to any lender until you decide to apply. And if you don't receive your federally-mandated disclosures within three days of application, cancel your loan and look elsewhere.
Related: Fired! Why Your Mortgage Lender Might Cancel Your Application
Understand the documents you sign
Be cautious when you sign mortgage documents. If you notice a document is blank or has questionable or inaccurate data, do not sign it. if you feel uneasy, find another lender. Make sure you get the Loan Estimate form within three business days of applying for a loan. That form protects you from surprise charges or increased rates.
Get an appraisal
If you're borrowing from a reputable mortgage lender, it will require a home appraisal to protect itself. If you're paying cash, getting seller financing or being pushed to use a specific lender or appraiser, get your own evaluation. It's several hundred dollars, but better that than a house with thousands (or hundreds of thousands) less than you expected.
Get an inspection
A lot of damage can be overlooked. or hidden by sneaky sellers. Get an inspection, and choose the inspector yourself. Don't let the seller, his or her agent, or anyone else dictate who you use to check out the safety and livability of your home.
Check out title history
If you finance your home with a reputable mortgage lender, it will order a title report. The lender will require you to buy a lender's title insurance policy for its own protection. You may want to purchase an owner's policy as well. The owner's policy is cheaper and protects your equity. The lender's policy protects the mortgaged amount. A title search should turn up most flipping fraud and possibly appraisal fraud as well.
Fraud: Don't go there
Mortgage fraud is a a serious crime that can lead to hefty fines and prosecution. It's important to be careful throughout the entire homebuying or selling process. If something seems off in a home purchase or sale, investigate it further. Because anything you sign becomes your responsibility.
Related: Is it mortgage fraud if I add someone to my property's deed or title?
Print page