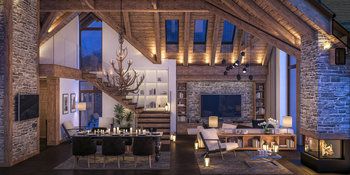 If you want a house that's truly your own in design, preferences, and personality, your best option is a custom home. Building a unique home from scratch requires more than careful planning, a good architect, and a reputable builder. Unless you're paying all cash, you'll need a home construction loan.
Custom home buyers can pursue several different funding options. It's wise to weigh your choices carefully and determine the best financing solution for your needs.
The pros of a custom home
Alejandro Braun, Realtor with Rigel Realty, LLC in San Antonio, says a truly personalized home best reflects your tastes and style.
"Building a custom home allows you to truly get everything you are looking for in a residence. But it usually comes at a higher price and with a longer wait," says Braun. "When builders construct a spec home or build a home from set floorplans in a subdivision, they obtain materials for multiple houses in bulk. True custom builds involve specialty items, so higher costs and longer build times are often associated with the customizations."
Bill Packer, executive vice president and COO of Parsippany, New Jersey-headquartered American Financial Resources, Inc., agrees that a custom home is ideal if you can afford one.
"With a custom-built home, you can work with the architect and the builder to create a one-of-a-kind floorplan and living space that appeals to your exact needs," says Packer.
Finally, building a home can provide instant equity if your build costs are lower than the completed value of the project.
And the cons
A custom home project is not for those in a hurry. You may have to purchase a lot, choose your materials and floorplan, hire an architect and a builder and then wait for construction. It's also not for the faint of heart. Building a home can be stressful because delays, cost overruns and surprises are not uncommon.
What's more, you may need up to three different kinds of loans when it's all said and done: a land loan, a new home construction loan, and a mortgage loan (also called a permanent loan or "take-out" financing) for the finished product. These are among the reasons why financing a custom home property can be complicated.
Related: Is it Better to Buy a New or Used Home?
Financing the lot
"Unless you already own a plot of land outright, expect to pay cash for the property, or plan on building your custom home right away, you'll need to get a lot loan," notes Michael Sims, president of Sims Luxury Builders based in Houston.
A lot/land loan buys you time. It's ideal for those who don't yet know when they'll start construction on their custom home.
To qualify for a land loan, the lender will need to know your plans for the lot. It will also require a down payment (often greater than 20%), proof of income and your credit history.
"Lot loan terms vary from two to 20 years and can have floating or fixed rates," says Sims.
If you are ready to build your custom home relatively soon, you may not need to apply for a separate lot loan.
Financing the construction of your custom home
The building of your custom house will require plenty of money. That's where a new home construction loan comes in handy.
"Construction loans are of short duration - usually 12 to 18 months, based on the scope of the project. They often require a down payment of 20% to 30% of the total loan cost," says Sims. "And the interest rate may be higher than you'll get for a mortgage loan, depending on your creditworthiness."
There are two main types of new home construction loans: a standalone construction loan and a construction-to-permanent (C2P) loan. If you have a lot loan, the C2P loan will pay off the lot loan. It also incorporates funds for constructing the home and then converts to permanent (aka, "take-out") financing.
Note that not every lender or bank offers new home construction loans. So your choices may be more limited than if you were shopping for only a permanent mortgage loan. Be aware that the lender will likely require more documentation, charge higher rates, and take longer to approve and close a construction loan.
Related: Think you're ready to build a home from scratch? Take this quiz.
The standalone option
A standalone construction loan is a short-term loan to finance the building process. Once construction has finished, the loan must be paid off completely. If you lack the money to do this, you'll need to apply for a separate permanent mortgage loan.
With a standalone construction loan, you'll have to pay two different sets of closing costs: one for this loan and one for your take-out financing.
"Note that a lender providing a standalone construction loan may want to see evidence of preapproval for your mortgage loan before approving this loan," adds Sims.
The C2P option
A construction-to-permanent loan funds both the building project and the finished home. It automatically converts to a standard mortgage loan (usually at a lower interest rate) once construction has completed. You may be able to incorporate a lot purchase or pay off an existing lot loan as part of the package.
This means you don't have to go through the loan application more than once. Plus, you'll only have to pay closing costs once. But the drawback is that you may forfeit the ability to negotiate the lowest rate for each stage of the financing.
"Payments may be higher on this loan before it converts to a mortgage loan, as well," cautions Sims.
The OTC option
You can borrow for home construction with a government-backed loan. The FHA, VA and USDA all back one-time close, or OTC mortgages. These programs allow you to finance the lot purchase (if needed), construction, and permanent mortgage loan with a single mortgage.
These loans are not always easy to find, but the payoff is that the down payment requirement is very low - from zero for USDA and VA loans to 3.5% for FHA.
Plus, you can take advantage of the FHA's more lenient qualifications. This means you may not need as high of a credit score (as low as 580), and your debt-to-income ratio can be as high as 50 percent.
"As with all construction loans, you'll want to shop around carefully for an OTC loan and understand what the costs are and what the interest rate will be," suggests Packer. "Look for a lender who has expertise with custom home construction lending and can help you deal with any issues that may occur during construction."
Compare mortgage programs here
Print page