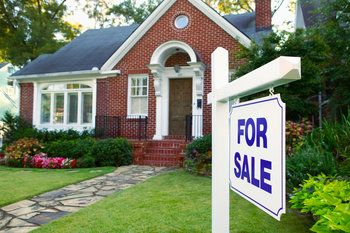 Should I buy a new home or a used home? It's a question confronting all homebuyers.
While there are some advantages of buying a new house, a strong case can also be made for purchasing an older property. For buyers who are on the fence between buying a new or existing home, multiple factors should be considered, including maintenance, cost and customization.
What's more, homebuyers should consider whether a property may maintain its value. This is especially important for those who think they may move again in a few years. One way to gauge whether a property is likely to retain value is to research historical home values in the area. While there are no guarantees for future home prices, checking trends and seeing how well home prices have recovered since the recession can help you decide whether a home is a good investment.
As for financing, the same mortgage products are available for both new and existing properties. The mortgage application process is the same as well. The only exception is if you plan to have a home built from scratch. In that case, you may need a construction loan which can have a higher interest rate and a higher down payment than a mortgage, particularly at today's mortgage rates.
With loan options roughly the same, the difference between old house and new house purchases comes down to the following items:
4 advantages of buying a new home
New home sales make up a relatively small portion of the real estate market. In December 2018, there were 44,000 new home sales in the United States, according to the Federal Reserve Bank of St. Louis. That compares to 3.77 million existing home sales during that same period.
Those who choose to buy a new home may do so for the following benefits.
Ability to customize a home. Buyers who are building a house from scratch have complete control over a home's layout, colors and features. However, even those who are buying a home that is already largely built may have the opportunity to select flooring, wall colors and trim items.
Fewer surprises and lower maintenance initially. Buying a new home means there isn't a chance of discovering a previous homeowner covered up water damage or performed faulty electrical work. Because everything is new, homeowners also shouldn't have to worry about replacing the roof, updating the plumbing or making other major repairs for many years.
Coverage through a builder's warranty. A new home isn't immune from problems, but builders often stand behind their work by offering warranties that may run from one year for siding to ten years for major structural defects. Homes purchased through Federal Housing Authority (FHA) and Veterans Affairs (VA) mortgage programs are required to meet certain minimum warranty standards. While builder's warranties can vary significantly in length and scope, they typically provide a level of protection not available in existing home sales.
Modern conveniences and energy efficiency. Old homes were built for a different era. Closet space and electrical outlets may be sparse. Plus, they weren't built using today's energy efficient materials and standards. A new home may be more comfortable and convenient for today's modern lifestyle.
4 advantages of buying a resale home
So are new houses better than old houses? Not necessarily. There are many good reasons to select an existing property rather than a brand new house. Here are four advantages of buying a resale home.
More house for the money. Although there are exceptions, older houses generally cost less than newly-built homes. The average cost of a new home in December 2018 was $377,000, according the Census Bureau, while the National Association of Realtors says the average price of an existing home was $293,800 at that time. What's more, in many cases, existing homes are larger than new homes selling for the same price.
Better bones. Older homes were built with materials that aren't often used today. For instance, existing properties may be framed on heavy, dense timbers which can provide a more solid foundation than modern lumber. Plaster and lathe walls, although considered undesirable by some, tend to be more robust and noise resistant than drywall. While there is always a concern that an old house could have outdated electrical or plumbing systems, its underlying structure is often timeless and built to last.
Charm and character. Along with quality craftsmanship, older homes provide a living experience that is hard to replicate in new properties. Existing homes may have hardwood floors, thick molding and other features that can be cost-prohibitive to put in a new home.
Walkable neighborhoods. Those who want to live within walking distance of stores, schools and parks may have to go with a used home. Older neighborhoods typically feature sidewalks and short blocks that make it easy to get around without a car. Meanwhile, new construction is found most often in suburban subdivisions where driving everywhere is the only choice.
Whether it's better to buy a new or used home depends upon what is most important to you and your family. Find out how much house you can afford and if you don't like the number, remember you can always rent instead.
Print page