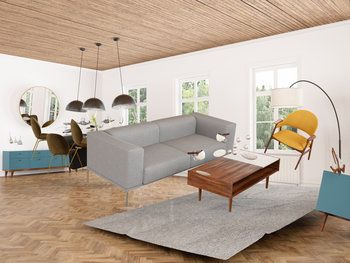 Is it possible today to flip houses for a living? Many experts say yes.
How much can you make flipping houses for a living? Potentially, a lot. ATTOM Data Solutions reported that home flipping slowed during the second quarter of 2020, but the average flip netted the seller a gross profit of $67,902, a return of 41.3%. So, yes, you may be able to make a living flipping houses. If you have a clear head and a thick skin.
How to flip a house
The first thing professional investors will tell you is that you make your profit when you buy a house, not when you sell it. That means a lot of upfront research and legwork. You may look at 50 properties before you find one that pencils out. Be committed and patient.
How do you know a good buy from a poor investment? The best candidates for a good flip tend to have these things in common:
Good location. That means checking out public records for home sales. Look for rising sales, economic growth, and increasing prices. The idea is to catch an up-and-coming neighborhood early. Avoid high crime areas and those with prices going down and many homes on the market. The worst home in a good neighborhood is better than the best home in a not-great neighborhood
Improving schools. Homes in areas with great schools tend to hold value better, but they can lose value if the schools slip. Neighborhoods with improving schools have some upside
Low crime rates are desirable. This data is publicly available online
Compare the price of the property you're considering with recent sales prices of non-distressed properties nearby. You want a substantial discount on those similar homes to make fixing and flipping viable
If the deal still looks good, get an inspection or have a knowledgeable friend check out the place to see if the home is basically sound. The ideal candidate is a home with issues that are primarily cosmetic or just not up to the neighborhood's standards. If all it takes to bring a home in line is a paint job, landscaping or a garage addition, you might have a good flip possibility
Consider HUD Homes, which are FHA foreclosure properties that may be offered at deep discounts
Get estimates for the work needed, and add 20% because everything always costs more than expected. If your property still pencils out, it's time to move forward
Once you've settled on a property to buy, you'll need to complete the purchase. If you're buying at auction (pretty risky for a first-timer), you will likely need cash or at least financing that's preapproved and can close quickly.
Fixing before flipping
Unless you're doing the work yourself, you'll need a trusted team to repair, renovate and upgrade the curb appeal of your investment. Make sure you or your builder doesn't run afoul of local zoning and building codes. Pull permits (and factor their cost when estimating your potential profit)
Be prepared to hold the home for months if necessary. According to ATTOM Data Solutions, the average flip took 177 days to sell
Selling fast may get you a higher rate of return than holding out for a bigger price. If you make $60,000 by waiting a year to sell, when you could have flipped three homes in four months, each at $40,000 ($120,000 a year), you're not making the best decisions
Keep careful records for tax purposes. Your profit equals your sales price minus selling expenses, improvements and acquisition cost. Don't pay more taxes than necessary (and you may be able to defer tax on profits with 1031 exchanges)
Make sure you have enough of a financial cushion to ride out dry spells. If 177 days is an average, that means some areas or homes are taking longer. Don't end up in foreclosure because you didn't expect to be making so many mortgage payments
If you don't have ice water in your veins and a lot of cash or access to credit, flipping houses might not be right for you.
How much can you make flipping houses?
That depends on what it costs to acquire, fix and sell a property. Costs include:
The amount you pay for the property
Financing costs, if you borrow to buy
Opportunity costs, if you pay cash (what you could earn if you invested that money elsewhere)
Repair and renovation costs, including permits
Selling costs, including real estate commissions
Utilities, HOA dues, maintenance, insurance and other holding costs
Understand that you may have to hold the property longer than expected, so be prepared for ongoing costs or to accept a lower price. Always have an exit strategy.
So if non-distressed homes in a neighborhood are selling for $200,000, and you can pick up an ugly duckling for $100,000, how much can you make?
If your repairs and upgrade estimates come to $50,000, and you add 20% for contingencies ($10,000), you've got $40,000 potential profit to play with. If your selling costs include $12,000 for real estate commissions and another $2,000 for seller-paid costs, your potential profit is down to $26,000.
Check "average days on market" in your area. If it takes you two months to complete the improvements, six months to sell the house, and costs $1,000 a month to carry it, subtract $8,000 for carrying costs. Your potential profit is now just $18,000 after eight months. Many experts consider anything under $20,000 unacceptable.
But if homes are selling quickly, and your total time to renovate and sell is three months, your potential profit is $23,000. Assuming that you could do that four times a year (once every three months), your annual profit would be $92,000. So how much you make depends on how quickly you can turn over the homes and how many flips you can manage in a given time.
Flip houses for a living: you need credit
To get into the home-flipping business, you need cash. Or access to cash. And the less you pay for cash, the greater your profit. There are plenty of private money lenders who will lend based on the property value, regardless of your credit score. But they charge several points upfront and double-digit interest rates.
High interest rates may not matter much if you have a property that you can fix and unload fast. But it's better to pay less if you can. And for that, you need good credit.
Check your credit reports at www.annualcreditreport.com and make sure your history is accurate. Or apply for a mortgage preapproval before you go shopping for property. If there are issues, your mortgage lender will let you know. You'll get your credit scores, and your lender may even be able to help you correct errors on your report
Look for the "reason" codes on your credit report. Those will tell you the main factors that pulled your score down. Correct those if you can. If your utilization ratio (amount of credit used versus amount of available credit on your cards) is over 30%, pay down your revolving balances or transfer them to a personal installment loan. If your history is splotchy, put your accounts on autopay and watch your score rise as your balances fall
If your problem is that you use very little credit, you can improve your score by having friends or family with good credit add you as an authorized user to one or more accounts. You don't use the accounts, but their good history will transfer to your credit report and score
If you carry a $150,000 balance for six months, the difference between paying a 5% and an 8% rate is almost $2,000. Your credit score and interest rate matter.
Related: Investing in Real Estate Now
How to flip a house: you need cash
When you buy houses as investment property, you don't get 3% down payment options or the government-backed mortgages that occupying buyers get. In general, you need at least 20% down to buy an investment property.
You either need ready cash to purchase the property outright, a line of credit you can tap to do the same thing, or a pre-approved mortgage for an investment property. Other options include owner financing or assuming a government-backed loan. But those opportunities don't come up very often.
You may be able to set up a personal line of credit or get a personal loan before you go shopping for a property. That might cover the purchase price or at least beef up your savings so that you'll have a decent down payment. You also need enough cash or credit to cover the repairs and other costs. Alternatively, if you are very confident of your flipping ability, you may want to finance the new purchase by borrowing against the equity in your personal residence.
Related: Home Equity for Investment Property Down Payment
Repairs and renovation: faster is better
You know why the stars of those home-flipping shows are always on a crazy-tight deadline? It's not (just) to amp up the drama. It's because every day that the property is under renovation or listed for sale reduces the potential profit. So don't jump into a flip without your team ready to work, your money burning a hole in your pocket and your sales strategy in place.
Do you plan to use a full-service agent? Get him or her on board right away. This person can generate excitement about your impending listing before your renovations are even finished. Or are you a DIY seller? If so, you want your signage, fliers, web site and advertising in place as far in advance as possible.
And there are plenty of discount real estate brokerages offering a range of services from multiple listing service placement to marketing and signage. Finally, there are auctions. While most view real estate auctions as the way to find distressed property, sellers are increasingly using them to flip finished homes quickly and move on to the next project.
Because if you can flip a lot of houses in a year, you don't have to make as much on each one.
Make a living flipping houses in 2020
If you have an appetite for risk, a healthy bank balance and a strong stomach, you can make a good living flipping houses. Even in 2020 as the US housing market continues to recover. But flipping houses is a lot like painting houses -- a good result depends more on the preparation than it does the actual execution.
See mortgage rates for investment property now
Print page