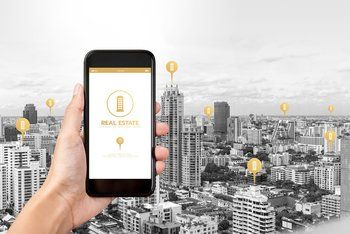 When it comes to buying a home, knowledge is power. And technology can get you more knowledge in less time. From the best real estate apps for homebuyers to recent price trend data, the newest aids prepare you to buy a home in today's market.
Apps for homebuyers
Technology can give homebuyers a big assist. Mobile apps for homebuyers are huge time-savers when you need to move quickly on a home purchase.
Here are our picks for the best real estate apps:
Homesnap. This app features up-to-date listings and information on local real estate agents. And it adds a couple of key elements. You can receive alerts on developments relevant to your search, like new listings and price changes. And in-app messaging lets you organize communications about your search with family, friends and your agent.
Realtor.com Real Estate app. In addition to comprehensive listings and alerts, this app offers practical features to help you coordinate your search. You'll see open house times and driving directions to those events. For participating listings, you can instantly find details on a property just by snapping a picture of the for-sale sign in front of the house.
Redfin. This real estate listing information source updates every five minutes. You can filter your search by your must-have features. And you can share information privately with other members of your search party, like your family and your real estate agent.
Trulia. Trulia's app offers listing details and alerts on relevant developments. A unique function is Trulia's mapping overlays, which offer information about different neighborhoods. This includes information on crime, schools and neighborhood features.
Zillow. Along with comprehensive listing and alerts, Zillow offers a "Zestimate" feature which frequently updates estimated home values. That can help you compare the asking price on a particular property with pricing trends on nearby homes. Zillow also provides lists of local real estate agents.
Related: Buying a Home in the Fall
Online homebuying information
While mobile apps are very popular, many also like getting their home data from websites. The pictures are bigger, for one thing. And you can create a file for each property, if you want, and combine information obtained from multiple sites. Here are some of those helpful sites.
Neighborhood information
You can find out a lot online, like local school quality and demographics. Here are some good sources of information:
Other sites, like Sperling's Best Places offer fun information and demographics. Sperling's lets you search by zip code for data like unemployment rates and cost of living. But you can see which locations are best for pet owners, singles, the "chillest" or "manliest" locations.
Property listings
Before driving around, many test-drive neighborhoods from home. It's easy to view 10 virtual tours in less time than it takes to put on a coat and leave walk out the door.
Online property searches let you see where you can afford to live and what you can expect to find there. It saves time and lets you avoid irritating homeowners and real estate agents
Related: Buying a Foreclosed Home
Get property information
Listings are interesting, but actual sales price data tell you if a neighborhood is up-and-coming or failing to thrive. You can find sales data and trends online in addition to listings.
Checking out current listings is also helpful. You can see average marketing time, supply and demand, and find that holy grail recommended by investors, the cheapest house in the best neighborhood.
One caution: some real estate sites have a "Contact Agent" link you can click for information about a specific property. But often you get a lot of agents who bought the right to receive your call but who are not the listing agent. You're better off looking for the listing agent and contacting him or her directly.
See public records
Property sales create public records. And most counties list property tax payments, assessed value, ownership and previous sales online. You can see exactly what the seller paid, and when.
You can also discover if owners are not current on their property taxes or in default on their mortgages - and possibly motivated sellers.
Some assessors' sites provide pictures, floor plans and zoning. So if you don't want to be around horses, multi-unit buildings or light industry, you can avoid it.
The assessor sometimes provides a kind of mini appraisal - noting the home's construction quality and fair market value (FMV). Understand that values fluctuate, and that the FMV is not an appraisal.
Related: How to Buy a HUD (FHA Foreclosure) Home
Find the best mortgage online
If you like the free coffee at your local bank, drop in and get a mortgage quote. But don't forget the savings you can find shopping online (and maybe sipping a latte) at home.
Get mortgage quotes online by completing a simple form. Then compare your offers, get pre-approved for your home loan, and go shopping. A preapproved mortgage is kind of like having a mortgage credit card in your wallet.
Today's technology has removed a lot of the hassle from the homebuying process. Today, you can make informed decisions, save time and drink better coffee when buying a home.
Print page