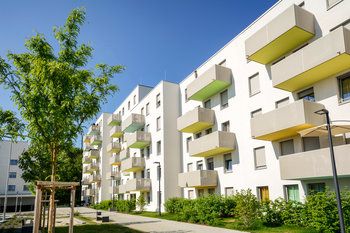 Finding affordable housing markets isn't easy. Want to know what often makes home affordability a challenge? That's right -- it's saving up enough for the down payment. In fact, a new study by Unison reveals that it takes 14 years, on average, to save for a 20% down payment on a median-priced home.
Find mortgages with low down payments
Affordable housing markets don't require 20% down
Many people believe that you need 20% down to buy a home. But that's just not the case. You may need nothing. Or just 3%. And for many, even that can come from a gift, an employee benefit, a down payment assistance program, or an approved loan.
And if you're aiming to buy a home, there's some good news. The study identified key affordable housing markets where you can potentially a down payment quicker.
What the research found
The Unison study found that these are the most affordable housing markets* -- ones where you can save up for a down payment quicker:
Detroit (7 years to save for a down payment)
Witchita, Kansas (11 years)
Indianapolis (12 years)
Kansas City (12 years)
Columbus (12 years)
The least affordable cities* are:
Los Angeles (43 years)
San Francisco (40 years)
Honolulu (40 years)
New York City (36 years)
Miami (36 years)
*Assuming a savings rate of 5% of your gross income per year
Analyzing affordable housing markets
Brodie Gay, vice president of research at Unison, says this report highlights a growing problem.
"Nationwide, it takes 14 years to save for a 20% down payment on a typical home as a typical wage earner. That means many prospective millennial home buyers won't achieve the American dream until well into their forties," says Gay.
Yet more affordable markets, like the five listed above, at least provide buyers with better options.
"Home affordability is a balance between strong incomes, sufficient savings, and low home values. Areas that have historically offered fewer economic opportunities tend to have an excess supply of low-cost housing. Yet what's interesting about these most affordable areas is that they'll likely only stay affordable for a short period of time," Gay notes.
In other words, act soon if you can, before prices even in the affordable metros go up.
Bryan Vance, a Detroit Realtor, says it's worth considering relocating to a less expensive market if you want to take advantage of home affordability.
"Our Detroit housing market is still a relatively good buy and extremely affordable compared to other areas of the country, especially for a metro area," says Vance.
Related: Pros and Cons of a Large Down Payment on a Home/p>
Making any market more affordable
But you don't necessarily need to pick up roots and move out of state. If you want to put down a lower down payment, there are choices available if you're eligible.
"Today, being required to pay a 20% down payment, even for conventional loans from Fannie Mae or Freddie Mac, is a rarity. There are other options," says Mike Scott, a senior mortgage loan originator in Dallas. These include:
United States Department of Agriculture (USDA) loan. Eligible candidates: Low- and moderate-income applicants who agree to live in eligible rural areas. Minimum down: 0%
Veterans Administration (VA) loan. Eligible candidates: Service members, veterans, spouses, and other eligible beneficiaries. Minimum down: 0%
HUD Good Neighbor Next Door discount. Eligible candidates: Law enforcement officers, pre-Kindergarten through 12th-grade teachers, firefighters and emergency medical technicians willing to live in revitalization areas. Minimum down: $100.
Freddie Mac Home Possible mortgage. Eligible candidates: Those with a FICO score as low as 620. Minimum down: 3%
Fannie Mae HomeReady mortgage. Eligible candidates: Those with a FICO score of at least 620. Minimum down: 3%
FHA loan. Eligible candidates: Those with a 580 or higher FICO score. Minimum down: 3.5%
Related:Is it Better to Buy or Rent (How to Decide)
Owning vs. renting
"Why wait until you have 20% down? In many markets, the cost of renting is as high or higher than the cost of buying, even with a reduced down payment," adds Scott. "In the Dallas-Fort Worth area, the cost to rent typically runs about $1.50 per square foot. The cost to buy a home, even with a 3.5% FHA loan, often runs only 90 cents per square foot, including taxes and insurance."
Want to get your foot in the door of a home of your own? There's another option besides these low-to-no down payment loans.
"Consider a piggyback mortgage loan. With this, you actually take out two loans," says Logan Allec, a Santa Clarita, California-based CPA and owner of Money Done Right. "The first loan is for 80% of the home's price. The second loan is for 5 to 15% of the home's price. The remaining 15 to 5% represents your down payment."
Print page