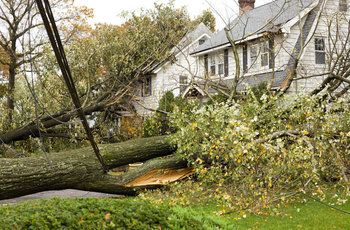 Updated by Craig Berry
If you purchase a home, your mortgage lender requires you to buy homeowner's insurance. This protects its collateral (your home).
What happens to your mortgage when your home is destroyed? You may qualify for forbearance, but ultimately remain responsible for your loan. If your home has been seriously damaged or destroyed, your insurance company releases a check made out to both you and your mortgage lender to pay for the necessary repairs.
You may need your mortgage lender's cooperation in order to cash the check and get the money for repairs. But what if your lender isn't quick to endorse the check? Can a mortgage company keep your insurance check?
How to get a mortgage company to release your insurance check
Getting your mortgage company to release insurance proceeds isn't always easy.
According while Michael Northagen, Vice President with Wells Fargo Home Mortgage in Minneapolis, Minn., "Borrowers who are current on their payments should experience the same process whether their property was entirely destroyed or not. Even borrowers who are in default normally have their insurance claim handled the same way, as long as they are working with the lender on a repayment plan."
1. Contact your lender. "If homeowners haven't contacted their mortgage lender or servicer shortly after their home was damaged, receipt of a check made out to both lender and homeowner should trigger you to act," says Northagen.
Northagen continues, "The desire of the [mortgage] lender is always to have repairs made to a property." If the insurance claim is less than $15,000 and the loan is current, the servicer usually endorses the check and releases the funds to the homeowner with minimal documentation such as a photo ID and a copy of the insurance adjuster's worksheet.
"About 60 percent of the time, this is how claims are handled," explains Northagen.
2. Determine whether insurance proceeds will be available in lump sum or in installments. Northagen explains that about 40 percent of claims are larger than $15,000 and require monitoring by the mortgage lender.
"Typically, for a larger claim, the lender becomes more intimately involved with the repair process," he adds. "The lender would need to see the contractor's estimate and a W-9 document for reporting purposes. Under these circumstances, the lender would put the insurance funds in escrow after getting the borrower's endorsement and then would release the funds in three installments."
3. Facilitate smooth repair inspections. On a $30,000 claim, for example, the first $10,000 would be given to the homeowner to pay the contractor when the claim is first documented, according to Northagen. The lender then pays for an inspection when the work is approximately 50 percent complete and releases the second installment if the inspection is satisfactory. The final payment is made after another inspection passes, ensuring that the repair is complete.
Check on repair progress regularly and arrange to be present when your lender inspects the work. If issues are identified, agree on an approach and timeline for their resolution, then attend any subsequent inspections.
Mortgage company won't release insurance funds
Sometimes, your mortgage company holds your insurance claim proceeds. Mortgage lenders can and do hold insurance funds. Remember that your mortgage lender has a substantial investment in your home too.
If your mortgage was originated in the past two decades, the security instrument known as the mortgage is likely to have similar language that is specific to insurance claims and property losses.
As an example, here's what Freddie Mac says for Georgia Security Deeds:
In the event of loss, Borrower shall give prompt notice to the insurance carrier and Lender…
During such repair and restoration period, Lender shall have the right to hold such insurance proceeds until Lender has had an opportunity to inspect such Property to ensure the work has been completed to Lender's satisfaction, provided that such inspection shall be undertaken promptly…
Lender may disburse proceeds for the repairs and restoration in a single payment or in a series of progress payments as the work is completed.
If the restoration or repair is not economically feasible or Lender's security would be lessened, the insurance proceeds shall be applied to the sums secured by this Security Instrument, whether or not then due, with the excess, if any, paid to Borrower.
Unfortunately for some homeowners, your mortgage company can hold your check.
Mortgage delinquency can delay or deny insurance money
"If the borrower [in default] is still living in the home and is making progress toward repayment and the investor is okay with it, we will release the insurance benefits so repairs can begin," says Northagen.
"If the borrower is severely delinquent, we handle the situation on a case-by-case basis. We try to work with our customers, but ultimately, if the borrower is not cooperating and not returning messages or is no longer living in the home, the servicer may ask to have the insurance proceeds applied to the loan balance. However, this happens in a relatively small number of cases."
"Lenders have a substantial investment in the property, sometimes more than the homeowner, especially if the homeowner has made a small down payment," says Michael Barry, vice president of media relations for the Insurance Information Institute in New York City. Mortgage lenders have an equal right to the insurance check to ensure repairs are made, notes Barry.
Barry advises that homeowners who are having trouble accessing insurance funds go directly to their mortgage lender rather than to their insurance company. "It's better if you tell them what happened rather than them hearing it from the insurance company."
While it's rare, paying off mortgage delinquencies with insurance claims does happen. This is because when you take out a mortgage, you pledge your property as collateral. One option, if home damage is not too extensive, is to pay for repairs using a home equity loan, rather than making an insurance claim. This can reduce the chance that your homeowners insurance rates could rise as a result of making too many claims.
Print page