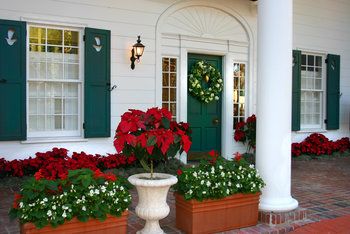 Updated by Craig Berry
Conventional wisdom says the holidays are the worst time of the year to sell your home. After all, there's no denying that winter isn't the peak real estate season.
Realtors, however, have a different opinion. With recent Federal Reserve moves, it appears mortgage rates may be firming, making it smart for buyers to lock in a favorable rate today.
Cynics may suggest realtors are eager to sell homes at any time of the year, regardless of the seasonal advantages and disadvantages for sellers. The arguments in favor of selling in the off-season are compelling, however.
According to Audrey Bowling of FIT Realty in Cartersville, GA, "The holiday season is the perfect time to sell your home because there are more serious buyers. There is also less inventory which means less competition for sellers. This puts the negotiating power in the seller's hands, versus in the spring when everyone lists their home."
Tips for selling your home in the winter
Homes often look their best during the holidays. The warmth that comes from a tastefully decorated home that's all dressed up for the holidays is undeniable.
1. Decorate but don't overdo it - Most homeowners agree that it's easier to make a house feel like home in the wintertime, but sellers should be careful not to get carried away with the décor. Too large or too many decorations can crowd or clutter your home, becoming more of a distraction for would-be buyers.
Another important, and sometimes overlooked consideration, is to avoid the possibility of offending buyers due to religious themes that aren't in line with theirs. Instead, a wise homeowner opts for simple winter decorations.
2. Hire a knowledgeable real estate expert - Having an expert involved when selling your home during the holidays can make all the difference. Reliability is just as important as any other quality when selling your home at this time of year. A reliable agent means someone who works hard for you and won't fall off the radar during Christmas or New Year's. Ask prospective agents about their vacation plans.
Ask your friends, family, co-workers or even your mortgage lender if they can recommend a great listing agent. Having someone who specializes in selling homes (as opposed to a buyer specialist) can help ease your stress and give you more time to enjoy the season.
3. Price your home to sell - Regardless of the season, always price your home realistically. This is another time where having a real estate expert can help. An over-priced home can lead to a stale listing and eventual price reductions. Pricing your home reasonably can attract multiple offers, potentially resulting in a bidding war and higher sales price.
Off-season home buyers "tend to be more motivated when they're looking to purchase in the winter season. Further, these buyers aren't as inclined to bargaining or haggling, so being too aggressive with your pricing can easily back-fire on sellers," Bowling says.
4. Get the best photos - The internet has no seasons. Today's buyers do the bulk of their home searches online, and this is especially true when the weather outside is frightful. This means your online listing and photos are more important than ever. If your home looks great in photographs, it's more likely to make a buyer's list of properties they'll want to view in person.
Be sure and speak with your agent about having photos that are recent. Out-dated pictures can suggest to buyers that your home has been on the market a long time.
5. Don't forget the importance of curb appeal - For most areas in the U.S. when the holidays roll around, trees have lost their leaves, and yards aren't as green. Maintaining the exterior of your home becomes even more important during this time.
Another important reminder is that bare trees can often expose your home more than usual. Touch up the paint, clean the gutters and spruce up the yard and front porch.
Don't forget about your potential buyer's safety during the winter. Make sure any stairs and walkways are free of snow, ice and wet leaves.
Faster loan approval during the off-peak season
Not only do home buyers that are home shopping during the holidays tend to be more motivated, they are also more likely to close quicker.
Faster loan closings are another great perk when selling during the winter months. For sellers who are in a hurry to sell their home, there's no better time for a quick sale than during the holiday season. Here's why:
Traditionally, the holiday months are slower for mortgage lenders. Slower months for lenders can be great for buyers. With fewer mortgage loans in their pipelines, underwriting turn times are often quicker.
More likely than not, mortgage lenders may have an extra incentive to not only get your buyer's mortgage loan closed quickly, but also offer exceptional levels of service. This is a win-win for both buyers and sellers.
Be sure to put these selling tips into action. In doing so, your home might just be sold before the New Year begins!
Print page