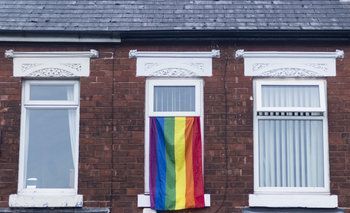 The LGBTQ community has tremendous buying power and is helping fuel the current housing recovery. But same-sex couples can still face housing discrimination. And LGBTQ mortgage applicants are less likely to secure loan approval and more likely to pay higher interest rates and fees.
Here's what you can do to fight housing and mortgage discrimination.
Housing discrimination: still a thing
Since 2013, the National Association of Realtors (NAR) has forbidden its members from discriminating based on sexual orientation or gender identity.
However, at least one study has found evidence of unconscious or conscious bias in mortgage lending. An Iowa State study discovered that same-sex partners were 73% more likely to be denied mortgage financing than similarly qualified heterosexual couples. Even though same-sex couples do not present a higher default risk.
One problem is that there are no expressly stated protections for the LGBTQ community at the federal level. HMDA (Home Mortgage Disclosure Act) data collection helps shed light on lending patterns that could be discriminatory. But HMDA does not collect information about sexual orientation -- only traits like age, gender, education level and race.
This means there is less pressure on mortgage lenders to implement anti-bias policies for LGBTQ borrowers. They can wrongfully decline same-sex couples' applications with little risk of punishment.
However, if you're wrongly denied a mortgage, you can appeal based on the Fair Housing Act. It prohibits discrimination based on gender. And if a man-woman couple gets approved, but a man-man or woman-woman couple with the same profile gets denied, that's gender discrimination.
There have been lower court rulings in favor of LGBTQ applicants that interpret the Fair Housing Act this way. But it has not yet become "no-brainer law," settled and definite. Individuals still find themselves fighting for fair treatment.
Related: Mortgage Discrimination: Don't be a victim
Housing discrimination: you know it when you see it
Discrimination happens in both rentals and home sales. Here's what to look for:
Mortgage lenders being unwilling to provide current rates or offering you higher rates
Real estate agents being "too busy" to represent you
Sellers suddenly saying their home just went off the market
You get worse service from a lender than heterosexual couples do
The rental property you want goes to someone else for no good reason
It is hard to prove discrimination in many cases when the landlord or seller has multiple offers or tenant applications. And, unless you want to monitor every offer a lender makes, it can be hard to prove discrimination there, too.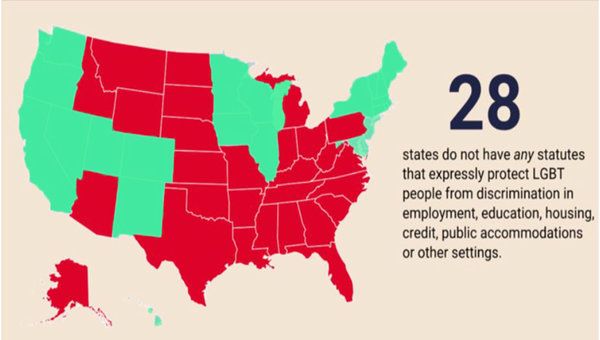 LGBTQ mortgage discrimination: protect yourself
When mortgage lenders discriminate by charging higher rates or declining applications without good reason, the best way to combat this is to hit them in their wallets. Because the LGBTQ community is a homebuying powerhouse and its business (or withholding of business) impacts the bottom line of every lender.
So the most important way to combat discrimination and get the best deal you're entitled to is to simply collect a lot of mortgage quotes. If a traditional household must get at least 3-4 quotes, as a 2012 Stanford University study found, to save $2,400 on a $200,000 mortgage, try getting 4-6. By knowing the rate other people with your qualifications are getting, you are positioned to negotiate effectively.
You don't have to run through a tank of gas and a weekend driving to banks, and you don't have to spend hours on hold calling them for quotes. It's easy to get mortgage quotes online by completing one form. Just provide every lender with the same information:
Loan amount desired
Purchase price of home
Use of home (primary residence, vacation home or rental/investment)
Type of home (traditional construction, condo, manufactured, multiunit, etc.)
Credit score or estimated credit score range
The nice thing about getting mortgage quotes online is that there is less opportunity for discrimination because you are not applying in person. You can even choose to hide your genders when getting quotes by providing only a first initial on the form.
Related: Mortgage Discrimination: A Guide to Understanding Your Rights & Taking Action
Avoiding agents who discriminate
While agents are not "supposed" to discriminate, unfortunately, there are those who do. And you don't want an agent who isn't 100% on your side. You may want to dump the uncertainty and find an LGBTQ-friendly Realtor listed with the National Association of Gay and Lesbian Real Estate Professionals (NAGLREP).
Or ask your friends if they can recommend an agent for you.
Buying a home is a complicated and expensive transaction. You need a real estate agent and a loan officer you can trust and with whom you feel comfortable sharing personal information. If you feel that this is not the case, find someone else.
When you see discrimination
Sometimes, it's pretty obvious that discrimination is occurring. You both have perfect credit, but your loan offer gets more expensive after your partner's gender becomes known. The landlord was so friendly on the phone and invited you to apply, only to tell you that he or she "just rented" the place when you both come to see it. The real estate agent tells you that a certain neighborhood "probably isn't a good fit" for you.
Besides spitting out the bad taste in your mouth, what can you do?
Consult the Fair Housing Authority in your area for more information. Find out if what happened to you constitutes a violation of the Act or other state or local regulations.
Some states have implemented housing protection laws for their LGBTQ citizens, while others offer little or no protection.
Twenty states prohibit discrimination based on gender identity and sexual orientation. They include California, Connecticut, Delaware, Hawaii, Illinois, Iowa, Maine, Maryland, Massachusetts, Minnesota, Nevada, New Hampshire, New Jersey, New Mexico, New York, Oregon, Rhode Island, Utah, Vermont and Washington. Wisconsin prohibits discrimination based on sexual orientation only. The rest offer no protection at the state level.
Compare mortgage rates now to get your best deal
Print page