If you have a child in college, you know the cost of room-and-board is distressing.
According to the College Board, the average room and board at a four-year private college for the 2014-15 academic year was $11,188. Of course, if your child is going to school in a pricey city like San Francisco those costs are even higher: up to $18,730 for room-and-board at the University of San Francisco.
Given those high prices, some parents consider the option of buying a "kiddie condo," townhouse or single-family home near campus for their child to live in during college.
Financing off-campus housing
"The best way to go about this is to find something you might want to buy and determine the cost for the mortgage, a condo or homeowner association fee, utilities, property taxes, homeowners insurance and closing costs," says Kathleen Grace, a financial planner and managing director of United Capital in Boca Raton, Florida. "Then you can do the math to decide if that is going to be cheaper than the dorm."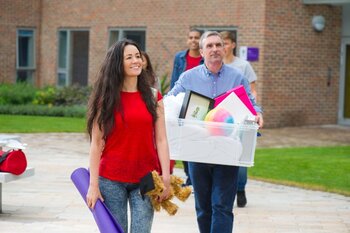 Find a lender with experience in this kind of purchase, suggests Brian Koss, executive vice president of the Mortgage Network in Danvers, Massachusetts.
"You want to finance this as a second home since a family member will be living there and not be penalized as you are with risk-based pricing on investment properties," he says.
Koss says that borrowers have to qualify to make the mortgage payments on the second home as well as their primary home even if they plan to offset some of the cost with rental income from roommates.
"Be aware that condo financing may not be available depending on the number of renters in the development," says Koss. "A condo near a college campus is likely to have many students renting units."
FHA financing rules require 51 percent of units to be owner-occupied. Fannie Mae and Freddie Mac also review condo projects to approve them for loans and typically have similar requirements, although some exceptions can be made, says Koss.
"Lenders can add their own guidelines, so a second home buyer in a condo with a lot of renters could be required to make a down payment of 20 or 30 percent because it's considered a higher risk purchase," says Koss.
Pros and cons of buying off-campus housing
Whether or not buying your student a home makes sense depends on the college location, says Koss. "Maybe in a city like Boston with a lot of students who live off-campus it would be smart, but in other places there's an abundance of high-quality dorms so more students choose to stay in them," he says.
Pros:
Current savings. "You can do a rent versus buy analysis and include the tax benefits of owning to determine which makes sense," says Grace. Part of the calculation should include the ability of your student to live year-round in a home rather than nine months of the year in a dorm room. In addition, you can save on the hassle and cost of moving every school year.
Investment potential. Parents with multiple children who plan to attend the same college can probably benefit from longer-term ownership and savings on dorms, says Grace. Working with a real estate agent who knows the area well can help you make a smarter decision on where and what to buy for investment purposes.
Tax benefits. "It's important to evaluate this with your tax advisor because tax deductions for second homes can be capped depending on your income and your tax bracket," says Grace. In general, second home owners can deduct mortgage interest payments and property tax payments on their federal income taxes.
Teaching kids landlord skills. "Putting your kid in charge of the place can be a great teaching tool where they can learn about budgets and cash flow, how to manage renters and what to do when things break down," says Grace.
Build credit profile for kids. If you put your child's name on the loan and title, this can help establish your child's credit profile for future financial transactions, says Grace.
Cons:
Potential difficulty selling. "If you plan to sell the place in four years as soon as your kid graduates, then you may not get your money out of it," says Koss. "It's usually better to hold onto property longer to make a profit."
Long-distance landlord duties. If you don't sell it after your child graduates, you can rent it to other students, which has some drawbacks, says Koss. "There are some intangibles to consider, like the headache of being a landlord to college kids who may not be responsible about paying the rent or keeping the home in good condition," says Grace. The alternative is to hire a property management company, but this costs money that cuts into your cash flow, she says.
Student transfers. "What if your kid doesn't like the school and decides to leave?" says Koss. "You're stuck with either selling too fast or becoming a landlord to college kids who may not treat the place well."
Roommate and liability issues. "If your kids have friends living with them or they are renting space to other students, you could end up with a lot of drama and potential liability issues," says Koss. "You don't want to put your kid under more pressure as the child of the homeowners." Grace recommends increasing your liability insurance coverage if roommates will share the house.
If you're thinking of buying student housing, look at it like any other investment and run the numbers before you make a decision, says Grace.
Print page