What home improvement would make your marriage happier?
Couples overwhelmingly agreed that a "dream kitchen" would make their marriages the happiest, according to a recent survey of 2,000 homeowners conducted by HSH.com. Following the dream kitchen, couples had their children and themselves in mind saying a bigger yard and a finished basement were next on their wish list.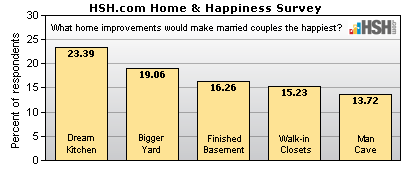 Men vs. women
But the survey's results aren't nearly as unanimous when you break it down between men and women. For women, a dream kitchen was still number one on their list, but for men, a man cave was far and away their ticket to marital bliss.
Danise Talbot, owner of Danise Talbot Design in Westport, Connecticut, isn't surprised. "The kitchen is usually the top priority," she said in an email. What's more, in many households, "The kitchen is becoming a great room and people want a desk and other amenities in the kitchen area."
But that dream kitchen to marital bliss will cost you: The average cost of a state-of-the-art kitchen is $109,935, according to the "2014 Cost vs Value Report" by Remodeling.com.
Edie Radloff, a Realtor in Sherman Oaks, California, said that she sees more and more men interested in dream kitchens. "In some cases, it is the woman who is interested in a dream kitchen, but these days, more men enjoy cooking."
Talbot says that couples usually work things out in a mutually agreeable way. "Man caves are considered later and are generally a lower priority. They often get addressed one or two years after a kitchen."
Men crave more space
While the majority of men in our survey said they were already happily married, more space would certainly make them happier. Of the 999 men surveyed, a man cave, two master bathrooms, a bigger yard and two master bedrooms took the top spots on their list.
"Men, who run on testosterone and adrenaline, tend to like tech and space, things which are intellectually satisfying, and not emotionally challenging," wrote Tina B. Tessina, Ph.D., a licensed marriage and family therapist in Long Beach, California, in an email. "Hence, the man cave, for watching sports and playing video games or working.
Radloff says a lot of her male clients are looking for two- or three-car garages.
What women want
Of the 1,001 females surveyed, after the dream kitchen, his and her walk-in closets, a finished basement and two master bedrooms were high on their list.
"Women, who run on oxytocin and estrogen, are more focused on emotional satisfaction," said Tessina. "A soaker tub, a big couch for cuddling, and a highly functional kitchen are tops on the female list."
"Generally women are more interested in textures, colors, accessories and making the space cozy," Erika Flugger, an interior designer and owner of NYC Interior Design in New York City, said in an email. "Men tend to be more interested in the technological and entertainment aspects of the design."
Kids play a big role
Not surprisingly, most couples focus on their children when buying a house or remodeling an existing space. The survey found that almost 60 percent of couples believe that a bigger house would make their kids happier. In addition, 64 percent agree that a bigger yard keeps children more content.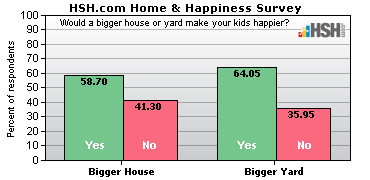 Tessina says that these results make sense. "A bigger house or yard can mean happier kids but it may also translate into happier parents because the kids are safe and not under foot. It gives parents some breathing space."
But would that bigger house equal more kids? The majority of respondents said no. But for those who said yes, about 60 percent were men compared with just 41 percent of women.
How to fund your 'dreams'
"Dream" home improvements do not come cheap. Even modest renovations are going to put a dent in your wallet. If financing is required to make your dreams a reality, you'll need a deep equity position in order to take out a
home equity loan
or a home equity line of credit, or a cash-out
refinance
. Another option is a home improvement mortgage, such as an FHA 203K loan or a Fannie Mae HomeStyle Renovation mortgage. While tapping your saving is also an option, some homeowners will simply need to purchase a larger property for certain home improvement dreams to come true.
Decisions, decisions
Navigating a purchase or remodel can set off strong emotions -- and lead to potential disputes, says Talbot.
As a result, couples should approach decisions with the idea of balancing practical issues and pricing concerns with what will likely deliver long-term happiness, says Tessina.
"Things are often thrilling when they are new but we often take them for granted after a while," she says. This is especially relevant since the survey found that over 42 percent of respondents said they are planning on moving within the next five years.
"Space is good for a relationship but, at a certain point, too much space can lead to a disconnect in the relationship," says Tessina. "A man who is holed up in his man cave all the time can lose connection with his family. A woman who gets too focused on décor can break the bank."
Talbot says it's important to take resell value into consideration -- kitchens and baths generally push the numbers up -- but focus on what delivers overall happiness.
"Make separate wish lists and get together to figure out what is possible. Do the math and understand what really works for you," says Tessina.
"In the real world of house hunting and home design, a kitchen typically wins out over the man cave," Talbot adds. In fact, HSH.com's study found that the man cave ranked last among the home improvements women said would make their marriages happier.
One way to address the issue, Flugger says, is to create entertainment and exercise spaces that integrate with other areas, including great rooms, family rooms and master bedrooms.
Related: How Healthy is Your Home?
Print page