The concept of "buying on the dips," which refers to purchasing stocks when prices drop, can be applied to refinancing, says Keith Gumbinger, vice president of HSH.com in Riverdale, New Jersey.
"Basically, refinancing on the dips just refers to homeowners using an opportunistic approach to realize savings when mortgage rates drop," says Gumbinger. "If you were thinking about refinancing but missed your opportunity because rates climbed or you got distracted, there's still an opportunity now to refinance."
Many experts predicted that mortgage rates would climb higher in 2021, but economic pressure, the persistent pandemic outbreak, global trade issues and other concerns have kept mortgage rates on a downward path for a portion of the year after optimism and rising price pressure pushed them a bit higher for a time.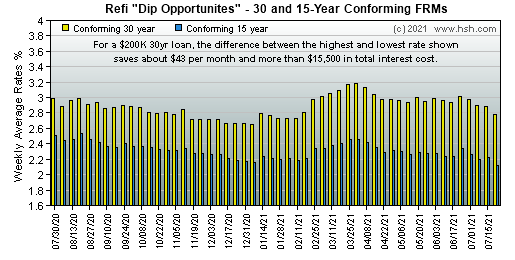 Tracking the dips
"Mortgage rates rise and fall for a lot of reasons. You can look for clues about what will happen by following economic reports such as the statements of the Federal Reserve after their meetings every six weeks and the monthly employment report that comes out on the first Friday of every month," says Gumbinger. "Rates will rise or fall depending on those reports and generally follow along with the fluctuations of 10-year Treasury notes. You can also follow mortgage rates through sites like HSH.com."
HSH.com's mortgage rate tracking newsletter
Each week, HSH.com Vice President Keith Gumbinger writes the
MarketTrends newsletter
, a weekly examination of the economic factors that influenced the direction of mortgage rates that given week. The weekly missive includes a forecast of where mortgage rates are headed for the following week. If you're interested, you can
sign up to receive the MarketTrends newsletter
in your inbox or can read it on the site.
Planning your refinancing strategy
Mortgage rates typically follow the bond market, says Steven March, branch manager of Inlanta Mortgage in Oconomowoc, Wisconsin, so it's possible to time your refinance.
"My best advice for a rate-sensitive refinance customer is to go ahead and begin the underwriting process and then ask your lender to set aside your loan application until a date when mortgage rates are down," says March.
Preparing for the dips
March says that a lender can take 30 to 60 days to approve a loan based on your full mortgage documentation and paperwork, so he suggests floating your rate with a lender while an appraisal and title search are done and your income and assets are verified.
"You and your lender can watch mortgage rates during this time and lock your rate in at any time during the process," says March.
While a slight drop may not cause a drastic difference in your monthly payment, an interest-rate dip will impact your closing costs, says March.
"Borrowers get a rebate to use towards their closing costs that depends on the length of the rate lock, the interest rate and the size of your loan."
For example, March says that on a 30-year fixed-rate loan, a borrower can get a rebate of $886 with a 4.50 percent interest rate and a 27-day loan lock. The rebate jumps to $1,272 with a 12-day lock and a rate of 4.25 percent.
Refinance planning
"Even though you're attempting to time the market to the lowest of low mortgage rates, you still need to do some long-term planning," says Tim Ross, president and CEO of Ross Mortgage Corp. in Royal Oak, Michigan. "You need to make sure it makes sense to refinance, that you're staying in the home long enough to recoup the three to five percent of your home value that you'll pay in closing costs."
Ross recommends determining your goals for refinancing such as a lower payment or a shorter loan term before your focus on getting the lowest rates.
"If you're focused on a particular interest rate and you're waiting for rates to drop by 10 basis points or something like that, you may need to wait for 90 days or so," says Ross. "The problem is, you'll have made three more mortgage payments by then at your current rate, so this could end up costing you more just because you're being a bottom feeder. It's better to focus on your long-term savings more than the rate."
If you want to refinance, the best thing you can do is to get the process started and be fully prepared to act once rates drop, says Gumbinger.
Learn more about refinancing in our comprehensive suite of content, tools and calculators covering all aspects of mortgage refinancing.
Print page