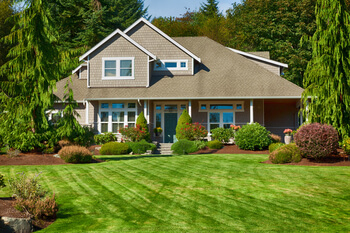 How much house can I afford? That's a common question for many first-time homebuyers. And the answer, according to these researchers, is "more than you think."
If you've shelved the idea of buying a home because you're worried the market has you priced out, you may want to reconsider -- and check out this home affordability calculator. That's because new research suggests real estate is more within your means than you probably assume.
Check today's mortgage rates and see how much house you can afford
Latest research: income up, home prices down
The National Association of Home Builders (NAHB) reports that lower mortgage rates, decreasing home prices and income hikes contributed to an increase in housing affordability in the first three months of 2019, based on the latest NAHB/Wells Fargo Housing Opportunity Index (HOI) score.
In fact, more than six in 10 new and resale homes (61.4%) sold from January 1 through March 31 were affordable to families making $75,000 (the US median income). Consider that this is a rise from the fourth quarter 2018 HOI score (56.6%) of homes sold in that time period.
Digging deeper into the data, the national median home price ticked down to $260,000 last quarter, from $262,500 tallied in the fourth quarter of 2018; over the same period, mortgage rates dropped, on average, by 25 basis points -- from 4.64 percent to 4.89 percent.
That adds up to good news for prospective buyers, especially first-time purchasers who are eager to claim a home relatively soon.
"The current environment offers an ideal opportunity for first-time buyers who do not need to sell a property in order to buy one. Prices are the lowest they have been in about 10 years, and there's an increasing amount of inventory to choose from," says Dolly Hertz, associate broker with Engel & Volkers in New York City. "Plus, sellers are seeing the light of day and becoming willing to accept prices well below their expectations just to move on."
Related: How Much House Can I Afford?
Why the market may be shifting toward buyers
Experts say the reasons behind amplified affordability are numerous.
"The HOI posted an increase in the first quarter due to rising incomes, which are a function of a tight labor market and business investment associated with tax reform," says Robert Dietz, the NAHB's senior vice president and chief economist. "Housing affordability is the key issue for building and housing markets in 2019."
Hertz notes that our current state of improved affordability was two-and-a-half years in the making.
"Housing prices have always been determined by supply and demand, and fluctuations in the market are generally cyclical. The high-price and low-affordability scenario at the end of 2016 started keeping buyers on the fence, pushed inventory upward and prices down," explains Hertz. "The overabundance of inventory was exacerbated by a two-year transition period in which sellers were slow to accept the downturn in prices and saw their properties languish on the market for six to 12 months or more. Inventory continued to rise, making it more of a buyers' market every month."
Phil Shoemaker, chief business officer at Home Point Financial in Ann Arbor, Michigan, believes the recent HOI score jump is cause for buyer celebration.
"A five percent increase in the number of affordable homes sold from late 2018 to the first quarter of 2019 is a very meaningful shift. And with median home prices dropping by $2,500, it could be an early indicator of a shift back to more of a buyer's market than a seller's market," says Shoemaker.
"How much house can I afford?"
Many feel this trend has legs for the foreseeable future.
"Greater affordability should continue until the next event that reverses the cycle -- like a stock market boom or a major political event," adds Hertz.
Interest rates also need to continue to remain low.
"Rates don't necessarily need to continue going down for more buyers to be able to afford homes. They just can't see any significant increases," Shoemaker notes. "Interest rates have been the lowest they've ever been for the better part of the last decade, so if they climb back to higher levels like they were in the 1990s and early 2000s, that's really going to disproportionately impact the lower-end buyers and people going after affordable housing."
Related: How Down Payment Assistance Works
All the more reason to act sooner versus later and purchase a home, thanks to greater purchasing power. To help your cause, try these tips:
Seek guidance from an expert. "Partner with a skilled real estate agent who has experience in your chosen market and work together to devise a plan for securing a residence," says Jay W. Hobbs III, Realtor with Washington, DC-based Long & Foster.
Shop aggressively for the best mortgage deals. Studies show that those who compare several mortgage quotes save thousands in mortgage costs and interest.
Look into a low down payment mortgage. You may qualify for a 3.5% down payment FHA loan, a Veterans Administration (VA) loan that needs as little as zero down, or a US Department of Agriculture (USDA) loan, which requires zero down.
Try mortgage programs with lower mortgage rates fixed for five years. these hybrid ARMs can get you a rate .5% to 1% lower than the standard 30-year fixed loan, which can allow you to buy more. Try running rates for different programs through a home affordability calculator and see how the difference impacts what you can spend for a home.
Explore assistance programs. "There are tons of local programs, including down payment assistance grants, that offer benefits to citizens in every state," Hobbs says.
Buying a home when prices are lower may put you in a position to take advantage of the next boom and increase your home equity. And home equity, according to Harvard University's Joint Center for Housing Studies, comprises the majority of wealth for most households.
Print page