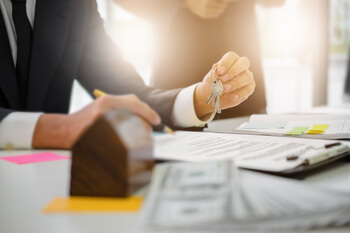 Buying a home can be exciting. By the time you arrive at the closing table, however, many homebuyers are tired. It's been a long haul, and the last thing you want are any unwelcome surprises.
Especially if you're a first-time homebuyer, knowing the answer ahead of time to the question, "What do I need to bring to my closing?" can help ease any anxieties you may have. A proper understanding of what to expect can make all the difference in your home closing process.
Fortunately, if you've worked with a great real estate professional and a reliable mortgage lender, you should be able to anticipate a smooth house closing. It takes an army to get to the closing table in today's real estate market. All the professionals with whom you've been working are helping you get through the final steps of the home buying process.
Prepare for a closing
What do you do at closing on a house? What should you do in the days and weeks prior to your house closing?
Homebuyers should stay in close contact with their real estate agent and lender in the days and weeks leading up to the closing. This can ensure that all necessary documents and financial arrangements for the mortgage are in place.
Be particularly careful not to apply for additional credit or use credit cards more than usual. Lenders typically check homebuyers' credit again just before settlement. So, keep your credit profile as close as possible to how it was when you applied for your loan.
As the homebuyer, you should conduct a final walk-through just prior to closing on a house to confirm the property's condition, including inspecting any repairs negotiated as part of the sale.
When you applied for your mortgage, your lender provided you with a Loan Estimate (LE) form, describing the terms and costs of your loan. Once you're approaching the closing of the loan, they are required to provide you with a "Closing Disclosure" (CD) within three days of the loan's scheduled closing. This time period is so that you can review the LE form against the CD document, look for any errors or significant changes and have time to address them with your lender.
Buyers should compare the LE and the CD carefully for any errors and review these documents carefully with your lender.
Related: What can go wrong at closing?
What to bring to closing on a house
One thing's for sure -- homebuyers should warm up their signing hand prior to closing.
According to Tim Conlon of Conlon Law Group in Atlanta, buyers may see as many as 100 documents at closing, with approximately 60 or so requiring a signature.
In addition, Conlon recommends you bring the following items as you prepare for a closing:
Two forms of identification
All required closing funds required
Your checkbook in case of minor changes or incidental charges
If your closing funds were overestimated, no need to worry, expect to receive a refund for any over-payment at closing, or within a few days.
Who attends the house closing?
Conlon says that the most common participants sitting around the table are the closing attorney (aka the settlement attorney or closing agent), the sellers and their real estate agent, and the buyers and their real estate agent.
Although not at every closing, it has become more common to see your mortgage lender at the house closing. Buyers and agents often find this helpful should there be any issues with the loan documents.
Contrary to popular belief, the closing attorney or title/escrow agent handling the closing on a house represents neither the seller nor the buyer. The closing attorney actually represents the mortgage lender. However, most settlement attorneys are considered neutral parties simply there to walk everyone through the house closing process.
Occasionally, sellers may sign documents in advance remotely. This is because the bulk of the house closing documents are signed by the buyers.
Is your own lawyer necessary at a house closing?
In most jurisdictions, attorneys representing the buyers or sellers aren't required for settlement. Experts don't always agree on whether or not you should retain your own counsel at closing.
There are some parts of the country where each party hires their own attorney. However, there really shouldn't be anything left to chance or items to negotiate by the time you get to closing. That is unless there were issues that came up at the final walk-through needing resolution.
Generally, the only time a buyer or seller would need their own lawyer is when a unique purchase is being made requiring complex legal documents.
While a lawyer is not required, "Having one there to represent your interests, especially for first-timers, can be quite valuable," says Keith Gumbinger of HSH.com.
Related: How to pick the best mortgage closing date
House closing timeline
A thick pile of closing documents may be intimidating. So much so that you may be tempted to blow through the signatures without reading what you're signing. While not all documents are as pertinent, there are a few forms that should always be reviewed very carefully.
"One of the most important documents that homebuyers should review is the Closing Disclosure," says Conlon. With today's disclosure requirements, hopefully you've had a chance to review your preliminary CD, compare it to the initial LE, to ensure you are being charged appropriately for your loan, legal and title fees.
The CD should itemize the fees charged to the homebuyer, including amounts required to set up an escrow account for property taxes and homeowners insurance. Some loans can require as much as six months of payments placed into an escrow account at the time of closing.
Conlon adds that homebuyers should check the bank note to confirm that the total amount borrowed, loan terms, interest rate and payments are accurate.
The other closing documents are generally non-binding disclosure forms that signify the borrower has received them.
After the last page is signed, you'll get copies of each document for your personal records. Today, some closing agents offer these documents electronically.
After closing on a house, the closing attorney or title agent should record the deed. It's generally at this time that you can celebrate as you're handed the keys to your new home. Congratulations: Your home-buying journey is complete!
This article was updated by Keith Gumbinger and Craig Berry.
Related articles:
Print page