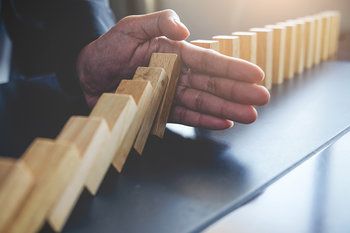 Successfully negotiating a purchase and sale agreement doesn't mean your home is as good as sold. A number of problems, from title issues to mortgage financing, can delay your home closing, or even cause the deal to fall through, says Cynthia Jones, a real estate attorney with Horack, Talley, Pharr & Lowndes, P.A., a law firm in Charlotte, N.C.
4 house closing issues you can avoid
Here are four weird glitches that real estate experts say could doom a home sale, and ways to make sure they don't happen to you.
1. A lien on your property
If you're selling your home, any unpaid bills you have from delinquent property taxes, homeowners association dues or even past remodeling work could come back to haunt you, says Jones. That's because the creditor may put a lien on your home until the debt is satisfied.
"The closing attorney gets the contract and runs a title search," says Jones. "They will find those (liens) in the public record, and all of them will need to be cleared up in order to give the new buyer a good title."
This usually means paying outstanding bills, but can also involve contacting a sub-contractor who was paid on time when you built that addition and asking them to remove a lien they forgot about.
If you owe money but don't have the funds, try to work out an agreement with our lien-holder. "In many cases, the seller can attempt to negotiate with the other parties to try to get the payoffs reduced so they can complete the sale," says Jones.
2. Termites!
Many buyers have a home inspected for pests and other defects before they agree to close the deal. If you're a seller and you're not able to prove that your home has been treated and is termite-free, the buyer may be able to back out of the deal, says Barry Hildebrandt, broker/owner of WCI Real Estate in Riverside, Calif.
"Many home sale contracts are drafted with contingencies that allow the buyer to inspect the home before going through with the sale," he says.
If the buyer determines that thousands of dollars of work is required to get rid of a termite problem, they may want to push back the closing date to allow the seller time to get rid of the bugs, or at least negotiate who'll be responsible for doing the task, he says.
3. Renters in residence
If you lease your home while you're trying to sell it, you now have a third party involved. In order to prevent closing-day glitches, make sure your lease agreement provides enough time for your tenants to move before you close on the property and hand the keys over to your buyers, says Jones.
She suggests scheduling the closing at least a few days later than the end of the lease term, so the buyer can have time to make an inspection of the property after the tenant moves out.
4. Insufficient closing funds
While today's mortgage rates remain at historically low levels, buyers should still be pre-approved for their loans in order to help make the process go more smoothly.
Even then, glitches can occur. The buyer may need to come up with additional funds to cover some closing costs, such as the title search, home inspection and pro-rated HOA dues. If the buyers have not properly calculated how much they'll need to bring to closing, they may be a few hundred or even thousand dollars short and not able to complete the deal.
Sellers can have financial issues, too. If the sellers are underwater on their mortgage, they may have trouble coming up with the funds to pay off their own loan at closing, says Jones.
"A few borrow from their 401(k) plans to cover the shortfall, but it takes time for those funds to arrive and that can delay closings," says Jones. "The entire process can take a couple of weeks, which could cause problems with closing." To avoid this, she suggests making sure both parties have a clear understanding of the amount of money that needs to change hands at the closing, and when it's required.
Can I walk away at closing?
Depending upon the state where a home is located, sellers may have little to no ability to walk away from a home sale at closing. Before entering into a real estate contract, ask your listing agent or attorney about the laws in your area should unforeseen circumstances cause you to want to back out of your home sale.
Buyers often have financing and inspection contingencies that enable them to exit at specified points in the closing process. Once those have passed, they risk forfeiting their deposit should they decide to walk away at closing.
It's best to wait until both parties feel confident they can see a home purchase and sale through before entering into a contract to buy or sell a home, as backing out can be costly for all involved. Carefully review our home buying and selling guide to be sure you are ready.
Print page