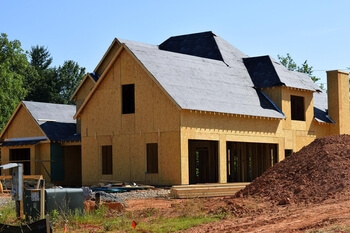 According to the National Association of Realtors (NAR), the average time an existing home is on the market has shrunk to 14 days. With homes moving so quickly, competition for buying an existing house can be tough.
Fortunately, there are other options available to homebuyers -- build your own house. After all, hasn't everyone dreamt of building their very own custom home at one time or another?
Building a home allows you to control all aspects of your new home. Everything is brand new and fresh. Custom-building your next home is a no-brainer -- or is it?
As great as a scratch-built dream home sounds, there are a few pros and cons of building a house. What is there to know about building a house? Here's five true or false statements to help you decide between building vs buying your first home.
1. I can customize how I want by constructing a new home
This is true. Customization is one of the biggest reasons to build your own home.
A new custom-built home means that everything from the house design, to cabinets and flooring, to the lighting and wall colors would be new and according to your personal specifications and desires.
You also have the perk of knowing every aspect of the house will be specifically planned according to the conveniences of you and your family. No more oddly shaped rooms or dysfunctional spaces, nor funky floor plans.
Just be sure to choose a company to build with that's receptive to your unique wants and needs. And remember to have a building a house checklist when meeting with your builder.
Related: Should you build a custom home?
2. It's cheaper to build your own house
This is false. Building your home is an opportunity to meet your exact design and usability requirements. But from-scratch construction can be a daunting task, especially when it comes to price.
The cost to build a house varies according to factors such as size, location, labor and materials, as well as current real estate trends.
According to a 2019 study by the National Association of Home Builders (NAHB), the average cost to build a house is $485,128. Here's how that number is derived:
Finished Lot Cost (including financing cost): $89,540
Overhead and General Expenses: $23,683
Marketing Cost: $4,895
Sales Commission: $18,105
Profit: $44,092
Construction Costs: $296,652
These break down as:
Site work - $18,323
Foundations - $34,850
Home framing - $51,519
Exterior finishes - $41,690
Major systems - $43,668
Interior finishes - $75,259
Final steps - $20,116
Misc. - $11,156
These figures are based on a 2,594 square-foot house, making the cost to build a home about $187 per square foot.
The median existing home sales price for this same time frame was $274,600. That's a significantly less amount of money.
3. A new home will be more energy efficient
This is true. New construction is likely to almost always beat out older homes in energy efficiency.
The most recent data from the U.S. Census American Community Survey found the median age of houses in the United States to be 39 years. Older construction means dated windows and dated appliances translates to wasted energy.
Homes built after 2000 consume on average 21% less energy for heating than older homes. Increased efficiency of heating equipment and building materials means lower energy bills.
4. A newly constructed home will appreciate faster
This is false, or at least not necessarily true. When you buy a pre-existing home, there's a history with the home. You can research the home's previous sale prices.
You can also look up the sales prices of existing homes that have sold recently in the area (also known as comparable sales, or comps). This can give you a good idea of whether home prices have been rising or falling in your area.
Related: Home Value Tracker - Track home value trends in more than 400 metro areas
New homes, on the other hand, can be more of a gamble. This is particularly true in an up-and-coming neighborhood. If there are a lack of comps, there just isn't enough data to really know what could happen down the line.
5. Mortgage financing will be easier to obtain with new construction
This is false. If you're building a custom home from scratch, you won't be able to get a traditional mortgage loan -- at least not in the beginning.
Unless you're paying cash, you're going to need a construction loan. These loans aren't as widely available as regular home loans. You may not to shop around a bit.
Construction loans allow you to buy the land and build your home. You can use a construction loan to purchase land, pour a foundation, buy materials to build your home, etc.
These loans are more similar to a line of credit than a home loan. During construction, funds are advanced by the lender to the builder as construction milestones are reached. You'll generally only pay interest on what is actually disbursed.
These loans typically last one year, or until construction is complete. After the initial term and/or construction is finished, the next step is to refinance into a more traditional loan -- i.e. a mortgage.
Some lenders offer a one-step loan that's interest-only while your house is being constructed, and then converts to a mortgage once construction is completed. The advantage is that you pay closing costs only once. However, many lenders find a two-step process to be less risky.
Due to the higher risk associated with construction loans, you're going to need strong credit, a down payment of 20% to 25%. Construction loans are often based on the prime rate plus a margin, and are often higher than permanent first mortgage rates.
Are you ready to build a house?
Your home is not only a big investment, it's an extremely personal thing. It's the place where we spend most of our time, where we may raise a family, and where we want to go to relax and find solace.
Building your own home means having your biggest investment even more personalized. Not to mention a number of unique benefits that you can't find when buying an existing home.
By being well-informed and working with experienced experts in mortgage lending and real estate, the time, money and effort spent on a scratch-built home could be well worth the undertaking.
Related: Think you're ready to build a home from scratch? Take this quiz.
Print page