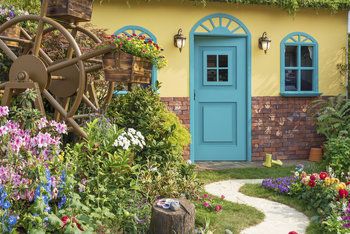 If you're wondering, "What do I need to know before buying an investment property?" you need to understand three phases:
Choosing your investment strategy
Selecting the house or condominium
Financing investment property
Your investment property and mortgage options depend on your objective, so you want to define your objective upfront.
Choosing your investment strategy: quick flip or long haul?
Investing in real estate can yield income two ways -- through regular rents and/or capital gains. Property "flippers" seek to buy distressed properties, rehabilitate them, and promptly resell them for a profit.
Long-term real estate investors may do some initial repairs, but their goal is a monthly income and some tax advantages as well as property appreciation. They look for good income property -- rental houses that deliver safer long-term income streams. Most experts advise novices to invest for the long term rather than try for quick flips.
Finding a home for short-term profit

A good income property should deliver healthy cash flow and growth potential. So first, analyze every deal like the pros do. Most consider these three items -- how much you'd pay for the property, what it costs to rehabilitate it, and its potential selling price.
Decide how much you want to make -- for example, a 20 percent profit, and don't bother with properties that don't have that potential. Here's how to minimize what you pay and maximize what you earn:
Look for distressed or motivated sellers. Find people who need to get out from under their houses, or mortgage lenders with property on their books that they need to unload. But don't assume that short sales or foreclosure homes are bargains -- you should know what the property is truly worth before making an offer.
Find homes in redevelopment or revitalization areas. These are in parts of town the government is trying to improve, and you can often get grants or low-interest help with your down payment and / or closing costs.
Check out HUD Homes, which are FHA foreclosure properties. They may be deeply discounted, but don't assume that they are a good deal without checking neighborhood property values.
Know local house values. Check public records from your local assessor (available online in most counties) and see what properties in your area are fetching. Online real estate or home valuation sites can also can also give you an estimated property value if given its features, location and condition.
Don't become emotionally involved and overpay. Experienced investors know the adage, "You make your profit when you buy a property, not when you sell it."
Make minor cosmetic improvements only. If the property needs extensive renovation, pass on it. Don't over-improve a rental property. Potential renters are far more concerned with the neighborhood, schools and proximity to work than they are with floor plans.
Prepare to look at a lot of properties. Some seasoned investors say they look at 100 houses for every one that they buy.
Enlist the help of an agent specializing in investment property. Expert advice and knowledge of local market conditions is an invaluable resource.
Finding a home for long-term cash flow
Another source of income is your monthly rents. Your monthly operating income equals rent less expenses, including home maintenance, utilities that you pay, and property management fees. Next, you'll subtract the mortgage payment to get your net cash flow.
For example, if your rent is $1,600 per month, and your operating expenses come to $500 a month, you have monthly operating income of $1,100 a month. If your mortgage payment is $1,200 a month, your net cash flow is minus $100 a month. Make sure you're comfortable with this figure.
Keep in mind that your actual after-tax income will be different. You get to deduct your operating expenses and mortgage interest as well as depreciation. You can easily have negative operating income but positive cash flow.
In the example above, suppose that your tax bracket is 25 percent, and that in your first year, you'll pay $10,800 in interest. If you have depreciation of $10,000 a year, plus the $500 a month for maintenance ($6,000 a year), you get to deduct $28,800 at tax time, worth $7,200 (25 percent of $28,800), or $600 a month. So the $100 a month "loss" actually puts $600 a month in your pocket. Analyze each property's affect after taxes to see this.
Investment property mortgages
There are several mortgage options when buying a home purchase as an investment property. The right one for you depends on whether you're going to live in a multi-unit property, how much you plan to spend, your down payment, landlord experience, current mortgage rates and your time frame.
FHA and VA home loans
These government-backed mortgages allow you to purchase an investment home as long as it has two-to-four units and you will be living in one of them. That allows you to purchase the income property as a primary residence. You can put zero down for VA loans, or 3.5 percent down for FHA home loans. There is no requirement that you have landlord experience.
Conforming mortgages (Fannie Mae and Freddie Mac)
These loans come with a variety of terms, and are are popular options. If you will not occupy a unit in the building, most conforming lenders require the following to approve an investment property mortgage:
A down payment of at least 20 percent, with a maximum debt-to-income ratio of 36 percent plus a FICO score of at least 680, or a maximum debt-to-income ratio of 45 percent plus a FICO of at least 720. Otherwise, you need 25 percent down or more.
You can purchase investment property with 15 percent down by financing as a primary residence if it has two units, and you plan to live in one.
Six months of "reserves," which means enough cash to cover six months of payments in case your place becomes vacant.
Documented previous experience as a landlord or in property management. This is a tough one for many first-timers.
Once you have four financed properties, you'll have a harder time getting conforming loans. But Fannie Mae does offer a program for those with 5-10 financed properties for highly-qualified borrowers.
Other mortgage options
Portfolio lenders, like your neighborhood bank, may finance your purchase with less onerous conditions. You may also need to go that route if your property requires a jumbo mortgage. Or, if you lack landlord experience and don't meet FHA or VA eligibility requirements.
If you have enough home equity, you could finance an investment property with a loan against your primary residence. This strategy could get you better mortgage terms.
Hard money
If you buy a foreclosure property at the courthouse (risky), or need to close lightening-fast, you'll have to bring cash.
Property flippers often use "hard money," or private lenders to get that cash -- they pay several points upfront, a high interest rate and make a substantial down payment. However, they only borrow the money for a short period of time, just enough to rehabilitate the property and sell it.
This can be a good strategy. If you have an opportunity to make 30 percent on a flip, paying out 10 percent for funding won't kill you. But you can also see why this is risky. If you end up holding onto the house for too long, this kind of financing can drain your resources very quickly.
Don't be intimidated by investing in real estate
Some of the richest people in the country have made their fortunes in real estate, and many regular folks have also bagged themselves tidy nest eggs using the same strategy. So don't let the process put you off if you really want to buy income property.
Successful real estate investment just takes hard work, diligence and a good team, including you, your real estate agent and your mortgage lender.
Print page