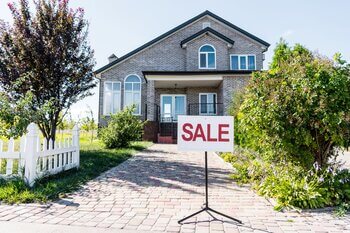 A Real Estate Owned (REO) property is one that has reverted to the mortgage lender after an unsuccessful foreclosure auction.
REOs were a large part of the housing market a decade ago, making up nearly half of all home purchase transactions. Although not as common as they once were, buying an REO house is still a way for homebuyers to find an amazing deal on a new home.
Even though REOs can be a bargain, that doesn't mean you should jump in with your eyes closed. "REO buyers need to do their homework so they understand the property, the market, the neighborhood, and the process," says Tom Kelly, a spokesperson for Chase Bank.
Bank-owned properties often sell for less than a typical resale home, but not always. Here are some things you should know before buying an REO property.
How do REO foreclosures work?
Bank-owned properties, or REOs, are different from foreclosures. A foreclosure is sold at auction so the bank can try to recover the amount owed on them. Competitive bids can send the property's price upward. It can be difficult to discern the condition of a foreclosure because bidders generally are not allowed to enter the property before the auction.
For a first-time homebuyer, this type of purchase can be intimidating. Fortunately for homebuyers, buying an REO property isn't nearly as scary. Purchasing an REO home is fairly similar to a traditional home sale.
An REO house is a property that was once customer-owned, but as a result of mortgage default, is now owned by the bank. The unsold homes officially become bank-owned properties, also known as REOs.
In order to be classified as an REO home, the property has gone through the following four steps:
Loan Default. The first stage of an REO happens when the homeowner defaults on their mortgage payments. Typically, after 90 days of missed payments, a Notice of Default is sent. In some cases, the lender offers the homeowner a reinstatement period -- an additional 90 days to resolve payments and restore the loan.
Foreclosure Process. After the required time has elapsed, typically after 120 days without making a payment, the homeowner receives a notice of foreclosure sale. This notice provides notification of the date by which the premises must be vacated and may include the total amount in arrears.
Auction. The homeowner's property is offered to the public at a foreclosure auction and typically sold to the highest bidder. If the property sells to a third party at the auction, the bank or lender hopes to recoup some of the cost of the outstanding loan balance, interest and fees from the sale of the property. However, the home may not sell at auction because no bidders showed up at the scheduled auction day and time, or because no one was willing to pay the bank's set minimum price.
Real Estate-Owned Status. A property that doesn't sell in the foreclosure auction automatically becomes an REO property. At this stage, the bank attempts to sell the property on its own, usually through a broker. This process generally includes preparing the house for sale, removing the occupants and liens on the property, and determining a price. Each bank typically has its own set of rules and requirements on how it sells bank-owned real estate.
How to search for an REO house
Real estate agents can pull up REO offerings for you. Most banks want their REO properties listed on the multiple listing service (MLS) so that any real estate agent can show them to potential buyers. Many banks also have websites specifically dedicated to their REO listings (go to a bank's website and look for links).
Here are a few major listing sites to get your browsing started:
Final tips for buying an REO property
Banks almost always hire a real estate agent who specializes in foreclosures, short sales and REOs to market the home. As a buyer, you can -- and should -- get your own agent to represent you.
Remember that buying an REO house is similar to purchasing from a private homeowner. This means you have the opportunity to view the property prior to making an offer.
As with buying any home, it's a good idea to get prequalified or preapproved before shopping or making an offer. If you are interested in a particular REO home, getting preapproved by a lender should give you an advantage by showing the bank you are ready, willing and able to purchase the property.
Being listed as an REO doesn't mean that a property is automatically a great deal. You won't necessarily be getting a bargain unless the home has been on the market for a while.
Banks are in business to make money, so of course they're going to price homes as competitively as possible. This is why it's important to always ask for an appraisal on the home you plan to purchase, advises Cliff Roe of Cliff Roe Realty, an REO specialist in Seminole, Florida. But keep in mind that an appraisal is going to cost a few hundred dollars.
Similar to a foreclosure, some REOs made need extensive repairs. When you make an offer, include language that the offer is subject to inspection. Hire a professional inspector to ensure you learn about all issues and repairs that may come with the house. Ask a licensed contractor for quotes on any needed repairs, and include this cost as an addendum to the contract following the inspection.
Many potential homebuyers and investors overlook bank-owned properties, but for buyers who take the time to understand the REO process, these homes can be a significant opportunity.
Print page