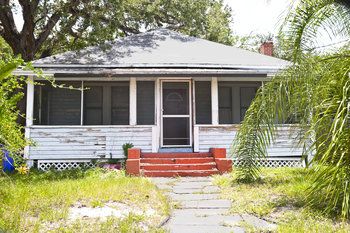 In the late 2000's, due to the housing bust and economic downturn, a large portion of the available inventory in that housing market was made up of distressed real estate. In fact, between 2008 and 2011, one third of home sales were distressed sales.
As many U.S. markets became saturated with foreclosed properties, opportunities began to pop-up for would-be homeowners and investors.
Today's distressed homes inventory pales in comparison to what it was a decade ago, since home prices have recovered in many markets. Still, rising home prices have many homebuyers seeking more affordable options for purchasing their dream home. Buying a distressed property could be a great alternative.
What does distressed property mean?
A distressed property is one that is under foreclosure or being sold by the lender. When a homeowner is unable to keep up with mortgage payments and/or tax bills, the property becomes "distressed."
It is not uncommon for a distressed property to be sold below market value. For savvy homebuyers fortunate enough to take advantage, a distressed home can mean the possibility of getting a great value.
Distressed properties typically fall into three categories:
Foreclosed homes
Real estate owned (REO) properties
Short-sales
Foreclosure. A foreclosure typically occurs when a homeowner is no longer able to make the mortgage payments and the lender seizes the property. The lender requires the former owner to vacate the property before offering it for sale, usually at a discounted price. In some cases, the home is auctioned off to the highest bidder.
REO property. A real estate owned property is one that has reverted to the mortgage lender after the home fails to sell in a foreclosure auction. Once the bank owns the property, it typically handles any necessary eviction, pays off tax liens and possibly even does some repairs.
Short-sale. When a home owner sells his or her property for less than the amount owed on their mortgage, it is known as a "short-sale." The seller is "short" the cash needed to fully repay the mortgage lender. Typically, the bank or lender agrees to a short sale in order to recoup a portion of the mortgage loan owed to them.
Related: Buying a foreclosed home
Buying distressed homes
For home buyers who aren't afraid of the risk, distressed properties can reap great rewards. However, it isn't always as simple as scoring a cheap bargain.
While you may be able to find distressed real estate at below-market prices, it also brings a unique set of circumstances that you may not encounter in a more typical home buying scenario.
Here are a few things to keep in mind when buying a distressed home:
1. Banks need to approve your offer -- and they typically only consider serious offers. Getting mortgage preapproval before you make an offer on a distressed house is important. If a house is too damaged, lenders may refuse to finance the purchase. If the property is in need of extensive repairs, you may have to put up extra cash, or take out a second loan to cover the costs.
2. It's likely you'll be competing with real estate investors, house flippers and larger property management companies. These folks often pay in cash. If you're obtaining mortgage financing, you'll have to prove you're a solid buyer if you want the best shot at getting the bank to consider your bid.
3. Distressed property sales can have a number of unique problems and pitfalls. Remember, distressed homes are typically sold "as-is". This means "what you see is what you get", and you shouldn't expect to receive a discount to compensate for any repairs that may be needed.
4. When picking a real estate agent to represent you, find one who has experience handling distressed home sales. The right real estate professional can help guide you through the unique process of purchasing a distressed property.
5. Be careful about looking for a distressed property that's located in a distressed neighborhood. If every house on the block is going into foreclosure or if every condo in the high-rise is vacant, you should probably look elsewhere.
You may be able to save money on a house that you otherwise couldn't afford, and build equity as it increases in value. However, there's just no telling when the market in a depressed area may bounce back -- or if it may bounce back at all.
In the worst-case scenario, you could end up in the same shoes as the bank or person from whom you bought the house: owing more money on your mortgage than your house is worth.
Finding distressed homes to buy
Whether or not there are any distressed homes to buy in an area depends on any number of factors. When the economy is in difficult shape (recessions, period of high unemployment, etc.) more homeowners can find themselves in trouble, and more foreclosures are a result. Even in good economic climates some homeowners finds themselves in difficult straits, and distressed homes can still be found on large lender websites (such as Bank of America and others. The FHA is also a source via their HUDHomestore. Fannie Mae's Homepath and Freddie Mac's Homesteps are good places to check for property listings, too.
Is buying a bank-owned home a good idea?
If you're in the market to buy a house, and you're hoping to get a "deal", buying a distressed home is an option worth looking into. If you've already got a home and are looking into real estate investing, buying a distressed house can be an interesting investment opportunity. Many investors have built a portfolio of properties by buying REO from banks and other outlets, turning some into rental property and rehabbing and reselling others.
According to Sheena Bird, Investor and Realtor with Palmer House Properties and Associates in Atlanta, GA "It's important to remember that not every distressed home for sale is a great deal."
Bird says, "Some people have unrealistic expectations, thinking they can get houses for half price, and that's just not going to happen. While those types of deals may have occurred shortly after the real estate downfall, you just don't see those deals in today's market."
Get a comparative market analysis (CMA) from your realtor or broker before making the offer. If there are comparable properties in the same area with similar characteristics as the one you want to buy, selling for a significantly higher price, then you may have a good deal.
Once you know what other homes in the area are selling for and you know about how much it should cost to get the bank-owned property repaired, then you can determine the price you offer.
Bird goes on to say, "Be sure to take into account the cost of all the necessary repairs when buying a distressed property. Some may be major, such as roof repair, while some are likely to be purely aesthetic like painting the walls or redoing the carpet."
Bird also likes to remind homebuyers, "When you purchase a home that has taxes that haven't been paid, you may be required to get them up to par. The same is true if the house is in an HOA and the previous owners have not made payments." Again, this is where having a great realtor can make all the difference, as it is essential to do your research before you purchase.
A clear understanding of all potential costs is important whether you are investing in real estate or just want to live comfortably in your new home.
Related: How to buy a bank-owned property
Print page