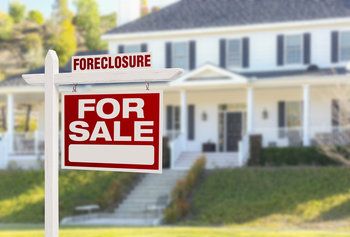 Bank foreclosures have long been an attractive opportunity for real estate investors. This was especially popular following the real estate collapse in 2008. In search of a better deal, today's hot real estate market has many homebuyers taking a closer look at buying a foreclosed home -- not just as investment property, but as their primary residence.
The inventory of available foreclosed homes isn't what was during the past recession. In 2017, according to studies, distressed home sales -- including foreclosures and short sales -- made up 14 percent of all U.S. single family home and condo sales. That number was down from 15.5 percent in 2016 and a recent high of 38.6 percent in 2011.
Even so, there are still plenty of deals to be had. And since buying a foreclosed property can potentially get you into a bigger and better home than you might otherwise be able to afford, adding foreclosed homes to your house search could be a good idea.
But purchasing a foreclosure isn't just a simple matter of scoring a dirt-cheap bargain. What should you worry about -- or not -- when buying a foreclosed property?
Is it a good idea to buy a house in foreclosure?
The big attraction of buying a foreclosed home is the expectation that it can be bought at bargain-basement prices. Whether that expectation holds true depends largely on local market conditions and what Keith Gumbinger, vice president of HSH.com, calls the "desperation factor" of the bank that needs to sell the property.
"A bank isn't going to give a property away," Gumbinger cautions. "But it's possible that, relative to other homes on the market with similar amenities, the price may be a little bit cheaper."
If you pursue a foreclosure, says David Reiss, law professor and academic programs director of the Center for Urban Business Entrepreneurship at Brooklyn Law School, "It can be like a 15 percent discount on your neighboring houses. So, it can be significant."
Doing the math, let's say your neighbor paid $250,000 for their home. If you bought the same home, but paid 15 percent less, that would mean paying just $212,50 -- a savings of $37,500!
How much you could actually save depends on the local real estate market and the property's foreclosure stage.
Buying a foreclosed property: risks
An important consideration before jumping into the foreclosure market is that foreclosed properties were given up by owners who could no longer afford their mortgage payments. In some cases, the house may have been poorly maintained. Minimally, it's safe to assume that foreclosed homeowners weren't keeping up with routine maintenance.
Some homeowners who are forced into foreclosure are embittered by their situations and take out their frustrations on their home before the bank repossesses. This sometimes involves removing appliances and fixtures, and sometimes even outright vandalism.
After the occupants leave, foreclosures tend to sit abandoned. This may invite criminal activity.
When it comes to buying a foreclosed property, you should never commit to a home you haven't thoroughly inspected, inside and out.
The good news is that fewer foreclosures are sitting vacant before they are sold these days. So you may be less likely to come across a seriously damaged property than homebuyers a few years ago.
It's possible that some foreclosure properties can be in move-in ready condition. At any point on that spectrum, buyers should be prepared to overlook all cosmetic issues and save some cash to make their own repairs.
Banks might be willing to make some repairs. However, nearly all foreclosure homes are sold strictly "as-is," meaning "what you see is what you get."
Tips for buying a foreclosed home
Buying a foreclosed property is usually a much faster process than going through a normal home purchase. For a smooth and quick process, have all of your ducks in a row and all mortgage documents together.
1. Financing can be tricky: Get mortgage preapproval
An all-cash offer strengthens the homebuyer's position, but cash isn't necessarily a bank's only consideration, Gumbinger explains. "Lenders are very interested in mitigating loss. They would love to entertain an offer that's a little more than the minimum price they've put out there," he says.
Buyers who want to secure a Federal Housing Administration (FHA) loan need to be especially flexible. Some banks shy away from buyers who need this type of financing because the FHA may require specific repairs to the property before such a loan will be approved.
Typically if the repairs are small and cosmetic, these items can get those passed through FHA financing. Still, FHA does tend to slow things down. Banks generally don't want to make repairs or get entangled in long escrows, or closing delays.
Find a lender and get a pre-approval letter before shopping foreclosure properties. Having a pre-approval letter tells the bank that you're a serious buyer.
2. Find an agent that specializes in foreclosures
Searching foreclosure listings can give you a great idea of what is available in your area. Additionally, combing through foreclosure listings can be a great way to find an agent.
Try to find a real estate agent versed in the complexities of the foreclosure market. You're going to need the guidance of a professional who has a background in buying and selling these types of properties in your local market.
The right agent is someone who recognizes not only what you are looking for, but understands your budget as well.
Some agents may have worked with your lender on previous foreclosure deals and could have insight into what may be coming on the market, not just what is already there. This gives you a greater chance of closing on the home you want.
3. Review home's condition
Once you've found the home you want to buy, it can help check a few important items:
Landscaping. One thing you can see when you first approach the home is the landscaping. Poor landscaping upkeep can usually give you a good idea of how long the house has been vacant. Note: this isn't always the same amount of time that home has been on the market. A vacant house can erode and break down much quicker an occupied home.
Winterization. Depending on your climate, check the property's winterization. A foreclosed home that sits over the winter without being winterized could be difficult to repair in some regions. It's not likely you'll be able to see broken pipes, at least not until you have the home inspected, or you turn on the water and discover flooding.
Neighborhood. The area your would-be home is in can be just as important as the house itself. Pay attention to the neighborhood -- what businesses are around, how many other homes are for sale? Not only are you going to have to live with the people around you, their home could impact the value of yours in the future.
A large number of foreclosures can have a negative effect on a neighborhood, condominium association or housing development. Some homeowners associations are in dire financial shape, and may have trouble covering maintenance or insurance costs.
In the case of a failed or partially-completed development, the beautiful grounds and attractive amenities shown in that glossy sales brochure may never have been built, depending on the developer's financial situation.
4. Get a home inspection
A home inspection is recommended on practically all home purchases. When buying a foreclosed home, home inspections are an absolute must.
A recent survey found that 72 percent of U.S. homeowners agree the home inspection they had when they purchased their current residence helped them avoid potential problems.
A proper inspection is one of the only ways that homebuyers can be aware of the home's true condition. If the home isn't satisfactory or in need of more repair than anticipated, you can either back out of the deal through a contract contingency or at least be well-informed about the repairs that need to be made.
The last thing you want is to move in and, a month later, have the water heater explode.
The bottom line on buying a foreclosed home
Today's hot real estate market has led more and more buyers to consider foreclosed properties.
A foreclosed home can offer cost savings for homebuyers, but it can also compound the already stressful process of searching for a new home.
Be careful not to overlook the fundamentals that make a property desirable just because the purchase price is a bargain. By doing your homework and gaining a little extra knowledge, buying a foreclosed home can help you access an attractive real estate value.
Print page