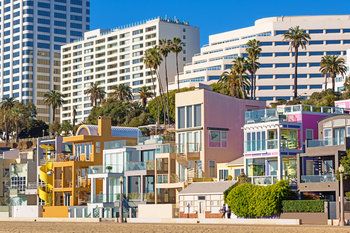 Aiming to buy a house but worried about home affordability? You may want to consider relocating to a more affordable market. The good news is there are affordable homes for sale in different areas of the country -- if you're willing to think outside your comfort zone.
Should you move? Do your homework first
But moving to a different town or state is a big step. You'll want to research the area carefully, including the job market, commute time, and neighborhood amenities.
Price isn't everything. Yet the lack of affordable homes has proven to be a barrier to ownership for many. Thankfully, a new report lists the top 10 markets for home affordability.
What the research shows
A recently-published study from ATTOM Data Solutions revealed that three out of four housing markets remain financially out of reach for average wage earners seeking to purchase a median-priced home.
But the news isn't all bad -- there are key areas of the country where buyers can claim property for less than expected. ATTOM flagged areas where buyers could purchase homes with 3% down at a relatively low salary, and where their incomes were sufficient enough that a home purchase did not consume a large chunk of their earnings.
The list below shows both the required annual income for a median home purchase and how much of the median income a home purchase consumes. Note that many mortgage lenders like to see this percentage under 32%, so these numbers are very good.
Related: How Much House Can I Afford? (Affordability Calculator)
Bibb, GA $26,606 income required, 17.1%
Calhoun County, MI $26,635 14.4%
Montgomery County, AL $26,803 16.2%
Allen, OH $27,452 16.7%
Richmond, GA $27,830 17.0%
Rock Island, IL $30,841 15.5%
Clayton County, GA $31,344 15.2%
Wayne County, MI $32,737 14.9%
Peoria, IL $35,355 16.3%
Baltimore City, MD $41,262 17.4%
Reading between the research
In the report, Todd Teta, chief product officer with ATTOM Data Solutions, acknowledged that home affordability remains a big problem.
"Buying a home continues to be a rough road to navigate for the average wage earner in the United States," he said. "Prices are going up substantially faster than earnings in 2019 without any immediate end in sight, which continues to make homeownership difficult or impossible for a majority of single-income households and even for many families with two incomes."
But there's a silver lining here.
"Mortgage rates have fallen back to historic lows. That's softening the blow of rising prices and actually making homeownership a bit more attainable in most areas of the country," Teta said.
Looking closer at the data, some trends become clear.
"Prices are affordable to average wage earners across much of the country's lowest-prices areas, generally in the Midwest and South," Teta told me. "They are largely out of reach for people in the high-end of the market, mostly in the Northeast and West. But that's changing as prices rise faster in the cheapest areas and slower in the most expensive."
Today's home buyers are placed in an interesting climate.
"They face a combination of rapidly rising prices, modestly rising wages and falling mortgage rates. Mortgage rates are the main factor keeping things from getting worse for home buyers," Teta said.
Related: The Salary Needed to Buy a Home in the 50 Largest Metros
Looking closer at the most affordable markets
Anna DeSimone, author of "Housing Finance 2020," says these 10 affordable markets represent good values for buyers.
"Each of them has shown strong rates of appreciation. And property values there have increased In recent years," she says.
DeSimone notes that some of these 10 areas have a strong state-chartered finance agency that serves the entire state. These agencies offer special buying and financing incentives for qualified buyers.
"Eligible buyers can receive down payment assistance, affordable mortgage financing, and other incentives," she adds. Some of the states "have a number of local housing partnership organizations that provide down payment help and other homeownership services."
Jeremy Sopko, CEO of National Lending, also found another big trend in the list.
Several of the 10 markets "are in the Midwest and Rust Belt counties. These markets have been able to attract more people and businesses back to these historic American settings," says Sopko.
Related: How to Prepare to Buy Your First Home
Before buying a home in an affordable market
Prior to committing to a home purchase in a less expensive metro, it's smart to do your homework.
"You want to research other cost-saving advantages in that new location. For example, are the costs for auto and homeowners insurance, utilities, child and pet care, and family health facilities lower? Such savings can help sustain long-term affordability," suggests DeSimone.
Another question to ask: How long will it take to get to and from work?
"Increasingly, the cost and time of commuting is a significant factor," insists Bruce Ailion, Realtor and attorney. "While gasoline prices are moderate, the travel time and aggravation factor associated with a commute are growing. Homebuyers considering the more distant location because of price need to look at the total cost of commuting. This includes the time lost from family, leisure or other activities that could be saved if they lived closer in."
Ultimately, "your happiness and your family's happiness is what's most important," notes Sopko. "That's why you have to consider several factors beyond price. That includes the quality of the local schools, crime statistics, and community atmosphere."
Lifestyle amenities are valuable, too.
"One consideration with lower-priced homes is often a lack of convenient access to favorite shops and places. You may not find a Whole Foods, Starbucks, or fast food store nearby," says Ailion. "You often pay for these conveniences in areas with higher real estate values."
Print page