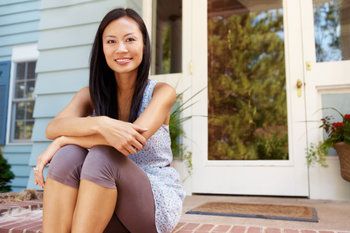 A good investment allows you to profit. As with any investment, when homebuyers purchase a property, their hope is that it is going to be worth at least as much -- or more -- tomorrow as it is today. But is buying a house a good investment? Are there certain home characteristics that enable a house to hold its value over years or decades?
Like any prediction, the answer involves a fair amount of guesswork and speculation. Most buyers have a checklist containing the characteristics their ideal house will have with regard to size, location, etc. Why not have a house investment strategy as well?
Though no homes are immune to local market conditions, nor the ups and downs of housing cycles, there's plenty of solid data and anecdotal evidence that suggests certain types of homes are timeless in style and thus more likely to keep their worth.
7 ways to select a home with long-term value
If you've always been a renter, it's likely you've asked yourself this question at least once or twice: Is owning a home really worth it?
A home can be a great investment. It helps, though, if you know what to look for. Here are seven ways to help you determine whether or not your house is a good investment.
1. Location
Location is the most important real estate component because location can never be altered, says Brendon DeSimone, a real estate expert and blogger for Zillow. Simply put, a property in a great location is more likely to hold its value.
So what does it mean to have a great location?
Top-rated schools. Homebuyers with children are concerned about their child's education and often willing to pay more for homes that are located in highly desirable school districts.
Entertainment and shopping. For many homeowners, the ability to walk to grocery stores, movie theaters and restaurants is of the utmost importance.
Economically stable neighborhoods. A neighborhood that has weathered the highs and lows of the economic turbulence is more likely to attract buyers who want to maintain their home value.
Proximity to jobs and public transportation. A National Association of Realtors survey that found 43 percent of buyers ranked the convenience of jobs as a desirable characteristic. Only neighborhood quality ranked higher, deemed important by 61 percent.
2. Room count, family-friendly and size
Beyond location, the next important quality for holding value is based on the size of the home. Single family homes with at least three bedrooms and two bathrooms are your best bet.
Also, homeowners nowadays like bigger homes. The average home in the 1950's was just 1000 square feet. Today, homes are averaging more than 2700 square feet.
These days, homebuyers enjoy home features that haven't always been as popular. According to a report from the National Association of Home Builders, the most wanted kitchen feature among buyers polled was a walk-in pantry.
Laundry rooms, walk-in closets and walk-in pantries are sought after characteristics for most homebuyers today.
Don't forget about the importance of a family-friendly home. Even if you don't have children, buying a quirky Frank Lloyd Wright house may be unique and beautiful, but you may limit the number of potential buyers in the future.
3. Updated and remodeled
Having a home that maintains modern features and appliances might be important to you when you're buying a home now, and this may remain important when it comes to resale.
Simple, DIY (do-it-yourself) home improvements can greatly enhance a home's resale value. Experts say the two best rooms to remodel are the kitchen and bathrooms. Homebuyers prefer central air and heat, and some home loans provide for updates on energy efficient items within the mortgage.
4. Open floor plan with good flow
Very few buyers are interested in chopped-up, closed-in floor plans. Homebuyers are opting for lots of natural light with open spaces. These floor plans allow for better traffic flow, improved sociability and an easier way to watch the kids.
The only downside to these open layouts is that they can be more costly to heat and cool. They also have less privacy for apparent reasons. Still, most buyers are glad to make the compromise when weighing the pros and cons.
5. Single-level
Especially among millennial buyers, the single-level house is resurging in popularity since its heyday back in the 50's.
One-story homes are easy to care for. Everything is within reach for cleaning, painting and repairs. Temperature control inside a single-level house is easier to regulate.
Aside from appealing to millennials, single-story homes are ideal for aging in place as they lack a set of stairs to climb.
6. Low-maintenance siding
As therapeutic as weekend home projects can be, most homeowners wouldn't choose to spend their weekends scraping, caulking, and repainting siding. Your best bet is a home exterior that not only looks great, but is also durable and low-maintenance even in harsh climates.
According to the Remodeling Impact Report published by NAR, replacing old siding with new vinyl siding yields an estimated 75% return on your investment. Vinyl siding is only superseded by fiber-cement siding which has an 83% return.
7. Outdoor living space
For most folks, being outdoors is enjoyable. According to a study conducted by UCLA, spending more time outdoors lowers stress and reduces levels of cortisol -- the hormone that can attribute to that sluggish, foggy feeling.
In terms of home value, outdoor living areas, such as patios and decks, have a high desirability factor with homebuyers, and cost a fraction to install compared to enclosed, year-round spaces.
In fact, according to NAR, adding a patio or deck to your home can yield more than 100% of your investment (102% and 106%, respectively).
Is real estate a good investment?
So is it worth buying a home as opposed to renting a home?
According to the National Association of Realtors, homeowners accumulate significantly more net household wealth than renters.
A home can be a great investment. Whether or not buying a house is a great long-term investment for you is going to vary based on your situation. You should look at your short and long-term financial goals, and then decide what is best for you and your family.
It's also wise to partner up with a great real estate agent who can help ensure you're not paying too much for your dream home.
Buying a home continues to be part of living the American Dream. Beyond the pride of homeownership, when you understand the characteristics that can yield long-term value, you can also rest enjoy the peace of mind that comes with knowing you've made a great investment for you and your family.
Print page