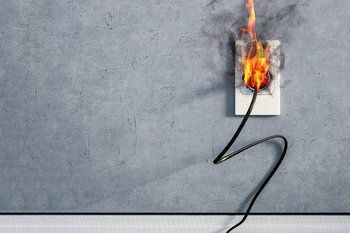 Originally by Ed Frank, P.E.; Updated by Gina Pogol
Don't unknowingly buy a property with home defects. Retaining the services of licensed Professional Engineer (P.E.) home inspector can translate into big savings at the closing table. First, you need to be sure that you retain the services of a qualified licensed Professional Engineer who can identify subtle defects that are not readily visible to the typical home buyer.
Buyers who inspect their prospective homes by themselves are rarely qualified to conduct a thorough home inspection and even if they have a good knowledge base to work from, they may be too emotionally involved in the purchase and are usually blinded by the glitter of the home's cosmetic aspects.
Avoid the most common house problems: find a home inspector
A referral from a person who was satisfied with their home inspection is a good way to find a qualified licensed Professional Engineer. Obtaining a list of engineers from NABIE, the National Society of Building Inspection Engineers is also a good source.
Buying a home may consume all of your available resources as well as everything you can borrow. You don't want to wake up to an unexpected $3,000 repair bill for a new heating system three months after you move in.
Related: Are Home Warranties Worth Buying?
Common home defects should translate to price reduction
Identifying subtle house problems before you sign a contract can translate into a reduced selling price or repair of uncovered defects at the sellers cost. And don't believe that you have no wiggle room if the seller offers the house "as is." There's always room for negotiation.
Of course, there is a limit to what any inspector can uncover. That's because home inspections are visual investigations, and destructive probing is not the industry's standard practice. However, there may be times when destructive probing may be recommended by the engineer, and this must be undertaken with the seller's approval. The purpose of a prepurchase home inspection is to reduce risk to the buyer. The visual inspection can not eliminate risk.
It is important to accompany the engineer during the home inspection because one picture is worth a thousand words. The engineer should be sure that you are not blinded by the glitter. Familiarize yourself with Ed's list of common house problems that your engineer should look for:
Related: Get a Home Inspection Before Selling Your Home
Exterior
Wear on a roof may be readily apparent if it is very advanced, but a roof that is starting to age is a more subtle defect that the engineer can uncover.
Resurfacing a roof costs thousands of dollars, and will cost much more if the existing roofing surface needs to be removed prior to re-roofing. If a roof will need to be resurfaced in the foreseeable future, this may be a negotiable item. Similarly, the siding of the house should be carefully inspected, because re-siding a house can also cost thousands of dollars. Replacement of old defective windows can cost thousands of dollars, don't overlook this obvious defect.
Eliminating home defects before they start is smart, for example, the engineer should be sure that the land around the home is properly graded to divert water away from the home. This will help to reduce the possibility of water intrusion into the home.
Interior
Of all potential home defects you don't want to see. the worst may be a basement that floods. The basement areas of the home should be thoroughly checked for signs of water intrusion, such as water stains, mildew, odor of dampness, efflorescence on the walls and floors, damaged and cupping floors.
In addition, look for water proofing systems, sump pumps, etc. in the basement; these systems can help to reduce the risk of water flooding into the basement but may not be able to eliminate water intrusion under all conditions. If a house needs water proofing measures, the cost can run into the thousands.
Proper insulation and ventilation in a home should not be overlooked; proper ventilation in a home is more important than most home buyers are aware of. Inadequate ventilation in an attic causes accelerated deterioration of the structural roof deck. If this occurs, a major expense will be incurred to remove and replace the roofing shingles and roof deck, and in extreme cases, the roof rafters. This is one defect that should not be overlooked.
Homes constructed prior to 1978 may contain lead paint, which can be a problem if there is wide-spread deterioration of the paint surface. Your home inspection engineer may suggest an X-ray evaluation of the paint surface for lead content. If you are planning renovation of walls, etc. after you move in, lead paint is an issue to consider.
Structural home defects
Bulges, deflections, and other irregularities in the roof, exterior wall framing, and interior framing, or cracks in the foundation wall may indicate a serious structural problem caused by poor structural design, poor construction techniques, improper structural alteration, water damage, or termite damage.
Jacking up a house to replace damaged structural components, or underpinning a defective foundation wall is a major expense. The home inspection engineer has the experience, education and expertise to evaluate structural problems. This is one of the reasons why retaining the services of a Licensed Professional Engineer (P.E.) to conduct your home inspection instead of a home inspector who is not licensed to practice engineering is advantageous.
While a home inspector can report that a structural defect exists, only a P.E. is licensed to offer a professional engineering judgment and design to correct the problem. Homebuyers who do not retain the services of a P.E. may have to pay a second fee to obtain an professional engineer's opinion.
Related: Should you hire a geologist to inspect your home?
Electrical system
First, the engineer should determine the size of the service to determine if it meets current standards. Bringing an upgraded electrical service into a home can cost one thousand dollars.
The electrical system should then be checked by removing the cover from the electric service panel. Once the wiring is exposed, be sure that the home inspection engineer looks for problems in the panel such as burned wiring, overloaded circuits (the fuse or circuit breaker is too large for the wire size), improper wiring connections, openings in the panel (where a child can put their finger in the panel, ouch!), homeowner installed wiring, etc.
In addition, electrical switches and convenience outlets in the house should be checked for open ground and wiring reversal conditions. Throughout the house, dead ended wiring and exposed wiring should be on the list of defects to look for. Homes wired in the mid 60's to mid 70's may have aluminum wiring and if so, the engineer should determine if an approved retrofit has been installed at the wiring connections; if not, a potential fire safety hazard exists. If the home is very old, it may have knob and tube wiring, this is ancient wiring and may be hazardous. Extensive wiring replacement can cost thousands of dollars.
Plumbing system
First, the home inspection engineer should determine the type of pipe that supplies water to the house from the municipal main in the street. Be wary of old lead and galvanized steel water supply pipes; replacement costs thousands of dollars.
Be sure that your home inspection engineer checks the piping distribution in the house for type of material and condition looking for deterioration, incompatible piping materials, and leaks. Your engineer should carry a moisture meter to evaluate any suspect plaster or wall board on the ceilings and walls caused by water leaks. Replacing the piping network in the walls and ceilings is a major expense.
Be sure that the engineer checks all of the fixtures and faucets for proper operation, and also examines tiled bathtub and shower enclosures for integrity. Replacement of tiling in a bathroom, or replacement of a shower pan can cost a couple of thousand dollars.
Heating and air-conditioning systems
Look out for that old clunker that used to fire coal. It will consume fuel faster than you can feed it. Plan on replacing it with a modern efficient heating system.
Other problems include defective furnace heat exchangers. This problem is not always easy to uncover and usually means that the furnace will require replacement, and it can cost three to four thousand dollars. Boilers that are starting to leak will also require replacement and a typical cost is three to five thousand dollars. Your engineer should look for these major defects.
In addition, your engineer should be sure that the heat distribution is satisfactory and that the heat distribution piping or ductwork is in good condition. Safety concerns such as defective controls, inoperative emergency switches, and evidence of past malfunctions and carbon monoxide emissions must be carefully investigated by the engineer. Be careful of special problems associated with radiant floor heating and other less common systems.
The engineer should advise you to have underground oil storage tanks tested for integrity; a leaking underground oil storage tank can cause thousands of dollars of environmental damage. Another environmental concern is the existence of insulation that may contain asbestos and is especially hazardous if the material is friable. The engineer should advise you to have any suspect material laboratory tested.
The home inspection engineer should test the central air-conditioning system to be sure that it is cooling properly; replacement of an air-conditioning compressor can cost two to five thousand dollars.
Deferred maintenance
Be very careful of homes where deferred maintenance is clearly evident. If a home has been poorly maintained and there are obvious problems, proceed with extreme caution. This could be your worst nightmare (the home of your dreams could become the home of your screams). If there are obvious problems, imagine what you can't see.
Be careful of homes where there is obvious plumbing and electrical work, as well as structural additions and renovations not professionally installed and most likely installed by the homeowner. Correcting these defects can cost thousands of dollars. This is a situation in which the seller of the home is a weekend warrior who is well-intentioned but has no clue regarding proper construction and trade practices. Don't end up writing checks for work that the seller did not want to pay for.
Engineer's Report
It is preferable to retain the services of a home inspector who issues a full written report detailing what is wrong, why it's wrong, and what needs to be done to correct the uncovered defects. Home inspection reports that consist of check lists handed to you at the end of an inspection are often void of needed detail. Checking off good, fair poor, adequate, inadequate, etc. often leaves you wondering what to do next. Be sure that you retain services of an engineer whose door is open for future questions.
Related: A Guide to Home Inspections
Avoid common house problems: home inspection checklist
Ed's list details some major defects to be on the look out for. As an additional aid, InspectAmerica Engineering, P.C. has posted a home inspection check list that can be down loaded for free from InspectAmerica Engineering, P.C.'s Internet site.
Take a copy of this check list when you preview homes, when you see a home that you might consider buying, use the check list to make notes; this check list can be an invaluable resource to help you remember what you've seen and will be an important aid when you accompany your Professional Engineer (P.E.) during your home inspection. Remember, smart home buyers understand the advantages of retaining the services of a P.E. instead of an inspector who is not licensed to practice engineering.
More information on home inspections, including the Home Inspection TechTalk Library, home inspection checklists free for down loading, a national list of Licensed Professional Engineer home inspectors, etc. can be found at the InspectAmerica website. Additional information on the National Academy of Building Inspection Engineers can be found at NABIE.
Compare purchase mortgages now
Print page