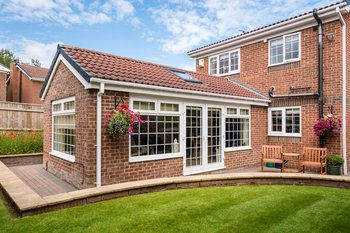 In high-priced housing markets like San Jose, California, many homeowners are considering an apartment addition or in-law suite to house their adult children or parents. Others are adding on to generate rental income.
In fact, cities nationwide are relaxing zoning laws to ease housing shortages, making it simpler for homeowners to add what are legally called Accessory Dwelling Units, or ADUs to their existing properties. Note that adding an ADU doesn't necessarily make your property a duplex.
As of this writing, the California legislature is considering a bill that would allow homeowners to convert a single-family property to a duplex without regard to zoning laws.
Assuming that you live in an area that permits in-law suites or apartment additions, should you build one?
Find mortgages and home improvement loans for home additions
What are the benefits of a home addition?
If you're considering a home addition for an apartment or in-law suite, you're probably looking to gain one or more of these advantages:
Building family relationships (having grandparents on the premises can be great for children)
Helping adult children take steps toward affordable independence
Making it easier to care for aging parents (and avoiding institutional care or expensive in-home help)
Generating rental income
Adding private space for guests
Creating residential space for a caretaker, housekeeper, gardener, babysitter, or home health aid
Generating rental income from an apartment addition
Going "tiny" by moving into the ADU and renting out the main home
Before building an in-law suite or apartment addition
First, find out how your community views these additions. If your area is not zoned for multi-unit housing, or duplex property taxes are higher, avoid features that could reclassify your single-family home as a duplex. These might include:
Separate utilities from main home
Different address from main home (for instance, 100 Main Street and 100-A Main Street)
Relative size and positioning of home (two 800 square foot duplex units vs a 1,200 square foot home and a 400 square foot accessory)
Occupancy (in some areas not zoned for multi-unit homes, you can only have an ADU if you live in the main home yourself. You can't rent out both buildings)
You want to make sure that your home addition is permitted and legal, and local rules matter. If you have a homeowners association (HOA), you'll need clearance from its architectural committee as well.
Comply with local code requirements for ADUs: allowable size, parking spaces, setback, height, etc. Every area is different, so make sure that your builder complies and pulls all needed permits. Your county, for instance, may require a 10 foot setback for ADUs, one parking space for each bedroom, and a size no more than 1200 square ft.
Find a reputable builder familiar with local rules. Preferably one whose work you can see before doing business.
Next, pay for your addition. And if you're adding on mainly for the money, make sure the apartment will increase your rental income or home value enough to make the project worthwhile.
Related: Most Homeowners Can't Pay for Home Improvements With Savings Alone
Cost of apartment addition or in-law suite
According to Realtor.com, separate, freestanding quarters with kitchens, bathrooms, bedrooms and sitting areas range from 300 to 600 square feet and cost between $40,000 and $125,000.
Naturally, your costs will vary according to the quality of construction (your community may have standards requiring expensive finishes). They can run into hundreds of thousands. And permit fees, local labor costs, and the build-ability of your lot impact costs. But here is an example that may work for you:
Simplyadditions.com lists its building costs for a 600-foot in-law apartment as follows:
Cost: $89,000
Move-in Ready: 3 Months
Master Bedroom: 11' x 12'
Master Bath: 11' x 6'
Kitchenette: 8' x 13'
Living Room: 12' x 12'
Pantry: 3' x 6'
Laundry: 3' x 6'
Size: 600 sq/ft
This addition includes, according to the builder, a living room, a large bedroom, a walk-in closet, a full bathroom, kitchenette with food pantry and a laundry area. However, you may be required to submit a set of engineered plans for approval with your building department, and that can add significantly to the cost. You may also want to shell out for higher grade materials and finishes than the bare-bones apartment includes.
Related: A Home Improvement Loan With No Home Equity?
What's the best way to pay for an in-law addition?
There are many ways to pay for an apartment addition or in-law suite. One of the cheapest sources of financing is the fixed rate home equity loan, aka the second mortgage. Interest rates are low because your property secures the loan.
Home equity loan
Fixed second mortgages offer a few advantages: the interest rate and payments are nearly always fixed, and the terms are generous -- up to 30 years. You receive a lump sum at closing, which you can advance to your builder if your contract requires it. However, you must have enough equity in your home so that the total of your current mortgage balance and the new loan balance doesn't exceed 80% to 90% of your current property value (before adding the home improvements).
Cash-out refinance
If you can improve on the terms of your existing mortgage with today's mortgage rates, consider a cash-out refinance. You simply replace your old mortgage with a larger one and use the difference to finance your home addition. If you expect to rent out the addition for more than the additional monthly cost, this may be a good solution.
However, all of the above-mentioned options have significant closing costs. Compare quotes from several mortgage lenders, and make sure you include them in your cost calculations.
HELOC
If you're borrowing a relatively small amount, a home equity line of credit may make more sense. Rates are almost always variable, so they can be less safe when financing large amounts over long time periods. And it's still a home equity loan, so you'll need equity to qualify. But for smaller amounts to be paid off quickly, a HELOC can make sense. Many have low or even no closing costs.
FHA 203(k) refinance
This FHA loan is also a cash-out refinance. But the difference with the 203(k) program is that your loan amount, which can be as high as 96.5% of the home value, is based on the value of the property after the home addition. So if you have little or no home equity, and want to build an ADU, you may be able to do it with the FHA 203(k).
This loan does have the normal closing costs associated with a mortgage, plus FHA mortgage insurance.
Personal loan for home improvement
A personal loan is not secured by the property. That makes it riskier for the lender, so its interest rate is higher. But approval and terms depend on your credit rating and income, not property value. And if your rental unit fails to generate enough income to cover the personal loan payments, your lender can't foreclose and take your house.
How much income can homeowners make with an apartment addition?
The rental from apartment addition depends very heavily on local customs and the demand for housing. If you live in an exclusive neighborhood or city center, you may find more demand than in a more rural environment. If you live in a resort area, short-term rentals like Airbnb might yield a higher return than a long-term tenant.
To get an idea of potential rental income, look for local rentals and see what they are fetching. Compare the amenities of your unit with theirs and set a price. Keep in mind that unless your ADU has separate utilities, you'll need to cover those yourself. So make sure your rent includes enough to pay the extra utility bills.
Hire a property manager to screen your tenants, or do it yourself -- carefully. You don't want to run afoul of fair housing laws. And you don't want a bad tenant living next door. So checking references and credit is vital.
Example of actual ADU investment
But if you live in a high-rent district, your ADU can really pay off. Here's one real life example from the site buildinganadu.com.
"The ADU we built is an 800-square foot, two-bedroom home with a bath and a half. It's completely separate from the main house. It was designed by an architect. I am a licensed general contractor. I built the house and we paid my company the 20% general contractor fee.
The ADU is not a cheap rental. It's a nice home with a full kitchen, lots of storage, air conditioning, a deck, and a private fenced yard. The total cost to build the ADU was $185,000. That is about $230 per square foot -- and that number includes design fees, engineering, permit fees, and all construction costs.
Our taxes went up $2,000 per year after we built the ADU. The liability insurance for the ADU is $25 per month.
We now rent the ADU for about $1,900 a month. After paying all expenses we have about an extra $870 per month.
So, if we had $185,000 cash available and the annual rent was $22,800 and our property taxes went up $2,000 per year and we paid $300 each year for insurance, then the return on our cash invested would be about 11%."
And that leads to the next section -- hidden costs. Notice that the investor experienced a property tax increase after adding the ADU. Check your local codes because you could also.
Related: Get a Mortgage for Investment Property
Hidden cost of apartment addition
Whether you're planning to rent out your unit or not, be aware of the potential additional costs you may run into with your apartment addition.
Increased utility costs can offset rental income or other benefits. If you don't have separate addresses and utilities, you can't separate your tenant's charges from your own
Property taxes can increase with the number of dwelling units. This may not apply if you live in one of the units yourself, and it may not apply as long as your addition is an ADU and not a duplex
Your homeowners insurance premiums may increase if you add guest quarters. They will almost certainly increase if you become a landlord. Consider requiring tenants to carry renters insurance
Your maintenance and repair costs are likely to go up. Even places that are vacant need regular upkeep to remain in working order
You are likely to lose yard space, which could negatively affect your quality of living and/or resale value
Return on investment (rental income and/or increase in property value)
The ADU may provide a couple of income streams -- as a rental unit, as a benefit for a household employee (so you can pay less), or as an improvement that pays off when you sell.
And there are upfront and ongoing costs as well. By comparing the costs versus the income and addition to equity, you can decide if an ADU makes sense for you.
The good news is that buyers are overwhelmingly willing to pay more for homes with ADUs than without, according to a study by The Nest. In fact, it was consistently listed as a most-desired amenity by survey respondents. Considering today's trend toward multi-generational housing, and documented housing shortages in many cities, building an ADU could be a smart move for your current cash flow and your future investment.
Compare home financing rates now
Print page