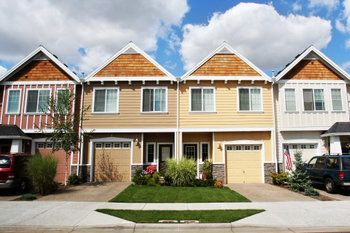 Investment property mortgages are different from home loans for primary residences. Investment property mortgage rates are higher than today's home mortgage rates, and loans can be harder to get. However, the process doesn't have to be impossible or intimidating. Once you know how to get a mortgage for an investment property, you can be more comfortable investing in real estate.
Investment property mortgage rates
When looking at investment property, don't use commonly-advertised mortgage rates to estimate your monthly payment. Expect to pay more upfront costs or a higher interest rate.
Why are rental property loan rates higher? Because statistically, investors are one-third more likely to default on income property home loans than borrowers financing their own homes. Mortgage lenders expect to be compensated for taking on the additional risk.
How much higher are investment property mortgage rates?
Your interest rate depends on the type of property financed, the loan you choose, and your down payment. Fannie Mae and Freddie Mac, the corporations that back most home loans in the U.S., add surcharges to investment property mortgages. An investment property mortgage with 20 percent down carries extra fees equal to 3.375 percent of the loan amount.
That's $6,750 in additional closing costs for a $200,000 mortgage. Instead of paying these upfront charges, you can choose to pay an interest rate that's about .75 percent higher for a loan with 20 percent down, or approximately .50 percent higher with a 25 percent downpayment. Most borrowers prefer a higher interest rate to paying extra upfront fees.
Types of mortgages for investment property
You can choose from four common types of rental property mortgages. Each has its strengths and weaknesses.
1. Government-backed loans -- FHA and VA
Advantage: These loans don't require any previous property management experience. Minimum down payments are just 3.5 percent for FHA and zero percent for VA loans.
Limitation: These programs are only for owner-occupied homes.
It is possible to buy a multi-unit property, like a duplex, triplex or fourplex, live in one unit and rent out the others. This strategy can be the perfect way for first-timers to get landlord experience, buy rental property and purchase their own home at the same time.
2. Conforming (Fannie Mae and Freddie Mac)
Advantage: Home loans work well for experienced buyers who have good-sized down payments. If you're a strong borrower with excellent credit and solid income, these loans are widely available at competitive interest rates. Get several quotes from competing lenders to find your best deal.
Limitation: You must have either previous landlord or property management experience to qualify for these programs.
3. Portfolio lenders
Advantage: Lenders can create their own programs and make their own rules, as long as they comply with real estate lending laws. You may be able to get loan approval with a lower credit score, buy without landlord experience or put less money down with one of these loans.
Limitation: Expect to pay a bit more for these loans.
4. Commercial residential rental property loans
Advantage: These loans allow you to borrow based only on the property's income. You can also buy projects with more than four units, or finance much more expensive property, such as whole apartment complexes.
Limitation: These loans can be expensive and complex to set up. Understand how to buy and finance apartment buildings.
If you are wondering, "Can I get a mortgage for investment property?" the answer is probably yes. You can even buy rental property as a first-time homebuyer with the right program.
And even if you can't qualify for an income property mortgage, you may be able to buy a multi-unit owner-occupied home and rent out the other units, or buy a primary home and convert it to a rental property later. That's a great way to buy rental property with a low down payment or credit score.
Finally, if all else fails, ask your property seller to finance you. Some sellers may jump at the chance to earn interest from the sale of their home.
Investment property mortgage guidelines
Loans for rental houses usually come with strict guidelines. For example, the minimum down payment for investor mortgages is 20 to 25 percent. That's because mortgage insurance for investment property is not generally available.
Fannie Mae and Freddie Mac require landlord or property management experience for conforming loans. Can you meet this requirement by hiring a property manager? Some lenders say "yes." Because there is nothing definite about this in the agencies' guidelines, check with individual lenders when you shop for a mortgage.
Fannie Mae and Freddie Mac also restrict the number of properties you can finance. For most programs, you can't have more than four financed properties. However, there is a loan for 5-10 financed properties that, if you meet its strict requirements may allow you to get a mortgage with more than four property loans.
You'll also have to demonstrate that you have reserves, which are funds available to pay your mortgage even if you have vacancies. Lenders measure reserves in months. If you have $10,000 in the bank after closing, and your total mortgage payment is $2,000 per month, you have five months of reserves. Many programs require six months.
Government-backed loans offer more flexible underwriting, smaller minimum down payments, and lower interest rates, if you can make yourself eligible by buying multi-unit homes and living in one unit.
Another option, if you don't already own a primary residence, is to purchase a home, live in it for a year, then convert it to a rental. You get a better interest rate and less-restrictive underwriting. And you acquire the required landlord experience to finance subsequent purchases.
What credit score do you need for an investment property mortgage?
Investment property loans come with higher minimum credit scores. If you put less than 25 percent down and have a debt-to-income ratio (DTI) above 36 percent, your minimum credit score is 700. If you put at least 25 percent down, and your DTI is 36 percent or lower, that minimum score drops to 640.
However, other programs, like those offered by portfolio lenders, can feature lower minimum credit scores. In general, the higher your down payment, the lower your credit score can be.
Commercial property lenders may not be overly concerned about your credit score if the property generates enough income to pay the mortgage. You may have to set up a single asset bankruptcy remote entity, which prevents property owners from retaining rental income without paying the mortgage.
How to get a lower mortgage rate for investment property
You can reduce your interest rate and/or fees by being a more desirable borrower. For non-government loans, lenders use your credit score and down payment to set your interest rate. Improving your credit score by 1-19 points can put you in a tier for lower mortgage rates. So can increasing your down payment.
You can get a lower mortgage rate by choosing a loan with a 15-year term. Or an adjustable rate mortgage (ARM) with a fixed introductory rate for three, five, seven or ten years.
One of the best things you can do to lower your interest rate or closing costs is to shop aggressively for the best mortgage rates. On any given day, interest rates between lenders can vary by .25 to .5 percent. That's money on the table if you don't obtain at least 4 quotes from competing investment property lenders. Review "The Right Way to Shop for a Mortgage".
The bottom line on investment property mortgages
Investment property mortgage rates are higher than those for owner-occupied homes. In general, they are .50 to 1.00 percent higher for the most common mortgage loans.
There are different financing options available, making property investment within reach of many homebuyers. If you don't qualify for a investment property mortgage, you may still finance income property by purchasing a primary residence and then converting it to a rental home. Or buy a multi-unit property, live in one unit and rent out the other(s). You can even buy investment property as a first-time homebuyer.
Investment property guidelines often require higher credit scores and down payments. But portfolio lenders, government loan programs and property sellers may offer financing with a low down payment or a low credit score. Keep up with mortgage rate forecasts to buy at the best time.
Print page