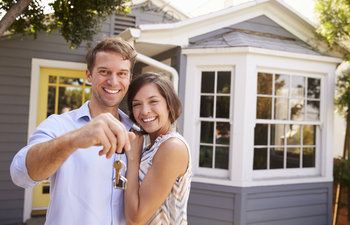 While most financial experts encourage home ownership over renting, for many Americans, renting remains a common option. Lacking money for a down payment, or the inability to qualify for a mortgage are among the reasons some people rent.
According to U.S. Census estimates, the number of single-family rentals (SFR) in the U.S. grew by 31% in the ten-year period immediately following the housing crisis (2007 to 2016), while multifamily rentals (MFR) grew by 14%. In net numbers, single-family rentals in the U.S. increased by 3.6 million units in ten years, more than rental apartments, which increased by 3.2 million units. As of 2016, the U.S. Census counted a total of over 15 million single-family homes for rent in the United States reported a total of over 26 million apartments for rent.
While you may save for a downpayment, or explore accessing homebuyer assistance programs in your state, here are 11 steps to take in order to secure a successful rental home.
1. Set a financial plan with renting and home ownership in mind
Prior to choosing a home to rent, consider your budget. It's important to know how much you'll have to pay in rent on a monthly basis. But it's equally important to know the other costs that go along with renting.
Ask about upfront costs (first/last-months' rent and deposit), as well as any additional expenses, such as utilities, parking, yard maintenance (if your responsibility). There may also be non-refundable deposits and/or fees. For example, if you have a pet, some landlords require a refundable deposit as well as a non-refundable deposit for your furry friend.
Recognize that maintenance costs borne your landlord could be yours when you ultimately buy a home and familiarize yourself with these expenses as repairs are made to your rental.
2. Research where you want to rent or buy a home
Know what's important to you and do your homework on the neighborhood. If living near a grocery store, school or work is important to you, focus your search within a comfortable distance from those locations.
There are free sites such as AreaVibes that provide a "livability score" between one and 100. The site also allows you to sort locations by livability factors such as crime, amenities, education, and housing.
If avoiding crime is most important to you, AreaVibes is a great way to quickly and easily compare the crime activity in several cities at once. It breaks crimes down by type, number of reported incidents, and crimes per 100,000 people. The site also shows statistics about the area's crime trends and explains how your potential neighborhood compares to state and national crime statistics.
It can be helpful to rent in a neighborhood before buying a home for the first time to fully understand traffic issues, noise sources, community spirit and more. It can also me advantageous to get to know neighbors and find out when houses may be coming on the market for sale before they are officially listed.
Related: Essential steps to successful home buying
3. Find out who pays rental home utilities
Renting a home also means taking into account utilities such as water, gas and electric. Sometimes, landlords may decide to include utilities in your monthly rent.
Find out from your landlord if there are separate utility bills, whether all utilities are added into your monthly rent payment, or if a portion of your utility expenses is covered by the landlord.
If you are responsible for paying utilities, call your local utility companies. Give them your address and get an estimate on your monthly utility expenses.
4. Estimate monthly bills above rent
Even if your landlord covers some or most of the utilities, you may still have other expenses to cover.
As a tenant, you may be responsible for household bills such as:
Water
Gas and/or electricity
Trash
Cable
Internet/Wi-Fi
Renter's insurance
Lawn maintenance
Find out which bills are your responsibility, and then get estimates for these monthly expenses. They can add up quickly, especially if there are additional set-up or service fees.
5. Maintenance requests for rental homes
When it comes to maintenance, apartment rentals are typically different from renting a single-family home.
Generally apartments handle most maintenance and repair costs. However, this can vary from one landlord to the next when it comes to renting a house.
Maintenance concerns such as plumbing, broken appliances and pest control can mean stress for you as a renter. Talk to your landlord about the maintenance services he or she provides before you rent a house.
It's important to find out who you need to contact in case an issue arises. Also find out how long it typically takes for maintenance requests to be resolved.
Should you take the next step and become a homeowner, it is important to protect your investment by keeping on top of regular home maintenance.
6. Smoke and radon detectors: essential for renters and homeowners
According the to the National Fire Protection Association, the death rate per 1,000 reported home fires was more than twice as high in homes that did not have any working smoke alarms compared to the rate in homes with working smoke alarms.
Be sure to check for properly working smoke detectors in the home. Smoke detectors should be interconnected. When one sounds, they should all sound.
Ask your landlord when the last time the smoke detectors were changed. Smoke alarms should be replaced every 10 years.
Tenants should also ask if the home has been tested for radon because long-term exposure to radon can lead to lung cancer and other health issues. While radon is a problem in some areas more than others, it's relatively easy to remediate. This is usually handled with the help of a fan underneath the house and a vent to the outside.
7. Is the home properly lit and secure?
It's up to you to make sure that your family is going to feel safe and be healthy in the rental you choose.
Improper lighting may lead to vandalism. More often than not, you'll be viewing a house you want to rent during the day. Don't forget to check the outdoor lighting.
Security lights should either be mounted very high, or protected by wire mesh or tough polycarbonate shields. Make sure that there is outside lighting so that you can walk safely to and from your car at night.
Look for home safety features like solid doors with keyed locks and dead bolts on outside doors, peepholes in the doors, security cameras and security systems. As a renter, you may not be able to install the comprehensive home security system you'd like, but note where you feel security is lacking and plan for implementing a strong security system when you own your own home.
8. Check for lead paint
According to the EPA, if the home was built before 1978, there's a good chance it contains lead paint. Lead paint may be found on virtually any surfacee, but is most dangerous on areas a child can reach, such as window sills and doors.
Federal law requires landlords to provide renters with the following:
The "Protect Your Family From Lead In Your Home" pamphlet
Any knowledge of existing lead paint
An amendment to the lease stating lead paint issues have been revealed and discussed
Renters can also ask landlords to get a "lead hazard inspection." There are non-profits that can remediate lead paint if a tenant can't afford it.
9. Make sure there's no mold
According to the Centers for Disease Control, high quantities of mold spores can present especially hazardous health risks to humans, including allergic reactions, poisoning or fungal infection.
"Toxic mold is probably the most common problem we have to deal with," says Hayden. "There is an incredible amount of fear and we take it very seriously. We remediate it or we make our owners remediate it."
Mold testing costs between $300 to $500, which the landlord might be willing to pay for or split with you. If mold is found, it should be removed and repairs should be made to ensure it won't return.
10. Understand the rental home lease agreement
While many residential lease terms are for 12 months, you shouldn't automatically assume that your lease is for one year. You'll want to know exactly how long your lease term is since you're obligated for rent during the lease term. The term can also protect you from changes such as the landlord raising rent.
While it's usually wise to plan to stay for the duration of your lease, life happens. If you decide to buy a home or need to vacate before the end of your lease, you could be on the hook for rent.
Find out if your lease has a "Release Clause." State laws vary and, while most states require landlords to mitigate damages by looking for a new renter, this isn't the case everywhere. In New York, for example, your landlord has no obligation to try to find a new tenant so you could be stuck paying until the lease ends.
Understanding what to know when renting a house for the first time is the best way to protect you and your family from stress during the rental process. Know your state-specific rights as a renter, read the fine print on your rental agreement, and don't be afraid to negotiate terms you're unhappy with.
If your ultimate goal is to own your home, begin organizing mortgage application documents well in advance. Become familiar with aspects of renting vs. buying a home so that you are fully prepared to take on home ownership when the time comes.
Print page