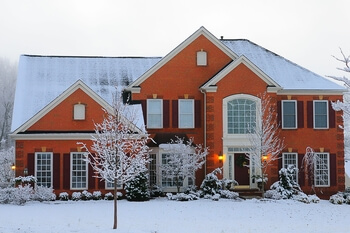 Is winter the best time to buy a home? Possibly. Depending on where you look and what you want, buying in winter can be a very smart move.
See mortgage rates for buying a home
Buying in winter: price
Did you know homes get less expensive in winter? Well, they do. And it's simply a question of supply and demand.
The National Association of Realtors® (NAR) says, "The slowest months of selling activity are November, December, January and February." And that gives buyers a big advantage.
Because when you're buying in winter, there's a good chance your seller is "motivated," which is the word real estate agents use when they mean "desperate." Many sellers at that time of year are marketing their homes because they:
Listed in the spring, summer or fall at too high a price and are now realizing their homes are going to look very stale come springtime
Have intense personal pressures (health, work, marital or financial issues, perhaps) that are forcing them to list at a bad time
Either way, they're more likely to be open to offers in winter than at other times.
Related: Buying a Home in Summer (Pros and Nos)
How much can you save?
According to the NAR's 2019 Seasonality in the Housing Market blog, the median home price nationwide in June 2017 was $263,300. In February 2018, it was $240,900.
By June 2018, it was back up to $273,800. And by October that year, the last month covered by the study, it was down to $255,400. Buy in winter (which October isn't) and you might easily save more than $20,000 on the peak price of an average home (about 9%).
Now, it's true that many factors affect home prices besides the time of year. But the NAR publishes a chart going back to 1999. And that shows a regular pattern of winter troughs, whether the overall trend is up or down. It looks a bit like a heart monitor screen with each year as a heartbeat.
Buying in winter: easier transaction
Fewer people are selling and buying in winter. That blog reckoned there were 313,000 sales in January 2018 but 570,000 in June that year.
Now, imagine you're a property professional: a real estate agent, a mortgage loan officer, a home inspector, a real estate attorney, a home appraiser, a moving company scheduler… Your workload drops by nearly a half come winter.
You have time to act like a human and to treat your clients and customers like living, breathing people rather than case numbers. You can more easily make time to help in tricky situations. And you can be more thorough.
Related: 5 Tips for Holiday Home Sellers
Advantages of buying a home in winter
You're already getting a bargain and an easier transaction when you buy a home in winter. What more could you want? Well, there are a few more potential pros:
There may be tax advantages if you buy in November or December. But don't rely on those before you take professional advice. See them as a welcome bonus if they materialize
You'll see the home at its worst -- If you like a home on a drab and dreary winter's day, you'll love it come the summer when the sun's out and the yard's colorful. You're also seeing it under stress. You're going to notice immediately if the roof, plumbing and heating are holding up in challenging times or if the windows or doors are drafty
You might save on your moving costs and some of those of your closing costs that you're able to shop. Moving companies have summer and winter rates and the winter ones are lower. And housing professionals such as home inspectors may be willing to quote more competitive rates when they're in their quiet periods
Things are looking good. But there are some downsides…
Related: Buying a Home in the Fall
Cons of buying home in winter
It's hardly worth even mentioning the cons because they're so screamingly obvious:
You're buying in winter! That's fine if you're moving to Florida. But if you're going somewhere less balmy, expect problems. The American Moving and Storage Association says you should "plan for delays." Oh, and it's your job to make sure snow and ice are cleared at both homes
If you've kids, they may be starting school partway through the year. And some find that hard
There's a flip side to the advantages of seeing that the home is warm, dry and draft-free. You can't check the pool or air conditioning
There are fewer homes on the market in winter, meaning fewer choices
Delays are the norm. Ellie Mae's Origination Insight reports, which monitor about 80% of all mortgage transactions, reveal that it can take a few days longer to close a loan in winter than summer. Causes can range from holiday disruption to weather-related monkey wrenches.
For most, those first and second points are the most compelling. However, if you don't have kids -- or yours are tough -- that second one doesn't apply.
And then your main concern is the first. But if you hire a good moving company and make plans and preparations with care, you can minimize the risks of disruption. And it's only one day. Or so you hope.
So what do you think? Is winter the best time to buy a home for you?
Print page