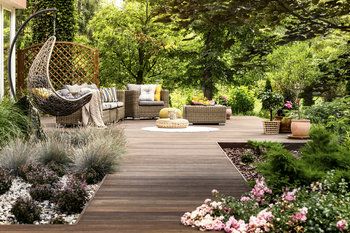 Most people believe that summer is the best time to buy a home. And that the worst time to buy a home is during the winter. There are arguments, though, that summer home buying isn't all its cracked up to be. Much of it depends on your own situation rather than the season. So if you want to buy a home this summer, consider the pros and cons.
Summer home buying: everybody's looking for a home
First, the bad news. If you're going to buy a home this summer, you're going to have to contend with the summer real estate market. In other words, it's going to be crowded out there. If you find your dream house, you may find that other people also think this residence would be a swell place to live. You could find yourself essentially negotiating not with the home seller but the other person or people trying to buy your dream home, which means you'll pay more than you might have.
More buyers, fewer agents
Because everybody on the planet seems to be looking to buy a home this summer, you may find that your real estate agent is swamped - and can barely make time for you. Granted, this is starting to sound negative, as if summer home buying is the worst thing ever. It's not - but you'll want to keep your expectations and patience in check. And be aware that you're competing for your real estate agent's time with a lot of other buyers, especially if you have a good agent who is in high demand.
Moving may be more expensive
Yet another "fun" thing about the summer home buying season: you may find that your moving company charges more. It's a common practice in this industry. And it's harder to schedule a move when demand is high. It can be a little like hiring an a pool contractor during the summer. Your mover will get around to helping you - eventually.
Just say no to summer vacations
People often go away for a week or more during the summer. Granted, sellers and agents really trying to sell their houses probably won't disappear on a vacation during the busiest time to buy a house. Your real estate agent likely won't disappear on you either. But then, again, you never know, and this is a time when people aren't just going on vacations, but attending weddings and graduations. If you're debating between summer home buying and doing your most serious searching for a house or condo in the fall, the busy nature of the season might be a good reason to hold off. After all, you might want to take a vacation, too.
But, look, it isn't all bad in the summer real estate market. Let's cover a few of the positives.
More houses to buy
Sure, you might be worried about more competition and higher prices, but if you want to buy a home this summer, more people historically sell during this period, so you're going to likely have a better selection. Maybe you don't land your dream home because somebody else bid a higher price. So what? There are three other awesome condos, townhouses and homes you have your eye on.
Related: 7 Ways to Land Your Dream Home During the Summer
More daylight to look
You've likely got a day job to tend to, and so you probably can't look at homes all day, every day, but if you're looking for a home in the summer, depending where you live in the country, and how deep in the summer you are, you may have daylight until 9 p.m. or later. Not that you can't view homes in the dark, but it is nice to see the neighborhood and the outside of a house in the clear bright light, or dusk.
No school!
How does that affect you? You haven't stepped in a classroom for some time, presumably. Well, if you have children, or your seller has kids, this is probably a great time to be moving. If you find a house you love, your seller probably won't be fretting about moving out of your dream home until, say, the semester is over. If you both have kids, you both will likely feel more carefree about the move-in date. In fact, if anything, your seller may be in a rush to move out and find a new home before the next school year begins.
Landscaping
In the winter and late fall, the leaves may be off all of the trees. But during the summer, you can really see what it'll be like to spend time in your future yard and neighborhood. True, there are benefits of seeing a prospective house and neighborhood at any time of the year (i.e., so that's what it looks like with all the fallen leaves on the yard), but if you're an outdoorsy person, the summer real estate market may be more appealing.
So should you buy a home this summer? Yes. Unless you feel that the answer is no. There are good reasons for summer home buying, just like there are great reasons for winter home buying, a time with less competition. And your real estate agent might have more bandwidth for you. Really, the best time to make a home purchase is whenever you say it is.
Print page