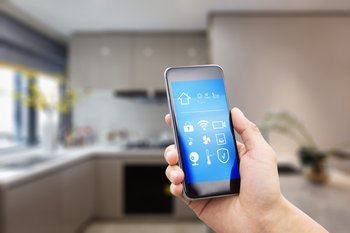 One New Year's resolution many homeowners made this year was to make their homes more efficient, and more comfortable.
With a seemingly never-ending number of high tech gadgets continually hitting the market, making your home smarter and more comfy is easier than ever.
Cool gadgets for your home
1. Amazon Alexa and Google Home
Not only do both Amazon and Google have new smart home devices, these voice assistants can be used to control other smart devices inside and outside your home.
Both of these voice assistants are voice-controlled speakers, allowing you to speak to them freely without the use of your hands. Amazon features Alexa, Amazon's digital assistant. Google Home comes preloaded with the imaginatively named Google Assistant.
Aside from playing music, smart home control is a primary reason to buy one of these devices. You can do anything from turn on your lights, control your thermostat, to using multiple assistants as an intercom system from one room to another in your home.
Amazon's Alexa and the Google Home are comparably priced starting at just $30 each for the lowest priced version.
2. Nest learning thermostat
If you're tired of getting up to change the thermostat when it's too warm or cold, the Nest could be perfect for your home.
After the first week of use, the Nest should no longer need to be programmed, nor have the temperature changed manually. It learns your energy consumption behavior and automatically reacts accordingly. The Nest comes with a cool "time to temperature" feature that shows how long it should take to heat or cool your home.
Since 2011, the Nest Thermostat has saved homeowners billions of kWh of energy in millions of homes worldwide. The Nest Learning Thermostat can be purchased for just $149.
3. Smart fridges
Forget about the days of writing grocery lists with that old-fashioned pen and paper method. Refrigerators nowadays go way beyond just keeping your food cold or producing ice cubes.
Samsung, LG & GE have really stepped up their game when it comes to smart home refrigeration devices. All three have varying bells and whistles including some neat features such as:
Large digital screen displays over 21 inches
View what's inside your fridge from your smartphone anywhere you are
Create and send shopping lists from home to store or vice versa
If your power goes out or you forget to close the fridge, an alarm will go off and call you on your cell phone to let you know
Photo album that allows you to upload and view photos on your fridge's digital screen
Keurig adapter that allows your fridge to make fresh coffee from your phone before your feet hit the floor
Smart home refrigerators are continuing to get hotter and smarter fast. They are not only fun, but they can make your home more efficient and be a real money-saver.
Depending on their bells, whistles and model, smart refrigerators can vary widely in price from $1,500 up into the thousands.
4. Ring door bell
Want to see who's at your door and interact with your guests before letting them in? Want to do so from anywhere? The Ring smart doorbell could be your next cool home gadget.
Unlike many of its competitors, Ring doesn't require dedicated electrical wiring. Instead, it works off rechargeable battery power.
This wireless home doorbell uses an HD camera and your home's Wi-Fi to sound a chime and send real-time video to your cell phone when anyone presses the button. Thanks to motion detection, you can see who is at your door even when the bell hasn't rung.
The Ring door bell system costs in the ballpark of $179, depending upon how many components you select.
5. Smart light bulbs
Light bulbs have grown exponentially smarter in just the past couple of years. Many homeowners are replacing all of their existing standard incandescent bulbs with a variety of high tech, connected solutions you control with just a couple taps on your phone or tablet.
With smarter light connectivity, you can schedule timer and remote control options. These bulbs not only keep rooms lit, they can control the amount of light you program for each bulb, and turn off lights you once again forgot to turn off when leaving the house. These can be a valuable energy cost-saver.
Smart bulbs vary in price but generally run around $15 - $30 each.
6. Smart door locks
Thanks to smart digital door locks, no more being locked out of your house, and no more losing your keys. Oh, and no more hiding keys under your mat or that not-so-fake looking rock.
With the Schlage Connect Touchscreen Deadbolt, you not only won't break your budget to keep your family safe, you can use some of your other home-based technology already in place.
The Nix family in Marietta, GA love their Schlage. According to Brad Nix, "As a family always on the go, we love our Schlage Connect locks. They allow us to control and monitor access for family members and pet sitters, plus we love telling Alexa to 'lock up' at night and have her secure the home via Schlage Connect."
Depending on the model and features, smart locks range from the low $100's into several hundreds of dollars.
Mortgage refinancing to cover smart home upgrade costs
Having a smarter, more tech-savvy home can make your home more fun, as well as save you considerable money over the years. The challenge can sometimes be figuring out a way to pay for these upgrades.
Fortunately, low interest mortgage rates have given some homeowners the option to refinance, tapping into their home's equity for these modernizations.
What if you're buying a home that has everything except for these smart home upgrades? A home equity loan after you buy a house may be another viable option for making your home smarter and trendier.
Print page