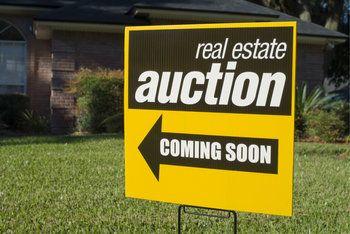 Some home sellers don't want to hang around forever. Keeping their homes always ready for buyers to tour. Dragging their pets around for hours while their agents hold open houses. And dealing with the limbo of checking out emotionally from one home but being unable to move on to the next one. If you have the need for speed, you might wonder what it takes to sell a home at auction. Here's what you need to know.
Benefits of home auctions
According to the National Association of Realtors (NAR), auctioning a home confers a few advantages to sellers:
Your buyers are pre-selected, pre-qualified and ready to buy.
Auctions are very fast. You won't have to carry homeownership costs for months on end.
You can protect your privacy. No "for sale" sign in your yard. No lock-box on the door. And no neighbors investigating your medicine cabinets during open houses.
Competition from motivated buyers should get you the true market value of the property.
Eliminates the aggravation of showings and open houses.
You won't have to negotiate with buyers.
Auction houses market your property aggressively before the sale.
In a competitive bidding situation, you may get more than you expected for the home.
Cons of selling a home at auction
Of course, selling a home at auction has its downsides.
Some buyers believe that all auction sales are distressed properties.
Auction costs are higher than real estate commissions.
The pool of buyers is smaller because only those who can close immediately are qualified to bid.
A "no-sale" auction (in which no one buys the property) can harm the perception of your property value.
If the property doesn't sell, you still owe fees to the auction house.
In an absolute auction, you may get less than you wanted or expected. But you have to take it.
The ideal property for auction, say the experts, is one in which the owner has equity and can take less than top dollar if necessary. Homes in hot real estate markets tend to do well, and if a bidding war breaks out, you can get more than your listing price. Higher end properties tend to do better than distressed sale homes.
Related: How to Sell Your Home Successfully
What does it cost to sell a home at auction?
The cost of selling your home at auction depends on how you approach it. You could auction your home yourself without help from an auction house or real estate agent. But you could easily pay in other ways - without the right exposure, you could end up with a much lower sales price.
It is common for auction companies to require that you have a real estate agent representing you. And that you pay a commission to any agent representing a buyer. That's in addition to the fees charged by the auction house. Your costs for the whole transaction are likely to run between 10% and 15% of the sales price. Concierge Auctions, for example, represents higher end properties. And the total fees can reach 20% of the sales price.
Note that when home auction providers say that there are no commissions, they are not working for free. They charge a "buyers premium," which is typically 10%. And of course, buyers consider the total cost of purchasing, so they bid less when they know they have to pay a premium. Some sellers prefer to just pay a selling commission because the buyers premium does discourage bidding.
Finally, there is the "no sale" charge. If your home does not attract bids or the bids don't reach your reserve price, the home may not sell. And in that case, you'll likely have to pay a no-sale fee. It's meant to compensate the auction house for its marketing costs and efforts and can run into the thousands of dollars. Concierge Auctions charges a $35,000 no sale fee. But other companies ask much less, so verify this potential cost before listing.
How to auction your own home
Yes, you can auction your own home. However, if you DIY your auction, prepare to assume many costs and tasks. You'll need to market your home and advertise it. You might need to create a web site for the property and buy signage.
You can choose to perform a live auction or an online auction. One way to increase your home's visibility for a self-conducted auction is to use "for sale by owner" listing sites and include the particulars - who is eligible to bid, how and when they can bid, and when the sale must be finalized. For instance, you'll probably want a deposit equal to a down payment and a mortgage preapproval letter or proof of funds to close. You'll set the time and terms of the auction - live bidding onsite, online bidding, or a combination. You can even broadcast your live auction online.
Few have the experience or the desire needed to completely auction their homes themselves, however. You can still conduct an online auction without using a real estate agent. But understand that the auction site or provider charges a fee, either to you, the buyer, or both.
Related: 5 Tips for First-time Home Sellers
Before selling your home at auction
It is helpful to make the transaction as transparent as possible for potential buyers. Order a home inspection and make the results available to bidders. Advertise online and include a comprehensive virtual tour.
If you conduct a live auction, let buyers inspect the property beforehand. That can increase your pool of potential buyers because you're reducing the risk involved. Similarly, consider including a home warranty (which costs a few hundred dollars) to allay buyer fears.
Next, you'll want to decide how to structure the auction.
Absolute auctions obligate you to sell the home to the highest bidder. Period. They tend to attract more buyers and generate more bids. Many auction pros recommend this route to spark a bidding war and perhaps get a higher price. However, you also risk not generating enough interest and having to sell your home for much less than you want.
Minimum bid auctions require anyone bidding on the property to submit a predetermined minimum bid. So you know that your home will sell for at least the minimum bid. However, this does limit the pool of buyers and may not get you the highest price. If you get no bids, you'll incur a no-sale fee.
Reserve auctions allow you to decide if you want to accept the winning bid or not. You set a minimum price that you are willing to accept and don't have to sell if the highest bid does not meet or exceed that amount. However, because the reserve is not known to the bidders, many don't bother with these auctions. They do not want to jump through a bunch of hoops and bid only to find that the seller wants more than the property's market value. And if you don't sell, there's the no-sale charge.
Next, you'll need to hire your auctioneer or auction site.
How to choose an auctioneer for your home
First, you want an auctioneer or site that specializes in your sort of auction. If your home is a desirable property, don't work with a foreclosure specialist. Or one that sells farms if you've got a big-city condo. You'll also want to know if the auctioneer requires you to have a real estate agent representing you.
You can find auctioneers through the National Auctioneers Association, which maintains a database of member auction professionals and can match you with a provider for your home. If you have a real estate agent representing you, his or her company might use a preferred auction house or site. You'll want to ask all potential candidates the same questions:
How long have you been in the business?
What is your specialty?
What are your qualifications / designations?
How will you market my property?
How do you qualify bidders?
What is the process for accepting bids?
What is the pre-sale marketing period?
How long will it take to close the deal after the sale?
Professional designations provide an idea of the auctioneer's qualifications and experience. CAI auctioneers, for instance, must meet the experiential, educational and ethical standards set by the NAA Education Institute. They must be full-time auctioneers for at least two years (prior to attending the institute), log more than 120 classroom hours in the Certified Auctioneers Institute and complete 24 hours of continuing education every three years.
Related: When to Drop Your Home's Price
Know who pays what in a home auction
Understand what you'll be paying before committing to a sale. You might owe a 6% to 10% commission to the auctioneer when your home sells. Others charge a buyers premium, usually 10%. And some split their commission between the buyer and the seller. Establish what the marketing costs will be and who pays them, and what the no-sale fee is if your home does not sell.
Print page