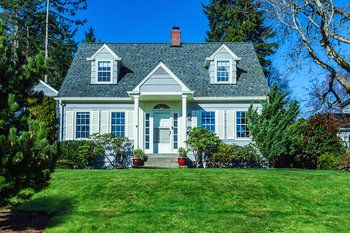 There are several reasons why you might get a home inspection before listing your home for sale:
Find problems before they derail a sale
Complete repairs at a competitive price without pressure
Give buyers confidence
Some home sellers don't want to pay for a home inspection, and don't want to know if their home has problems to be fixed or disclosed to buyers. But that outdated approach comes up short when buyers are more knowledgeable and have some negotiating power. A pre-listing home inspection takes some of the guesswork out of selling your house.
Buying again after your sale? See today's mortgage rates for your next purchase
The pre-listing home inspection
Almost all homebuyers require a home inspection when they enter into a purchase contract. So would you rather find out that your home has problems (and give your buyers a potential out) two weeks before closing? Or would you prefer to uncover and fix potential obstacles upfront?
Once you complete any repairs, you aren't required to disclose the issue your inspector uncovered. Or, you can provide the inspection report and receipts for repairs to buyers so they can be confident that they are purchasing a home that's in good condition.
What does a home inspector do?
A licensed home inspector examines your house's interior plumbing and electrical systems, HVAC, roof, attic, floors, windows and doors, foundation, basement and structural components. He or she creates a report indicating irregularities and items potentially needing repair.
You may be concerned about what to expect during a home inspection. The process generally takes two to four hours, and your inspector will need access to all the systems of your home.
If you can, be there when the inspector examines your property so you can answer any questions. One Lake Tahoe, Nevada homeowner was glad she was home. "The inspector saw some white crumbly things on the ground under the house and was concerned about rot," she said. "I was able to explain that there had been a leaky bean bag chair there and it was just Styrofoam."
Home inspection checklist: what's covered
Per the American Society of Home Inspectors' (ASHI), your inspection should cover these things:
Heating system
Central air conditioning system (temperature permitting)
Interior plumbing and electrical systems
Roof
Attic, including visible insulation
Walls
Ceilings
Floors
Windows and doors
Foundation
Basement
Structural components
Inspectors can only check what they can see without tearing walls open or moving your personal property or risking injury to themselves.
What does a home inspection cost?
According to HomeAdvisor, your home inspection cost is likely to range between $277 and $388. Your cost depends on the home size and the complexity
Inspections can take under two hours or longer than four, depending on your home. One way to keep costs down is to make access to everything as easy as possible. All-electric houses with city water and sewer and no obvious aging are generally easier and cheaper to inspect than vintage homes with furnaces and wood stoves and gas appliances and a septic system and a well and attics and cellars and multiple stories.
It's possible for an inspection to cost less than $200 or more than $400.
Finding a home inspector
You can find a reputable home inspector by checking with the primary industry trade group, the National Association of Home Inspectors (NAHI). Its members must pledge to apply accepted standards of practice and ethics.
You can also check out inspectors with the Better Business Bureau. Make sure they are licensed, bonded and insured in case they fall off your deck or trip over a planter. Ask what kind of report they offer and what it costs.
Should you use a home inspector recommended by your real estate agent? Possibly not, according to many experts. An inspector affiliated with your agent or anyone who may benefit from the transaction may have a conflict of interest. You want someone impartial working on your behalf.
Related: Are Home Warranties Worth the Cost?
How should you prepare for a home inspection?
Make it easy for a home inspector to access everything he or she needs to examine.
The inspector will make sure that your appliances are in working order, so make sure that all pilots are on. Even if it's summer and your gas heating is normally off
Leave any keys needed to access things like circuit breakers, water heater, cellar, etc. and label them
Make sure it's easy to see and get to crawl spaces, drainage access points or a septic tank. Clean up your yard, if necessary
Provide unobstructed access to your furnace, HVAC unit, water heater and anything else that needs inspecting. Even if that means removing a huge pile of boxes from your basement, attic or garage
Reconnect the utilities if the home is vacant and they have been shut off. You'll need them on anyway so people can see the house comfortably and have enough light
There can always some element of subjectivity in an inspection. It can't hurt to make a favorable impression.
Don't expect home inspection perfection
Your report will almost certainly list some defects, but most of the time, they are just minor things that can be fixed easily or safely ignored. However, more serious problems can be deal-breakers for buyers.
If you're looking at an expensive problem, you have options: disclose it and let the buyers deal (you can make it more palatable if you also provide estimates to fix the problem), complete the repairs and not disclose the issue (probably the better choice if you can afford to do so), or disclose and fix once you have an earnest money deposit and a contract.
Providing a copy of your inspection and proof of repairs may inspire your buyers to waive their own inspection. That could be good for you because another inspector may find some a different set of small problems that could hold up your closing.
How to ace your home inspection
If your buyers commission their own inspection, you'll have another inspector to impress. And you'll probably get a better report if your house is welcoming and attractive.
This means it should be clean and smell good. Minor visible defects should have been repaired to create a positive impression. The place should not look neglected or rundown or squalid. Clean windows, clutter-free rooms and a tidy entry are your friends.
Most home inspection agreements don't hold inspectors responsible for items and areas that they can't access. The American Society of Home Inspectors states that the inspector is not required to "move personal property, furniture, equipment, plants, soil, snow, ice or debris."
When an inspector can't provide a complete report, there will be a "not readily accessible" notation. And that may be enough to cause your buyers to walk away, taking their earnest money with them.
Related: Selling your own home (pros and cons)
Who pays for a home inspection?
If you commission an inspection before listing, you'll pay for it. And that's probably money well spent.
Typically, buyers also want their own inspection. In fact, experts recommend that buyers choose their own inspector, an independent professional with no ties to either the sellers or any of the real estate agents involved.
It's customary in that case for the buyers to pay for their own inspection. Your sales contract should specify what happens if the buyer's inspector finds issues with the home.
What if the home inspector finds a problem?
If a home inspector finds something concerning, buyers may wish to order additional reports, looking for:
Radon
Termites
Asbestos
Lead piping or paint
Mold
Normally, buyers pay for these additional reports if they want them, but in real estate most things are negotiable. If the inspection turns up something really huge, your purchase contract dictates what happens next.
Typically, the contract states that repairs under a specific dollar amount, say $2,000, will be completed at your expense and the buyers remain obligated to close on the purchase.
Repairs costing more than a specified amount often trigger a re-opening of negotiations:
The buyers can choose to terminate the sale and get their earnest money returned
You (the seller, with the buyers' agreement) can choose to make the repairs and close the deal on schedule
You and the buyers can renegotiate the sales price and let the buyers complete the repairs at their own expense
If the inspector finds items that are potential problems, but don't require repair immediately, you may be able to appease the buyers by purchasing a home warrant policy that covers items like failing appliances and system repairs for the next year.
Smart home sellers can minimize surprises and delays by commissioning a home inspection before listing. Consider making this part of your smart home marketing strategy.
See current mortgage rates now
Print page