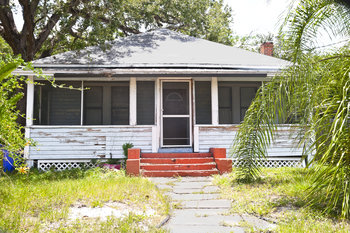 You might have the most perfect house on the block, but the elements of success in selling it can go home beyond your house and yard. If you're thinking about selling your home, determine now if any of your neighbors might be impeding the sale of your home. Here are five things to look out for, and what you can do now to sell a house with bad neighbors.
5 ways neighbors can sabotage your house sale
Buying and selling a home takes effort. While there may be many ways neighbors interfere with the sale of your house, some of the most common problems include:
1. Overgrown lawn
Tall, unkempt grass is an eyesore that can attract unwanted critters and repel buyers, says Katie Wethman, a Realtor with Keller Williams Realty in McLean,Va. "Buyers will assume that if a yard isn't kept up now, it won't be kept up later," she says.
If your neighbor's grass is high, address it by first trying to have a friendly conversation with them about their lawn, says Randy Bell, a broker with HomeSmart Realty Group in Denver, Colo.
You could even offer to pay to have a lawn service keep the yard trimmed while your home is listed, he says. It may not seem fair, but it could keep potential buyers from looking elsewhere.
"If they're financially strapped, ask if they have an older child (who could cut the grass), and offer to give the child a gift card if they can take care of the yard," Bell says.
If those options don't work, contact your homeowners association or local municipality to remedy possible code violations, he suggests.
2. Homeowner abandoned house
It's easy to see how a vacant property could make any buyer hesitant to move in nearby. If the offending property is a foreclosure, contact your real estate agent and ask them to track down the lender. You and your agent can then contact the bank's foreclosure department to complain, says Bell.
If the home is on the market, contact the listing agent and ask them to do the same. "Approach them and say that you are going to have your own property coming up in the pipeline, and see if there is there is a way to make theirs presentable," he says.
3: Property line encroachment
A neighbor who doesn't know how to stay within their property can be an instant turnoff for potential buyers . "If you see somebody is building a shed and you think that it crosses your property line, you certainly want to get in touch with your attorney," says Vilas Dhar, a real estate lawyer in Boston.
The attorney could give you advice on how to stop their behavior and discuss next steps for dealing with damages. "There could be court action taken or an injunction to keep them from continuing down the path they're on," he says.
4: Loud dogs nearby
A neighbor's loud pets are another turnoff that can sabotage a sale, says Wethman. To help resolve the situation, Wethman suggests approaching your neighbor in a polite manner, let them know you plan to put your house up for sale, and ask if there's any way you can work together to solve the barking problem.
She also suggests politely asking neighbors if they can keep their dog indoors during important events, such as an open house.
When home sales go smoothly, it can improve home equity for the entire community. "Explain that it helps everyone in the neighborhood when a house sells for a high price in the fastest time possible," she advises.
5: Negative comments about neighborhood
Few things can drive away a potential buyer faster than having a neighbor say negative things about the neighborhood. If the neighbors don't like where they live, or worse, don't like your property, they may not be too shy to share their thoughts with potential buyers.
Even friendly conversations could inadvertently sabotage a sale. If a neighbor says they love their quiet street because it doesn't have any children, that could be a turnoff to buyers with children or who want to start a family, says Wethman.
Wethman encourages home sellers to communicate with the neighbors and encourage them to give positive -- but brief -- descriptions of the community, if asked.
How to sell a house with bad neighbors
If you're selling your home, you'll have your hands full trying to clean and stage it so that it shows model-perfect. But don't forget to look around your community and make sure your neighbors are on board, too. Identify problem areas now and be prepared to take action so that you can make sure your neighbors aren't sabotaging your house sale. Also, it's not only neighbors that can make selling your home a challenge; sometimes it's neighborhoods, too.
Print page