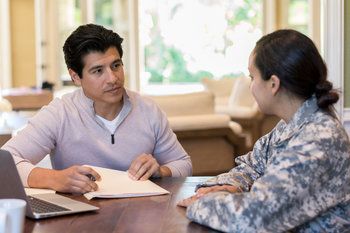 After the housing crisis, most zero down mortgage programs went away. Fortunately for military veterans, the VA home loan with no money down and no monthly mortgage insurance, remains one of the best loan programs on the market.
This does not mean, however, that your lender won't foreclosure on active military if you're unable to make your mortgage payments.
So can a bank foreclose on active military?
The good news for active service members who took out a mortgage loan before leaving for active duty, you're entitled to help against foreclosure for veterans. The federal law that protects service members is known as the Servicemembers Civil Relief Act (SCRA).
The SCRA offers military members a wide range of legal protections not available to the general public.
What is the Servicemembers' Civil Relief Act
The SCRA was enacted in 2003 to help support members of the military and their families who experience financial challenges during active duty.
Formerly known as The Soldiers' and Sailors' Civil Relief Act of 1940, the SCRA is a federal law that postpones, suspends, terminates, or reduces the amount of certain civil obligations. This allows members of the armed forces and certain other individuals to focus their attention on their military or professional responsibilities without adverse consequences for themselves or their families.
According to Justice.gov, the SCRA enables servicemembers to devote their time and attention to the defense needs of the Nation.
What is covered under SCRA
Military personnel become eligible for SCRA benefits starting on the date when their active duty orders are received. SCRA coverage usually terminates within 30 to 90 days after the date of discharge from active duty.
SCRA only applies to Reservists and members of the National Guard when they're serving on active duty orders. Financial relief under the Servicemembers Civil Relief Act is available to active duty members of all the Uniformed Services branches.
The SCRA isn't limited to mortgage or housing-related challenges. The Act includes protections and provisions which cover:
Termination of:

Rental agreements
Automobile leases
Phone service
Prepaid rent
Security deposits
Evictions
Installment contracts
Credit card interest rates
Mortgage interest rates
Mortgage foreclosures
Automobile repossessions
Civil judicial proceedings
Life insurance
Health insurance
Income tax payments
SCRA relief and protections can also apply to the spouses and children of qualified servicemembers, as well as any individual who relied on the servicemember for at least 50 percent of their support, for 180 days prior to using the Act.
If you're unsure of whether SCRA applies to you, eligibility can also be determined through your base Legal Assistance Office.
How does SCRA protect against foreclosure
According to the Consumer Financial Protection Bureau (CFPB), if you took out a mortgage before entering active duty military service (also known as a "pre-service mortgage obligation"), you generally can't be foreclosed on without a valid court order while you are on active duty and for an additional 12 months after leaving active duty.
A great characteristic about SCRA is the protection applies whether or not you told your mortgage lender or servicer about your military status.
The SCRA also provides service members with protections against default judgments, which are rulings against a party to a lawsuit because he or she didn't appear in court. This includes foreclosure cases before a judge.
If you obtained a mortgage before you went on active duty, the SCRA allows you to ask for a mortgage interest rate reduction to 6 percent (including service charges and fees) for the entire time you are on active duty, and for an additional year after you leave active duty.
Related: How to avoid a VA foreclosure
How SCRA helps active military
It's important to note that SCRA is an Act put in place to help veterans, but the protection provided is not automatic. You still have to get legal counsel in order to put the protection into action.
In 2008, the Military Homes Protection Act helped to enforce the protection veterans receive. This Act in particular helps members coming home from active duty by prolonging foreclosure proceedings. Rather than starting after 90 days of missed payments, lenders cannot start proceedings until 9 months after continually missed payments.
You still have to prove that you deserve it. This can be done by proving that your time in the service took away from your ability to make your mortgage payments. You must show it affected you and your family financially. You must act fast in order to get the protection too. You have up to 180 days after your active duty ends to ask for the protection.
What SCRA can NOT do
It's important to understand that SCRA does not excuse you from making your mortgage payments. Instead, it prevents mortgage lenders from starting foreclosure proceedings for a short while.
During this time, you'll need to figure out how to make ends meet. You should contact your lender to figure out how you can make good on your mortgage.
A few typical methods include:
Again, the SCRA does not initiate these things on your behalf. It's up to you to get things started so you can get your payments back on track.
After nine months, there is nothing the SCRA can do for you. You must act fast.
What your mortgage lender may need
In order to get the protections and provisions offered by the SCRA, your lender needs the following items:
Written notice that you're reporting to active duty
Documentation showing your military orders
Proof that you obtained your mortgage prior to leaving for active duty
It's important to note that the help provided by the SCRA is not meant to be a permanent solution. SCRA is in place to help you avoid foreclosure temporarily.
You still have to put in the effort and talk to your lender. You need to find out what options you have to bring your account current.
Your lender cannot adjust your interest rate during the 6 months following your return, nor can they pursue foreclosure, but that's about it. It's up to you and your lender to determine a way to make your payments more affordable.
Any unpaid principal and interest isn't likely to disappear. Instead, your goal should be that your lender can help you work something out so that you can make the payments up.
Typically, lenders tack the unpaid principal and interest on the back-end of the loan, essentially increasing the principal amount. Other lenders work out a payment plan where the borrower pays a portion of the unpaid balance every month for a certain period. Only you and your lender know what option may work best for you.
Being an advocate for yourself is the best way to prevent foreclosure. Don't let too much time pass before reviewing your options with your lender. The sooner you act, the more choices you may have and the quicker you can get your payments back on track.
Print page