Click here to see a graph of Federal Funds rates.
Does the Federal Funds rate affect mortgage rates? Click here to find out.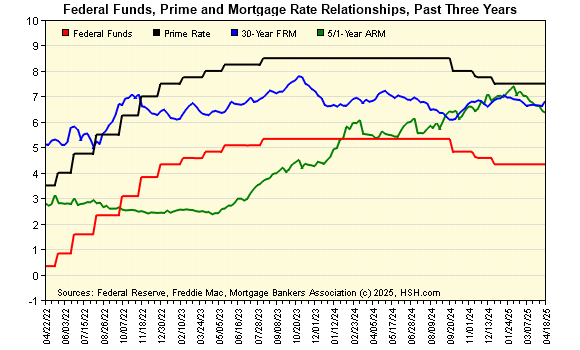 As you can see here, the Federal Funds rate and the Prime Rate track along with each other very closely.
Short- and mid-term ARMs, such as the 5/1 ARM shown above, are also affected by trends in short-term interest rates. As a lenders' cost of obtaining funds to lend changes, some of those reductions or increases are passed to borrowers in the form of lower (or higher) starting rates.
Long-term rates, such as 30-year fixed-rate mortgages, pay little attention to short-term rates, responding instead to economic growth and inflation pressures. They more closely follow other long-term rates, such as the yield of the ten-year Treasury Constant Maturity.