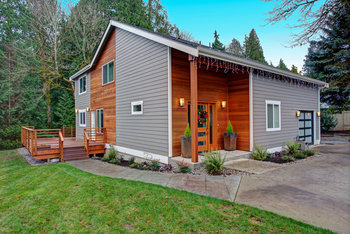 If you own a home and pay a mortgage, you may be asking yourself: Is it time for a mortgage refinance? The answer is yes if you can lower your interest rate and save money in the long-term.
Mortgage refinance is about more than rates
There are other good reasons to refinance your mortgage, too. You may be able to take cash out at closing to fund a major transaction. And you could choose to shorten the term of your loan, allowing you to pay off your home a lot earlier than expected.
But the refinance process can be lengthy and complicated. Learn what's involved and consult a lending expert on the scenario that's right for you in order to avoid refi mistakes.
Related: Refinancing Manufactured Housing (Get a Better Rate)
More people are refinancing today
You may be surprised to learn that mortgage refinancing now represents most loan originations. In fact, over half of the loans closed in October 2019 were refinance loans, per the latest Ellie Mae data.
These refi mortgages accounted for 51% of the total loans originated on its system. That share is a two percentage point rise from September. And it's the highest percentage tallied since March 2015.
What's more, the Mortgage Bankers Association reported that refi volume upped total mortgage application activity by 3.8% in early December versus the week before. Refi volume was nearly two-thirds higher than the same week one year earlier. And refinance applications were 146% higher than at the same time a year prior.
Why mortgage refinance activity is up
Rick Sharga, president/CEO of CJ Patrick Company, says there are several reasons why more people are refinancing now.
"Mortgage rates weren't low enough at the beginning of 2019. They needed to be lower to deliver the kind of financial benefits that would entice borrowers to go through the pain involved in taking out a loan. As rates fell, the gap between borrowers' current rates and today's rates widened. And it made sense for more borrowers to take a look at the potential savings and their monthly payments," he says.
Also, "my guess is that a lot of the borrowers refinancing now needed a bit more time to build up the 20% equity they needed at minimum to qualify for a refinance loan," says Sharga.
Realtor and attorney Bruce Ailion says with interest rates today in the mid-3% range, "refinancing now is one of the biggest no-brainers in the history of humankind."
Ailion notes that the average mortgage debt per borrower, according to Trans Union, stood at $200,935 in the second quarter of 2019. "And the total number of mortgage accounts is up to 52.7 million from 52 million in the fourth quarter of 2016. The vast majority of these loans are at an interest rate that is higher than today's historic bargain rate."
Consider that a saving of one percentage point (say, going from a 4.5% to 3.5% rate) equates to a savings of roughly $2,000 per year, Ailion adds.
"That's a substantial economic benefit and incentive for people to refinance today," says Ailion.
Related: 10 Reasons You Haven't Refinanced Your Mortgage, and How to Change That
Why now may be a great time to refinance your mortgage
Sharga believes there are three key reasons why you should consider a refi right now.
"First, rates are still historically low. And there are still many borrowers with higher rate loans or adjustable-rate mortgages who would benefit from locking in at these rates," says Sharga.
Second, compared to a few years ago, there are more types of loans available for borrowers who have less-than-perfect credit.
"Also, the mortgage industry is currently in a slower period in terms of loan activity," Sharga adds. "That means borrowers may be able to take advantage and get the absolute best deals."
Ailion agrees.
"Interest rates may actually go lower in the coming weeks or months. But the cost of waiting exceeds the potential savings of waiting for lower rates," says Ailion.
Nathaniel Hovsepian is the owner of The Expert Home Buyers. He says now is an ideal window in which to refi, especially if you've built up equity that you can tap for the right reasons.
"Pursuing a cash-out refi and reinvesting that money into something else could be smart," Hovsepian explains. "You could use that money for home improvements that would raise the value of your home. Or you could put it toward other types of investments such as real estate or stocks that will bring you a greater return on your money."
Alternatively, you could take cash out to consolidate your outstanding debt. Rolling all your outstanding balances into a lower-interest mortgage refinance could save you a lot of money.
Related: Should I Refinance?
What to consider before refinancing
Along with lowering your rate, you could opt to shorten your loan's term.
"Borrowers - especially those who've managed to significantly reduce the principal balance - may want to explore switching from a 30-year to a 15-year fixed-rate loan. Monthly payment savings may not be as large initially," Sharga says. "But you can save tens of thousands of dollars in reduced interest payments over the life of the loan."
For best guidance, consult with an experienced lender or mortgage broker.
Lastly, be careful before depleting too much precious equity.
"It's important that borrowers don't use their houses as an ATM and just take out money to spend frivolously," cautions Sharga. "That was an under-reported cause of many thousands of people losing their homes to foreclosure during the housing market meltdown."
Also, if you pursue a refi for debt consolidation, "exercise discipline and don't build the debt back up. Otherwise, you end up right back in a high-debt situation while also having lost valuable equity in your home," Sharga continues.
Print page