With mortgage rates as low as they are, what's holding back the housing market this spring?
As March fades into April this week, the traditional homebuying season should be fully underway. But is it?
Spring traditionally plays host to hordes of eager homebuyers for a few reasons:
There tends to be some pent-up demand fostered from the colder, slower winter months when fewer people tend to shop for homes
Parents are eager to shop for and find homes in the late spring/early summer to make the transition to a new school as easy as possible
So while the hope is that homebuying will rejuvenate itself this spring, the writing isn't on the wall. The indicators suggest that, despite mortgage rates which remain in the "historically low" category, Americans just aren't buying as many homes as they should.
Current mortgage rates
Mortgage rates of all stripes increased last week thanks to some warmer economic reports and recent comments from the new Fed Chair Janet Yellen. According to HSH.com's latest weekly survey:
30-year: The overall average rate for 30-year fixed-rate mortgages (conforming, non-conforming and jumbos) increased by 0.05 percent to land at 4.48 percent for the week ending March 28. This is the highest the 30-year conforming average has been at since late January.
15-year: The overall average rate for 15-year fixed-rate mortgages (conforming, non-conforming and jumbos) rose by 0.07 percent to land at 3.62 percent for the week.
FHA: FHA-backed 30-year fixed-rate mortgages went up by 0.04 percent to 4.14 percent.
5/1 ARMs: Finally, 5/1 Hybrid ARMs increased by 0.09 percent to settle at 3.17 percent for the week.
Home-sale trends aren't matching mortgage-rate trends
"At these levels, mortgage rates should not be a significant deterrent to buying, let alone considered 'high' by any stretch of the imagination, but for some, perhaps they seem so," wrote Keith Gumbinger, vice president of HSH.com, in the latest Market Trends newsletter.
When you look at the trend of new-home and existing sales compared to mortgage rates, it doesn't paint a positive picture for spring—people aren't buying homes at the levels they "should."
"Sales of new homes, although pricier than existing, should be the most elastic component of the market: a buyer wants one, finds a builder, and buys one or has one built; there's no issue of dealing with short sales and underwater borrowers or limited inventory to consider," said Gumbinger. "Still, sales of new homes show no signs of accelerating, and continue to move mostly sideways."
The existing-home sales numbers aren't any better; in fact, they've been trending downward for some time.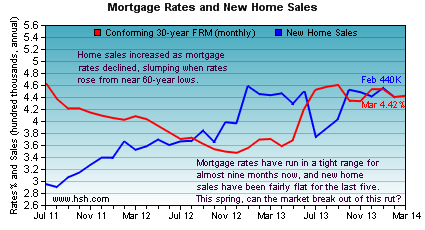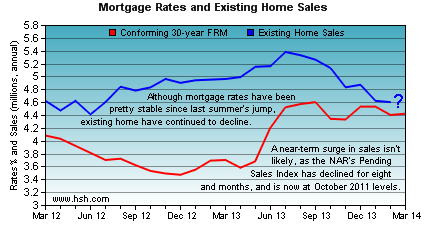 What aren't people buying?
The factors holding back homebuyers are numerous:
Limited inventory
Higher home prices and mortgage rates haven put a damper on affordability
There are still plenty of underwater homeowners who can't sell or won't sell until their situation improves
Strict lending standards
Student-loan debt is limiting the first-time buyer audience
Shaky job market and a lack of income growth
As Gumbinger puts it, "Residual fear from the crash."
Recently foreclosed homeowners who want to buy again but can't
Speaking of residual effects, there are homeowners who recently refinanced to rock-bottom mortgage rates who aren't in any rush to give up their once-in-a-lifetime rate
Where does this leave us?
"Whatever it is, singular or a combination of issues, it will be hard to get serious traction in housing until one or more of these (and probably others, too) are cured," said Gumbinger. "Perhaps all we need is more time to overcome them, but that suggests that we'll have a sluggish market for a while yet, and with the economy missing the oomph that housing provides, we may find ourselves rather stuck in a self-reinforcing mire."
Print page