(This article was written by TJ Freeborn, mortgage professional with Discover Home Loans.)
You have some money saved and are happy in your current rental but often find yourself looking at homes online or attending an open house "just to look."
Sound familiar? If so, it might be time for you to buy a home.
The decision to rent or buy a home is different for everyone and there are benefits to both. But buying a home could be a better deal for you depending on your financial situation.
Making the shift from browsing to buying a home is a milestone that many millennials are considering. According to the National Association of Realtors (NAR), just 36 percent of those 35 and younger own a home, the lowest this statistic has been since 1982. This finding is at odds with the fact that the current real estate market is buyer-friendly-- with mortgage rates remaining near historic lows while rents remain high -- providing a prime opportunity for millennials to start their home search among less competition. In the current marketplace, major cities like San Francisco and New York are not the only places where rents are sky-high, according to ApartmentGuide.com, the trend has spread nationwide.
To determine whether now is the time to consider buying a home, it helps to thoroughly assess your personal, professional and financial situation by answering the following questions:
No. 1: Are you staying put?
If you're thinking of relocating in the near term, it's probably best to keep renting. However if you see yourself living in the same area for the next five to seven years, you might be better off buying a home. Keeping your house for several years helps recoup the costs associated by building equity. The more equity you have in the house, the more you can potentially benefit when you sell the home.
No. 2: How's your credit?
In addition to other financial factors, a good credit score can put you in a position to attract the best deal on a home loan. If your score isn't where you want it to be, you may want to keep renting and take the time to improve it ahead of house hunting. Simple measures like correcting errors on your credit report and paying down debt can improve your credit score.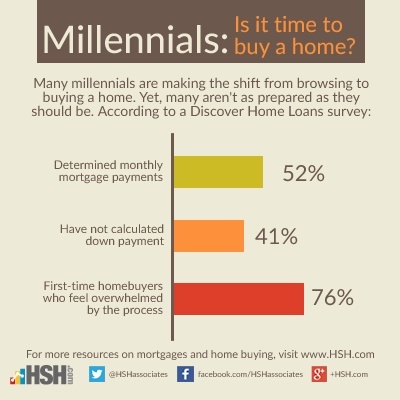 No. 3: Is that rented home really the best deal?
If your rent is in line with your monthly expenses and allows you to have money to spare for vacations and meals out, it's easy to assume you should just keep renting. HSH.com's Rent vs. Buy Calculator allows you to compare your rent to a mortgage scenario.
When you do decide to start house-hunting, it's important to meet with several potential lenders beforehand. You'll be ahead of the curve if you do. According to a recent Discover Home Loans poll, only 52 percent of prospective homebuyers had actually determined what their projected monthly mortgage payment would be. Speaking with a mortgage professional can provide an estimate of the home you can afford and you can be preapproved for a home loan.
No. 4: What's your definition of financial readiness?
Many young perspective homebuyers think they can't afford a home on their current salary. But actually, the same NAR survey mentioned above found the median income for new homebuyers in 2013 was $64,400, so it may just be a matter of budgeting differently or changing your spending habits. The Discover Home Loans survey also found the top expenses prospective homebuyers said they would cut in order to afford their monthly mortgage payments included eating meals out at restaurants (40 percent), vacations (39 percent) and credit card debt (38 percent). These are just a few great ways to start.
While home ownership may sometimes seem unattainable as a renter, a number of factors may point to it as a viable option -- today's low mortgage rates and reasonable home prices. And gaining a stronger understanding of your financial situation and personal financial goals will help to inform your choice between buying a home and renting one, as buying a home is after all among the biggest financial decisions you'll ever make.

TJ Freeborn is a mortgage professional at Discover Home Loans, where she confers with both Mortgage Bankers and consumers to understand current industry trends and consumer-facing lending issues, while working to craft strategic solutions that result in increased new business acquisition and customer retention efforts. With TJ's in-depth understanding of the mortgage industry and consumer behaviors in various interest rate cycles, she is able to connect consumer needs to Company-provided products, programs and services. Through this lens, TJ provides insight regarding common consumer questions concerning the current state of the mortgage environment, in an easy-to-understand manner.
More help from HSH.com
Home price recovery index: Which metros have improved the most, least?

Have home prices in your area fully recovered from the declines suffered during the Great Recession, or are they still struggling to make it back to the peak reached before the crisis?

Metro area definitions

Geographic definitions for the 50 metropolitan areas in "The salary you must earn to buy a home in 50 metros"

12 essential tax questions for homeowners

Knowing the answers to these 12 critical tax questions will help homeowners keep their tax bill as low as possible.