Refinancing has done a lot of good over the last few years, allowing millions of homeowners to lower monthly payments thanks to historically low mortgage rates and save underwater homes from foreclosure. Refinances have also helped mortgage lenders boost their business following the worst housing downturn since the Great Depression.
But with housing inventory already so low, some market analysts fear that homeowners who refinanced to a historically low mortgage rate will be "locked-in" to their homes once mortgage rates begin to rise, afraid to sell and incur higher costs.
Will your record-low mortgage rate from your recent refinance keep you from selling -- or buying the home of your dreams?
Record-low mortgage rates
When the Federal Reserved announced their plan to pressure mortgage rates lower on Nov. 25, 2008, rates for 30-year fixed-rate mortgages were well over 6 percent. Within a week, according to data from HSH.com, 30-year mortgage rates fell from 6.19 percent to 5.86 percent and haven't looked back since.
According to the Obama Administration's latest Housing Scorecard, nearly 28 million homeowners have refinanced since April 2009, with some homeowners refinancing to 30-year rates as low as 3.48 percent (rates for shorter term loans were even lower).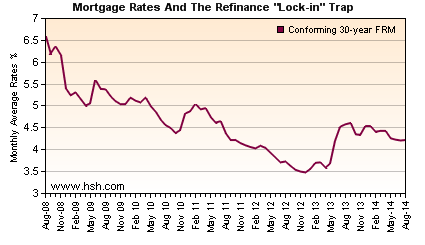 'Hell no we won't go!'
If you were one of the homeowners lucky enough to refinance your home to a rock-bottom mortgage rate, chances are you are not going to need to refinance again anytime soon. Furthermore, a recent study by the Institute for Housing Studies at DePaul University in Chicago says that, as mortgage rates rise, you're also probably less likely to sell your home anytime soon, either, putting further strain on the nation's housing market by constricting inventory.
The DePaul study found that a 10 percent increase in the number of households who wouldn't sell because of their low interest rate would lower housing turnover by a "dramatic" 29 percent.
Refinancing's impact on home sales
Earlier this summer at the National Association of Real Estate Editors conference in Houston, several real estate economists explained what might happen to home sellers once mortgage rates start to rise.
"If mortgage rates rise to 5 percent next year, the 'lock-in' effect on buyers (homeowners who wouldn't sell because of their low interest rates) would push down home sales by 3 percent if all other forces affecting the market were held equal," Stan Humphries, chief economist at Zillow.com in Seattle, said at the NAREE conference. "And if they [interest rates] rise to 6 percent, the lock-in effect would drive sales down by 11 percent."
Mark Fleming, chief economist at CoreLogic in Washington, D.C., said the "lock-in effect" will be a disincentive for owners to sell at any point in the future, shrinking inventories of homes for sale even more in years to come by keeping a huge volume of homes off the market.
"As mortgage rates get higher over the next few years, this is going to have a chilling impact on existing-home sales," said Humphries.
Rising mortgage rates are nothing to worry about
But not all market observers see the past refinance boom and the prospect of higher mortgage rates as something to worry about.
"Interest rates are not going to go up a whole lot in the foreseeable future," says Paul Anastos, president of Mortgage Master, a privately-owned mortgage lender in Walpole, Massachusetts. "When you consider the overall affordability of a new home, the increased cost of interest rates is not a large factor. Property taxes could have a much larger effect on affordability than rates at 5 percent."
Options for recent refinancers/future sellers
When it comes down to it, you may not have an option; you may have to sell your home regardless of your historically-low mortgage rate.
"Family changes and other personal situations usually dictate housing needs," says Keith Gumbinger, vice president of HSH.com. "If you have a growing family, you'll need a bigger house, and buying another home may be your only choice, even if you hate giving up your record low mortgage rate to do so. However, higher mortgage rates may dictate some of your choices, too, if you hope to keep things affordable. For someone who is downsizing or relocating to a less-expensive state it could be a wash, even if mortgage rates are more expensive. But for others, harder choices may need to be made, including a less-costly home farther away from your job, for example."
In order to preserve relative affordability, Gumbinger says you may need to think outside the 30-year-fixed box.
"You might need to consider an ARM, even if it's not your first choice," he says. "The lower initial interest rates offered on ARMs can help keep things financially manageable, at least for a while, but of course carry future risks."
"At the end of the day, it's all about affordability," says Anthony Hsieh, CEO of loanDepot, an independent mortgage lender in Foothill Ranch, California. "The qualifications today are very tight. If interest rates move up 75 basis points (0.75 percent), most homebuyers we see today could not qualify for the homes they want to buy," he says.
"Rates have been higher before, at times a lot higher, but people always seem to find ways to buy homes they love," adds Gumbinger.
Print page