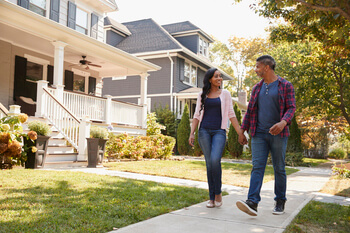 Shopping for a home can be frustrating when few appropriate houses are for sale. You've done your homework and confirmed you are prepared for the true cost of home ownership, obtained a mortgage loan preapproval, and know what neighborhood you want. However, you've been unable to finalize a home purchase agreement.
A skilled realtor may be able to help you locate and buy a home that's ripe for sale, but not yet posted on the brokers' multiple-listing service (MLS) or public real estate websites.
Ken Pozek, a realtor at Keller Williams Realty in Northville, Mich., says he uses five direct approaches to contact potential sellers:
1. Sending unsolicited letter to buy house
Mail a letter to homeowners in the area. The letter mentions you by name, tells the homeowners your home-shopping story and induces them to consider selling their home.
2. Phoning homeowners
Call those same homeowners, asking whether they or anyone they know in the neighborhood might be willing to sell you their home.
3. Approaching owner of home not for sale in person
Knocking on doors, house by house, in search of a willing seller of a house you might want to buy.
You're most likely to succeed if potential sellers perceive a financial advantage for themselves in the deal, such as a reduced sales commission or higher value than they'd thought their home was worth, Pozek says. Money typically is the driving factor, he notes.
4. Inquiring about "pocket listings"
Another strategy is for your Realtor to network with other agents to find upcoming for-sale homes that aren't yet on the market, says Gary Rogers, broker and owner of RE/MAX on the Charles in Waltham, Mass.
"Real estate is a cooperative business, so you want to beat the bushes with the agents who are most likely to be bringing properties on. If you have a good reputation with them, they're more likely to give you a heads up," he says.
In some cases, you might be able not only to see but also to buy a house before it's put into the MLS, reducing the chances of a bidding war between you and other buyers.
5. Exploring expired and pending house listings
The MLS also can be source of other hidden houses you might want to purchase.
One MLS category is expired listings, known as "expireds," in realty shorthand. These are homes that were for sale weeks, months or years ago, but never sold. Rogers says agents can find addresses and photographs of these houses in the MLS and contact the owners to find out whether they'd be willing to sell their house to you.
Another MLS category is pending sales, which are homes already under contract to another buyer. Sometimes, you can put a "back up offer" on a house and buy it if the other buyer hasn't approved a contingency, says Carl San Miguel, broker/owner of Highland Properties in Campbell, Calif.
Contingencies are conditions that must be met for the deal to close. Examples include financing, disclosures and a home inspection.
The contingency that's most likely to result in an opening for you to purchase a pending property is the sale of the other buyer's house, San Miguel says. That's because a buyer who hasn't found another buyer might not be in a position to waive that requirement.
"The seller is saying, 'We have (another buyer) who can close, so either waive your contingency or cancel your purchase.' The buyer then has to make a determination as to whether he can close. That puts some stress on that buyer if they don't have their property sold," he says.
If that buyer backs out, you scoot in.
Finding the right realtor to buy a home that's not for sale
Focus on real estate professionals who are active in the neighborhood where you want to live.
"If you have your heart set on one neighborhood, pick somebody who really works that neighborhood. Those people will have more seller leads and know the other agents in that area," Pozek says.
Once you've identified several agents, ask how many homes they've sold in the neighborhood and talk with him or her about neighborhood characteristics. That way, you'll be demonstrating your enthusiasm for the neighborhood and assessing the agent's knowledge of the area.
The bottom line is that a slim supply of for-sale houses doesn't necessarily mean you have to put your home-buying goals on hold. Find a realtor who's motivated to deploy the above tactics to help you buy a home, even one that's not technically for sale.
Related articles :
Print page