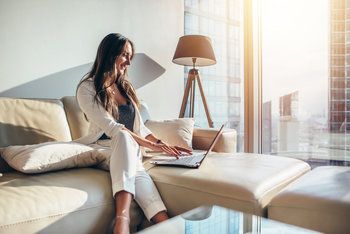 The latest Employment Situation report (May 3, 2019) shows that the average American income grew 3.2% year-over-year. But according to real estate site Trulia, home price increases easily outstripped gains in wages, eroding home affordability for teachers in their school districts.
See current mortgage rates and programs
Home affordability for teachers and first responders
One fifth of teachers work second jobs to make ends meet, according to Edweek.org. Yet, according to the National Council on Teacher Quality, teachers cannot afford to live near their schools in 80% of the 124 largest school districts. This is also an issue for emergency medical technicians (EMTs), and to a lesser extent, police and firefighters.
The study also found that in many markets it would take teachers more than ten years to save a 10% down payment on a home. And in the most expensive districts, it might require saving over 20 years to come up with a down payment on an average-priced home.
Half-priced homes for first responders and teachers
The Good Neighbor Next Door program, sponsored by Housing and Urban Development (HUD), can help. It offers these advantages to eligible participants who commit to living in the home for at least three years:
A 50% discount on a home's purchase price
A $100 down payment with FHA financing
The ability to finance closing costs
No more waiting ten years to save a down payment. And the built-in equity allows participants to potentially sell at a profit in a few years and use the money to buy their next home.
Related: Bargain Homes From the Federal Government
Mortgages for teachers and first responders
To finance a home under this program, teachers or first responders can use FHA, VA, or conventional (non-government) mortgages. FHA or VA financing allow buyers to get in with nothing or almost nothing down. Buyers can even use the FHA 203(k) program to buy and rehabilitate a fixer-upper property.
HUD requires buyers to take a first and second mortgage for the property. The second mortgage incurs no interest and has no payments. Its amount is half the property purchase price. After three years, if the buyers live in the home as their primary residence, HUD releases the second mortgage.
For example, if the purchase price is $300,000, the buyer could get in with $100 down, a first mortgage of $149,900 plus closing costs, and a second mortgage of $150,000.
With an FHA loan, assuming closing costs of $5,000 and an interest rate of 5.25% including mortgage insurance, the principal and interest payment for a $300,000 home would be just $856 a month. And in three years, assuming that the property appreciates at a rate of 4% per year, the buyer would owe $148,084 on a home worth $337,459.
That's $187,459 in net worth to the buyer in three years.
Related: State Homebuyer Assistance Programs
What homes are eligible for the Good Neighbor Next Door program?
Not all properties are eligible for the program. To get half priced homes for first responders or teachers, buyers must purchase a "HUD home." What is a HUD home? A foreclosure property backed by an FHA mortgage. HUD homes in designated revitalization areas are eligible for the program.
How do buyers find HUD homes?
Eligible buyers can find HUD homes listed online. HUD requires buyers to work with a licensed real estate agent or broker who is registered with HUD.
Related: How to Buy a HUD Home
What is the procedure to purchase HUD homes?
Buyers can inspect the property before submitting a bid, but may not enter a house without their broker/agent for any reason before closing. Brokers and/or agents must accompany home inspectors or appraisers when they are on the property.
If the buyer likes a property, he or she submits a bid through the agent or broker. The buyer must have a mortgage approval letter or prequalification letter from a lender before submitting a bid. And buyers need an earnest money deposit of 1% of the list price, but no less than $500 and no more than $2,000.
Note that properties are sold as-is, with no guarantees, so buyers must complete any necessary repairs or renovations on their own. That's where an FHA 203(k) mortgage can help, because it covers both the purchase price and the cost of renovations.
HUD pays closing costs of up to 3% of the purchase price, including a mortgage origination fee of up to 1%, plus the real estate broker's commission. But when evaluating bids, they look at the proceeds they will realize after paying out all of these fees, so bidders must keep in mind that cash buyers who won't have those expenses have an edge. Those who need financing may need to bid higher to be successful.
Once a buyer submits a winning bid, he or she can close on the purchase. To comply with the occupancy requirement, buyers must move in within 30, 90 or 180 days, depending on HUD's determination of the condition of the home and the level of repairs needed for habitation.
"There are no revitalization areas near my job!"
This issue is not uncommon in expensive markets, because FHA programs are not designed to finance very expensive homes. However, even if buyers can't find HUD homes near their police stations, firehouses, hospitals or schools, they can buy other homes, live there three years, and exit with a very nice chunk of home equity -- money they can tap by refinancing or selling.
Remember that $187,000 gain on the $300,000 home? That's a healthy down payment for a more expensive property closer to work. Very few programs allow essential neighborhood workers to boost their wealth by so much in so little time.
Find FHA mortgage programs and current rates
Print page