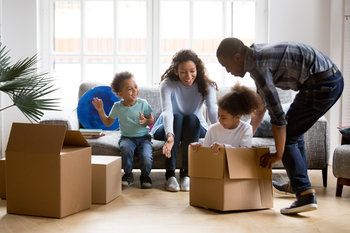 Did you know you can buy a home with just $100 down?
In many areas of the United States, thanks to special programs like the FHA 100 down, purchasing a home may be more affordable than you think.
The foreclosures out on the market today include not only homes that have been foreclosed on by individual banks, but also homes owned by government agencies. All three agencies (Fannie Mae, Freddie Mac and HUD) have introduced incentive programs to entice buyers to purchase homes they have foreclosed on. Some incentives are also directed at Realtors to encourage them to show these homes to potential buyers.
Incentive programs vary by agency and by state, and some are offered for a limited time period. All three agencies offer homes first to owner-occupants, and then offer them to investors. All homes are sold "as is".
Government home foreclosures for sale
Fannie Mae, Freddie Mac and HUD offer incentives for buyers, investors and agents on their foreclosed properties.
Fannie Mae HomePath program:
With Fannie Mae's HFA Preferred™ incentive program on HomePath properties, buyers can receive up to 3 percent in closing cost assistance toward the purchase of a HomePath® property when they finance the home with an HFA Preferred conventional loan through their state housing finance agency (HFA).
Some Fannie Mae homes have special financing through the HomePath mortgage, the HomeStyle renovation mortgage and the HomeStyle Energy program, which are home loans that require a down payment of just three percent.
Freddie Mac HomeSteps program:
Freddie Mac offers homebuyers an exclusive opportunity to purchase HomeSteps homes prior to competition from investors through the Freddie Mac First Look Iniative.
HUD's HUDhomestore program:
Varies by state but offers HUD home for sale for as little as $100 down on HUD home financed with an FHA loan
A repair allowance for up to $5,000 in escrowed repairs
Good Neighbor Next Door program offers 50 percent off the list price of homes in revitalization areas to law enforcement officers, pre-Kindergarten through 12th-grade teachers and firefighters/emergency medical technicians who commit to living in the property for 36 months.
What you should know about buying government homes
"There's a misconception out there that buying a government REO (real estate owned) is difficult," says Alicia Trevino, president and CEO of Century 21 Fine Homes and Estates in Mesquite, Texas.
"The biggest difference between the agencies is that Fannie Mae and Freddie Mac clean up their properties," says Trevino. "They are usually in good condition and they try to sell them at market price."
Freddie Mac's "Good Neighbor Practices" ensure that their properties are secured, free of trash, cleaned inside and out and have regular lawn maintenance.
Trevino says that HUD homes for sale, on the other hand, are sold "as-is, where-is", meaning they are typically in worse condition and lack appliances.
"HUD homes have often been vacant for as long as six months or more without utilities, so that will have caused wear-and-tear on the home even if it is not in bad shape otherwise," says Trevino. "On the other hand, these homes are usually priced below market. As long as the buyer is prepared for problems in the property, these can be a good deal."
Buying a government home doesn't have to be difficult. "It can be complicated, but all a buyer really needs is to work with a professional Realtor who has experience with REOs and understands the programs."
Stacey Vilardi, a Realtor with Coldwell Banker Residential Brokerage in East Brunswick, N.J., says REO buyers may be eager to take advantage of today's mortgage rates and discounted home prices, but she warns these are "buyer beware" purchases that require professional assistance.
"Buyers need to do their due diligence and work with a reputable settlement attorney to make sure the title is free and clear," says Vilardi.
"In addition, every buyer should have a home inspection, even on a property being sold 'as is'. It's important to know what you are getting into."
More advice on buying distressed real estate
The main reason for buying distressed property is the price. This can be especially appealing to first-time homebuyers. However, Trevino warns first-timers saying "REOs may not be a wise choice for first-time homebuyer."
In most cases, a foreclosure or short sale will be priced below market value because the sellers are in a hurry to complete a sale and because they don't want to spend the money to repair a property in order to bring a higher price.
"Sometimes young people without a lot of money want to buy a HUD home because they believe it is a bargain, but if you don't have a background in construction and some funds to pay for repairs, it may not be the best buy," says Trevino.
"An REO can be a good buy but you need to understand the risk. People who are looking for the deal of the century might be disappointed because the property may need too much work," Vilardi says.
Print page