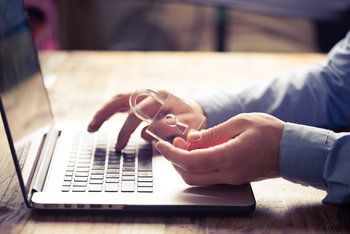 Updated by Craig Berry
When buying a new home, there are a number of factors to consider: property value, neighborhood crime statistics, public school system quality, taxes and more.
Unfortunately for homebuyers, another consideration can now be added to the list -- the risk of being a victim of identity theft during the process of buying a house.
How identity theft impacts homebuyers
In a recent survey, 70% of tablet owners and 53% of smartphone owners stated that they use public Wi-Fi hotspots. Because data sent through public Wi-Fi can easily be intercepted, many mobile device and laptop users are risking the security of their personal information, digital identity and money.
With 99% of homebuyers taking to the internet to begin their home search online, security experts warn buyers that cybercriminals are ready and waiting to take advantage.
Identity theft is one of the fastest growing crimes. While there's plenty of information available on how to protect ourselves, approximately 9 million people fall victim to identity theft every year.
Buyers are at risk when searching for homes online because spammers can set up fake websites to capture personal information. The sites are designed to look like legitimate bank or property listing websites and can unwittingly capture your personal financial information and infect your computer with viruses.
Buying a home typically requires an established credit history, and depending on the type of home loan for which you're applying, you typically need a minimum credit score of 620. Lenders rely heavily on information found on your credit report. It reveals how likely you are to repay the debt, and it gives creditors a snapshot of what you currently own.
Needless to say, identity theft and mortgage loans can be bad when paired together. Not to mention having lower credit scores almost always means higher mortgage rates.
Related: How private is your mortgage information?
4 Security tips for homebuyers
1. Keep your security software up-to-date. "You put yourself at extreme risk if you don't update your security software," says Linda Criddle, president of LookBothWays, an internet safety and security consulting firm in Seattle.
"If you go online with a brand-new computer that doesn't have any security software on it, it takes less than four minutes to have it riddled with malware," she says. "Everything on that computer is immediately compromised."
Dmitry Bestuzhev, head of the global research and analysis team of Kaspersky Lab, an antivirus and security software company in Quito, Ecuador says installing the latest software is essential because cybercriminals constantly update their methods.
While many homebuyers may already know that when accessing the Internet on their computer, they should have certain precautions in place, such as a firewall, regularly updated anti-virus, anti-spyware, and anti-phishing software; and strong passwords with upper- and lower-case letters, numerals, and symbols like #, &, and $.
It's also important to remember other devices where you access the internet. Don't forget to make sure your smart phone, iPad, other mobile devices, and portable flash drives containing personal data have security applications and encryption in case they're lost or stolen.
2. Place security freezes and fraud alerts. According to personal finance expert Clark Howard, credit freezes are one of the most effective tools against identity theft. You can deter identity thieves before they can cause damage by placing a security freeze on your credit reports at all three major credit bureaus.
Freezing your credit will prevent anyone from looking at your credit report except for the companies that already have a financial relationship with you, certain government agencies, and other exempt entities. To sign up for one, go to each bureau's home page and look for the security-freeze link.
If you haven't placed a security freeze and you spot a sign of identity theft, put an initial fraud alert on your credit report immediately. That's fast, free, and stays in place for 90 days. It also gives you additional legal protection. After that, request a security freeze.
Your lender should see a fraud alert on your credit file and call you to find out whether the application is legitimate.
Filing a fraud alert is appropriate anytime your identity information is compromised, such as when your wallet, cell phone, or computer is lost or stolen, or if your home or car is broken into. You should also do it after more-subtle warning signs, such as finding unauthorized charges on your credit-card statement or failing to receive expected bills or mail.
3. Use a secure connection. With coffee shops, hotels, shopping malls, airports and many other locations offering their customers free access to public Wi-Fi, it's a convenient way to check your emails, catch up on social networking or surf the web when you're out and about.
It's important to remember, however, cybercriminals often spy on public Wi-Fi networks and intercept data that is transferred across the link. In this way, the identity thief can access users' banking credentials, account passwords and other valuable information.
Experts agree that you should never look at financially sensitive information on a public Wi-Fi connection.
Never enter information on a site unless it has an "https" address -- rather than an "http" -- which indicates a secure connection.
"Your mobile network is safe," says Criddle, "but some people decide to use public Wi-Fi instead to avoid exceeding their data plan. It's better to pay a data fee then to experience identity theft."
From a security standpoint, you're better off using your smart phone than a laptop or tablet, she says.
4. Opt-out of unsolicited credit card offers. Another way that identity theft happens is when thieves swipe preapproved credit offers from your mailbox to open an account. They can then watch your mailbox to grab the new card you didn't even know was on its way.
You can stop credit bureaus from selling your name to lenders by going to www.optoutprescreen.com or calling 888-567-8688. Opting out should stop most offers, and it's free.
Other credit offers might come from affiliates of financial services companies that already have a business relationship with you. This is legal but you can also stop this from happening.
Pay attention to the annual privacy rights notices you get from banks, brokers, and other financial companies and exercising your right under federal law to prevent them from "sharing" (translation: "selling") your information with affiliates and others. Do the same with retailers and websites.
Identity theft prevention
Buying a house can be tough enough without identity thieves making it worse. Having a better understanding of how to prevent identity theft can make all the difference when applying for a mortgage.
Fortunately, you don't need to sign up for expensive services offered by credit-reporting bureaus and other companies to keep from becoming a victim of identity theft.
Remember to check your credit report at least once or twice a year for fraudulent activity. Signing up for credit report monitoring is a great idea, too. This way, anytime anyone uses your Social Security number to open an account, you'll receive an alert from the credit bureaus.
While identity theft awareness and credit monitoring is always a wise choice, it's especially important if you're making a major transition, such as buying a new home.
Related: How Safe Is Your Information With Your Mortgage Lender?
Print page