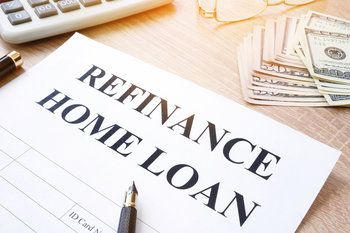 Updated by Keith Gumbinger
With the economic climate difficult and inflation not much of a threat, mortgage rates continue to hold near or at record lows.
Lower mortgage rates are always good news if you're a homeowner, or homeowner to-be. Moreover, lower rates can be great for homeowners who want to tap into their home's equity via a cash-out refinance.
What is a cash-out refinance?
Unlike a "rate-and-term" refinance, where the homeowner's goal is generally to get a lower interest rate and monthly payment, a cash-out refinance sees a homeowner replace an existing mortgage with a new loan that has a larger loan amount. The difference between what remains on the existing loan and the amount of the new mortgage is the "cash-out" component. As the homeowner's goal here is tapping equity in the home, the interest rate and payment on the new loan may or may not be lower than the original loan.
Cash out refinance vs home equity loan
A cash-out refinance is different from a home equity loan or line of credit.
In a cash-out refinance, you refinance an existing mortgage loan with an even larger loan. You can take the difference between the old and new loans and spend the extra money however you see fit.
By contrast, a home equity loan is a separate loan that rests on top of your mortgage loan. It provides a lump-sum of cash, and then you make payments over a fixed term. These payments are in addition to your regular monthly mortgage payment.
A home equity line of credit (HELOC) works more like a credit card. Home equity lines allow homeowners to borrow and repay funds over time.
Most home equity loan programs let you borrow up to 80 percent of your home's value. Some lenders allow you to go up to 85 percent loan-to-value. This is also known as your total loan-to-value (TLTV). This is the combination of your first and second liens as a percentage of the value of the property.
Depending on the bank or mortgage lender, by using a home equity loan or line of credit you may be able to leverage slightly more money from your property as opposed to a cash-out refinance. However, in general, a cash-out refinance may give you a better interest rate and longer available loan terms than a home equity loan. Since it's one loan, a cash-out refinance means you also only have a single monthly mortgage payment to make.
How much cash can I get with a cash-out refinance?
While the percentage can vary according to the type of refinance program, lenders typically allow you go as high as 80 percent of your home's value for your cash-out refinance. The amount of equity you have and will be able to access when doing a cash-out refinance is determined by the appraised value of your home and the remaining balance of your existing mortgage. And, of course, you have to qualify to borrow the money, so the amount you can get may also be limited by your income and existing debt load.
With a conventional loan you can go up to 80% loan-to-value for a cash-out refinance. After a change in August 2019, the Federal Housing Administration (FHA) also only allows you a maximum cash-out refinance LTV of 80%, (down from 85%) too. LTV requirements change over time, and lenders making loans in the non-qualified mortgage (non-QM) portion of the market may have programs that allow for higher LTVs.
For example, if your home's value is $400,000 and you owe $300,000 on your first mortgage, you have $100,000 of home equity.
However, you won't be able to borrow 100% of your home's value. Using this scenario, if you were trying to maximize the amount of cash you could receive via a cash-out refinance, you could likely opt for a conventional loan if your credit is great or an FHA-backed loan if you're further down the credit scale.
Using the same numbers, assuming you don't exceed your area's FHA mortgage limits, you'd have access to $40,000 in equity.
Here's a more detailed example of this cash-out refinance scenario at a loan-to-value of 80 percent:
Before Cash-Out Refinance
$400,000 = appraised value of home
$300,000 = current mortgage balance
$100,000 = existing home equity
After Cash-Out Refinance
$400,000 = appraised value of home
$320,000 = new mortgage balance
$80,000 = updated home equity
$20,000 = cash available to you
Should you do a cash-out refinance?
Cash-out refinances aren't right for everyone or every situation.
For example, let's say you only need $5,000 or $10,000 cash. If it costs you $5,000 in closing costs just to get access this amount of cash, a cash-out refinance doesn't make financial sense.
Further, if the new mortgage comes with a significantly higher interest rate than what you currently have, and you're planning to sell your home within the next year or so, a cash-out refinance may not work well for you.
In the best situation, you may be able to do a cash-out refinance and lower your interest rate, too. This can be a win-win for many homeowners as you're able to tap into your home's equity and get a lower mortgage rate at the same time.
In fact, and depending on what's happened to the value of your home, how much progress you've made in paying down your existing mortgage, the size of the interest rate break from your old loan to the new one and how much equity you are looking to use, it's even technically possible to do a cash-out refinance, get a fair amount of cash to utilize and still have nearly the same monthly payment as if you didn't do the cash-out refinance in the first place.
Why a cash-out refi?
Homeowners may choose a cash-out refinance for a variety of reasons. For instance, cash-out refinances are popular for paying off high interest rate debt.
For example, if you have credit card debt with a higher, non-tax-deductible interest rate, a cash-out refinance could make sense to pay off the debt this way. Just remember that you'll be converting unsecured debt to a loan that uses your home as collateral.
However, after the Tax Cuts and Jobs Act of 2017, the interest on draws of equity not used to "buy, build or substantially improve" your home are no longer tax-deductible. Tax break or not, the lower interest rate from a cash-out refinance compared to other forms of debt may still be able to save you money or at least improve your monthly cash flow.
Other times where a cash-out refinance can be useful include:
Home improvements or renovations
Retiring an existing home equity loan or line of credit
Investment purposes
Setting up a 6-month "emergency" fund
Vacation or travel
Educational expenses
"Buying out" a spouse or partner
Large purchases such as automobiles, RVs, etc.
Cash-out refinance loans can be ideal for homeowners seeking to tap into their home's equity without selling their home. With today's mortgage rates still near historically low levels and home values on the rise nationwide, now could be a good time to access the equity in your home via a cash-out refinance.
Related: What's the best way to pay for my refinance?
Print page