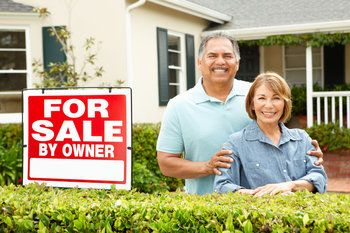 Updated by Richard Barrington
Selling a home may be one of the biggest financial transactions of your life, and one thing that can come as a shock is how much the real estate agent's commission takes out of your sales proceeds. Selling your home without a realtor is an option that can save you thousands of dollars, but it could also turn out to be a lesson in why real estate agents earn such high commissions.
Before you decide on selling your own home without a realtor, it is important to know both the risks and rewards.
How to sell your house without a realtor
Selling a home without help from a real estate professional involves more than just sticking a "for sale" sign on your lawn. Before you even get to that point, assess the dynamics of your local real estate market. This should give you a feel for what comparable properties have sold for recently, and how long it took them to sell. This background should be the basis of the pricing strategy for your house. If you're fortunate to be in a hot market, you may have prospective buyers trying to buy your home before it's on the market.
Next, decide how to market your house. Try to look at it objectively so you can spot the drawbacks that may turn off prospective buyers. It may be well worth investing the time and money to freshen up some paint, make minor repairs or upgrade some outdated equipment before you put the house on the market.
When your house is ready to go on the market, take a large number of high-quality pictures showing the entire property, inside and out. If you are not a good photographer, it may be worthwhile to hire one to take attractive photos. Poorly-lit or out-of-focus photographs can make your property look dingy or out-of-date to people viewing photos online.
Finally, try a website such as FSBO.com or ForSalebyOwner.com that specializes in walking homeowners through the process of selling their homes without a real estate agent. This includes putting together a polished presentation of information and photos and getting your home on the Multiple Listing Service which is used by real estate professionals to identify properties for sale.
Benefits of selling your own home
So, why go thorough all this? Well, some of this effort entails things you would have to do anyway if you were working with a real estate agent. However, by taking the lead yourself you could save paying a hefty real estate commission.
The standard commission for selling a home is 6 percent, which comes out of the sale proceeds and is split between the buyer's and seller's agents. Best case, if a buyer finds you directly, you could save the full 6 percent. Otherwise, you may have to pay the buyer's agent but save 3 percent by not having a seller's agent.
According to the National Association of Realtors (NAR) 2018 Profile of Home Buyers and Sellers, the median sales price of a property sold by the owner without an agent was $200,000. This means that savings from commissions could total $12,000 if you and the buyer find each other directly, or $6,000 if the buyer uses an agent.
Jerry McMillan, a retiree who sold his home in Sparks, NV, told HSH.com that the process of using a for-sale-by-owner service worked smoothly for him. "I had an offer on it in 11 days," he reported.
In McMillan's case, he only saved on the seller's commission because the buyer had an agent. However, this proved to have a silver lining. "I was really worried about the forms and everything," he told HSH.com. "But the buyer's agent pretty much did a lot of the work. That was very fortunate for me." In this case, the seller got a bit of the best of both worlds - some savings on commissions, and some benefit from having a real estate professional involved.
Drawbacks to selling your own home
According to the NAR, just 7 percent of home sellers have chosen to work without an agent in the past two years. This is the lowest level since NAR started tracking this statistic in 1981. Given the potential savings at stake, why do relatively few home sellers choose to go it alone?
First of all, it is a process involving legal contracts and that can have complications. "If you don't understand the contract you're signing you could end up with tax issues and extra seller charges," explained Glenn Bill, a Realtor with Century 21 in Indianapolis.
Besides potential complications, a trade-off you are making is that while you are potentially saving money you are doing so at the cost of your time. From researching what to list the house for to coordinating appointments to reviewing offers, selling a home is time-intensive. If you don't already have expertise in the field, you have to ask yourself whether it is worth coming up to speed on a process you aren't likely to have to go through very often.
Finally, there is the financial side to consider. Saving on an agent's commission isn't worthwhile if you don't get full value for your home. The NAR reports that the median price of $200,000 for homes sold by their owners was significantly less than the median of $264,900 for homes sold with the assistance of an agent. That doesn't necessarily mean that agents got $64,900 more for comparable properties than their owners could have on their own, but it does suggest that higher-value properties may be trickier to sell and therefore their owners are more likely to work with an agent.
Selling your own home checklist
The following checklist can help you decide whether to try a "for sale by owner" approach or go the traditional route with a realtor.
Do you feel comfortable enough with your business skills to handle this type of transaction on your own, including determining whether or not a buyer is well-qualified? It may be especially helpful if you have financial or marketing experience.
Are you prepared to spend the time studying your local real estate market so you can come up with a sales strategy and price your home right? This can entail reviewing the details of recent transactions and possibly visiting other properties that are for sale to see how yours compares.
Do you know people who may be interested in buying your house? If you and a buyer can find each other directly, it greatly simplifies the process and makes the prospect of working without an agent much more appealing.
Are you prepared to coordinate inquiries and viewing requests from buyers and buyer's agents? One of the functions of a seller's agent is to screen inquiries and coordinate scheduling; without this help, expect to spend a lot of time fielding phone calls.
Do you feel confident taking the lead in negotiations? Unless you are used to high-stakes financial negotiations, having an agent to act as a buffer between you and a prospective buyer may be very valuable in helping you formulate your response to an offer.
Since selling a home may be one of the biggest financial transactions of your life, the potential savings on an agent's commission are significant, but it also means there is potential for a costly mistake if you work without professional assistance.
Print page