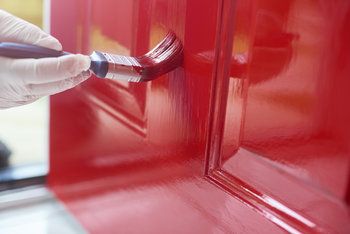 Of course, you can sell your home "as is," even if it needs work. But you'll sacrifice on your price or it may take a long time to sell. Here's what to fix before selling if you want a good price, and you want it fast.
Curb appeal is crucial
Buyers often make their decision about your home before they even exit their cars. An inviting, well-kept exterior piques their interest. On the other hand, a neglected appearance can warn them away. So that first impression should determine what to fix before selling your house.
Drive up yourself, slowly, perhaps with a friend to offer a second set of eyes. What do you see?
Is the mailbox straight? Clean? Not dented?
Is the lawn edged neatly?
Are the shrubs trimmed?
Does the grass have bare spots? Dog waste? Weeds?
How is the front door?
What do the gutters look like?
Could the entry benefit from some flower pots? Or even a seating area with an outdoor rug, table and chairs?
Remodeling Magazine's Cost vs Value Report nearly always ranks replacing an entry door as the improvement that provides the biggest return on investment. And even the high-end ones don't cost much more than $1,000.
Start with the easy stuff
When you fix up your home before selling, start with the cheap and the easy. Your first move should be removing clutter and giving the place a deep cleaning. Make it smell nicer and clean. Not like candles and incense, just healthy clean air.
There is a reason that upscale hotel rooms look so serene and restful. They aren't choked with personal possessions. So limit your decor items and select those that work together. Some experts recommend no more than one item per surface. If you can't bear to part with your bowling trophies or birdhouse collection, put it in storage to await its new home.
Painting pointers
For a quick refresh, paint is the obvious choice. As long as you (or the people you hire) prep meticulously. Nothing looks more slapdash than nicks, gouges, window sashes and hinges just painted over.
If you can't paint the entire place, focus on the areas that show the most wear and dirt -- stair risers, trim, doors. And ceilings if there are old water stains.
Keep in mind that fresh paint can make buyers wonder if you're trying to cover up something. You can mitigate this with low-odor volatile organic compound (VOC) paint. And give the house a few days to air put before showing it.
Related: Home Equity Line of Credit for Home Improvements
Sell your home fast: small repairs you can do yourself
You know you should fix up your home before selling. Ugh. But it's probably easier than you think. As you did when assessing your house's curb appeal, take a fresh look at the interior.
Open your doors. Do they stick or squeak? A screwdriver and some oil can probably take care of it. Screens with holes can and should be replaced also.
And those little niggling annoyances that you have grown used to? The drawers that don't close, the handles that "work" only if you push them a certain way? The chipped switch-plates? Buyers don't want to see them.
Most will assume that if there is obvious neglect, there are other problems not as visible. And keep in mind the fact that many buyers will also have been to new developments and exposed to the latest trends. If your home suffers in comparison, you'll not get the price you want.
While you needn't do an entire gut job, incorporating a few new touches can do the trick. Replacing fixtures, doorknobs and lighting doesn't have to be expensive. But it can really help a dated home or one with generic-looking, builder-quality finishes.
New products in hardware stores can cover ugly Formica, create fancy backsplashes and add panache to cabinetry.
Related: Selling Your Own Home (Pros and Cons)
Kitchen and bath: fast fixes
Kitchens and baths can make or break a home sale. And they are also the most expensive rooms to renovate. But you don't need a complete gut job to compete with other sellers.
Check out a few home sites online and see what's trending now. If everyone wants light grey kitchens, paint the cabinets light grey. Or replace old brown linoleum with a grey-toned laminate or easy-to-install floor tile. And new fixtures and hardware don't have to be expensive. The newest looks come in all price points. Swapping outdated small items for fresh new ones is a fast way to upgrade.
Spruce up a bathroom with a new shower curtain, towels and bathmats. Maybe new wastebaskets and soap dishes.
Sell your home fast by adding value
It's not always easy to gauge the value added by minor improvements when selling a home. But a higher sales price isn't the only benefit -- if you can sell in 60 days instead of 260, that's about six fewer mortgage payments to make. And a lot fewer people tromping through your house.
Related: Selling your home? Make sure to address these homebuyer turnoffs
Print page