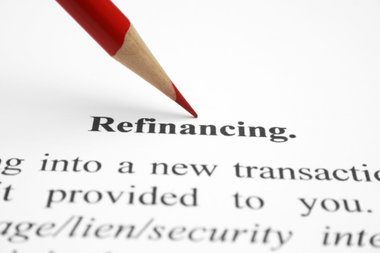 Evolving regulations and occasional horror stories of traumatic mortgage transactions add confusion to the perception of refinancing.
Misconceptions about refinancing are not surprising when you consider that most people experience a mortgage transaction only four or five times in their lifetime, says Faramarz Moeen-Ziai, senior vice president of national sales and production for Commerce Home Mortgage in San Ramon, California.
"The gap between one mortgage application and another is so wide that it's natural for people to find the process confusing, especially if the last time someone applied for a loan was in 2006," he says. "Today's mortgage market is completely different."
It's a natural instinct to avoid what you don't understand, but Rick Roque, managing director of retail for Michigan Mutual in Boston, says fear keeps too many people from benefiting from a refinance. Consulting a lender is free and can lead to a satisfying financial conclusion.
Top 10 refinancing misconceptions
No. 1: Most people can't qualify for a mortgage refinance
"A lot of people have what I call 'low financial self-esteem' so they opt out of refinancing without even finding out if they can qualify," says Roque. "People think their credit is worse than it is. They don't realize that even if they do have challenged credit a lender can help them."
No. 2: Getting one mortgage quote is enough
Roque says consumers often don't realize how valuable it can be to compare loan options from more than one type of lender such as a local bank, an online lender and a mortgage banker. "It's important to shop around for good service, not just to compare rates," says Moeen-Ziai. "Call different places and ask questions to see if you can get help understanding your loan options."
No. 3: An appraisal won't impact your refinance rate
An appraisal is a primary driver of your interest rate because it determines your loan-to-value, says Moeen-Ziai. A higher loan-to-value, such as when you borrow 80 percent or more of your home value, requires private mortgage insurance (PMI) and a slightly higher interest rate. "It's important to work with a lender who hires a local appraiser who can give you an accurate appraisal," says Moeen-Ziai. "But every appraisal has a subjective element, so it's a good idea to clean up your home before an appraisal so it doesn't appear that you have any deferred maintenance."
No. 4: You can take out as much cash as you want from your home equity
You may not have as much access to your home equity as you think, says Moeen-Ziai. You can borrow up to 80 percent with a cash-out refinance as long as you have a conforming loan balance of $510,400 or less. "If you live in an area with higher housing costs that have 'high-balance conforming loans' up to $765,600, you're limited to borrowing 60 percent of your home value for a cash-out refinance," says Moeen-Ziai. If you don't plan to take out cash, you can refinance up to 95 percent of your home value with some lenders, but you will have to pay PMI whenever you borrow more than 80 percent of your home value.
No. 5: Advertised mortgage rates are what most people pay
"There's a gap between the published interest rates and what most people pay," says Moeen-Ziai. "The advertised rates are usually for an optimal purchase loan rather than a refinance, and they may reflect the rate an owner-occupant would get for a single-family home with a high credit score and a 30 percent down payment." Contacting lenders directly allows you to compare realistic mortgage rates.
No. 6: Refinancing to a slightly lower interest rate isn't worth your time
"Most people are so busy that they don't want to take the time to look into refinancing and they don't know that interest rates are still low," says Roque. "They don't realize that they are missing out on saving a lot of money. Even $50 or $100 per month is a lot when you add it up over 30 years." Saving $100 per month comes to $36,000 on a 30-year home loan.
No. 7: Staying current on your mortgage means you can qualify for a new loan
Borrowers sometimes think an approval should be simple because they make their mortgage payments on time and they have a higher income than they did when they took out their current mortgage, says Moeen-Ziai. However, all borrowers need to document their credit and income and qualify for a loan based on current guidelines, not just on their mortgage payment history.
No. 8: You can't improve your credit score fast enough to refinance before rates rise
While a long history of missed payments and overuse of credit cards can't be fixed fast, Moeen-Ziai says most lenders can do a "rapid rescore" to correct an issue that has temporarily driven down your credit score. For instance, a recent borrower was able to increase his credit score by 40 points simply by having his employer pay the balance on the company American Express card that appeared on his credit report.
No. 9: A no-cost refinance is free
"Borrowers often don't understand that you always pay for a no-cost refinance in some way, typically with a slightly higher interest rate," says Moeen-Ziai. "You should always shop around to compare fees and to find a lender who can calculate whether it makes sense to pay money upfront for a lower interest rate or to pay a higher mortgage rate for the life of your loan." HSH.com's Tri-Refi calculator can help you learn if a no-cost refinance is best for your situation.
No. 10: Paying cash to refinance is always a bad idea
Moeen-Ziai says that borrowers can often get a lower interest rate if they opt to pay down their principal balance a little when refinancing. This is called a cash-in refinance. For example, if your loan-to-value could drop below 80 percent with a payment of $3,000, the saving on your interest rate and PMI costs could quickly recoup your investment. Plus, you're paying yourself when you reduce your loan balance, he says.
Print page