Se Habla Espanol


Residential and
Small Business Lending

Call us at


1-888-843-6820
---
The Wall Street Journal Reports We Have The Most Competitive 30 YR Rates In The U.S.A.!
America's Leader In Low-Cost Lending!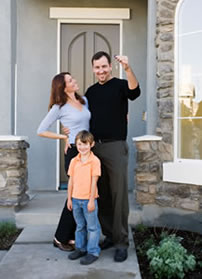 Financial services associated with home ownership are the single largest financial investment many people make in a lifetime. We strive to ensure that our clients are completely satisfied with our services.
(HARP) Home Affordable Refinance Program
The 2012 (HARP) refinance program offers many advantages, if you're not behind on your mortgage payments but have been unable to get traditional refinancing because the value of your home has declined. The new HARP mortgage program specifically has no loan-to-value restrictions.Your current mortgage must have a securitization date prior to June 1, 2009. Please contact us and a Loan Officer will offer you a few (HARP) re-fi options available to you in your area.
Our Friend For Life Program
With our "Friend for Life " program, if you choose to re-finance your current property to take advantage of a lower interest rate, or just want to change your loan program, all of your closing costs will be paid for by American United Mortgage Corporation. Subject to market conditions and loan amount. *
---
Current Mortgage Rates
Program

Rate

Points

APR

Max Loan

Fees in APR

30 YEAR FIXED
3.625%
0.00
3.889%
$417,000
Call
20 YEAR FIXED
3.500%
0.00
3.796%
$417,000
Call
15 YEAR FIXED
2.875%
0.00
2.989%
$417,000
Call
10 YEAR FIXED
2.625%
0.00
2.864%
$417,000
Call
30 YEAR.....NO CLOSING COST
3.875%
0.00
3.875%
$417,000
Call
15 YEAR.....NO CLOSING COST
3.000%
0.00
3.000%
$417,000
Call
30 YEAR (HARP) 125% LTV
3.500%
0.00
3.709%
$417,000
Call
30 YEAR FHA and VA FIXED
3.375%
0.00
3.597%
$417,000
Call
15 YEAR FHA and VA FIXED
2.875%
0.00
3.075%
$417,000
Call

Rates as of 10/09/2015 and are subject to change.

Each quote and pertinent information is based on a mortgage to purchase or a rate-term refinance (cash out re-finances may incur extra closing costs and a higher rate) an owner-occupied, one-unit, single family dwelling for a loan amount of $165,000 to $417,000 to a consumer with average income, a credit guide score of 720-850 and no other relationship to the institution offering the loan. The loan is based on a 20% down payment and a 30 day lock.
[The information on this page is updated directly by the lender using HSH's LiveEdit service. Please contact the lender with any questions or comments about the information posted here.]
Up To 270 Day Locks Available On All Purchase Loans
Closings As Soon As 15 Days From Time Of Application
Over 60 Investor Programs Available
No Closing Cost Option Available On Every Loan Program
Unchallenged Rate Float Down - If Interest Rates Drop, We Will Automatically Lower Your Rate
American United Mortgage Corporation's Staff Members Are Committed
To Ensure You Are Our "Friend For Life!"
We Currently Lend In The Following States: Alaska, Colorado, Florida, Georgia, Maryland, Tennessee and Virginia.
---
Want More Information From American United Mortgage Corporation?
---
1010 Huntcliff #1350
Atlanta, GA 30350
Phone: 1-888-843-6820
Fax: 770-518-2439
NMLS# 157118 (www.nmlsconsumeraccess.org)
Florida Licensee #MBR660
Colorado License "Registered"
Georgia Residential Mortgage Licensee #17975
Tennessee Residential Mortgage Licensee #4247
Licensed By The Virginia State Corporations Commission Licensee# MC-4443
Maryland Licensee #16558
Alaska - Exempt

*Rates provided thru our Friend for Life program are generally .375%-.500% higher than our advertised rates. Our advertised rates are PAR rates or slightly below PAR rates. Loan amounts under 250,000 may incur higher no closing cost rates. All loans must meet lender approval.