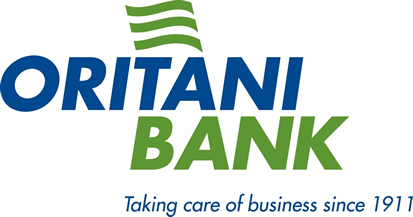 Oritani Bank has been serving New Jersey since 1911. We have 23 branches located in Bergen, Passaic, and Hudson Counties. Oritani is a community oriented bank with over $2.5 Billion in assets and has received the highest ratings by bank rating agencies. Oritani Bank is a well established, rock-solid bank with sound banking products that meets the needs for both consumer and small to mid-size businesses. We are strong, progressive, approachable and are committed to providing customers with quality service and personal attention.

As a community based institution, Oritani has strong roots in our communities. Our employees and directors live and work in the areas we service and we give support to our communities. We have provided donations and volunteer support to the Bergen and Paterson Chapters of the Habitat for Humanity, the Center for Food Action, the Interreligious Fellowship and many other local charitable organizations. Our employees are proud to help make a difference in the communities we serve.

Current Mortgage Rates
Program
Rate
Points
APR
Fees In
APR
 10 year Fixed
3.125%
0
3.230%
491.50
15 year Fixed
3.125%
0
3.197%
491.50
20 year Fixed
3.50%
0
3.560%
491.50
25 year Fixed
3.75%
0
3.802%
491.50
30 year Fixed
3.875%
0
3.922%
491.50
1 Year ARM
4.500%
1
3.230%
491.50
3-1 Year ARM
2.75%
0
3.560%
491.50
2.250%
5-1 Year ARM
3.00%
0
3.520%
491.50
7-1 Year ARM
3.25%
0
3.552%
491.50
10-1 Year ARM
3.625%
0
3.758%
491.50
Rates as of 09/05/2017 and are subject to change

We offer 1st-time homebuyer mortgages, in addition to our fixed or adjustable rate mortgages. Special program for 1-4 family owner occupied homes within our lending area. We also finance investment properties and second homes. Call for details today! 1-888-674-8264.
[The information on this page is updated directly by the lender using HSH's LiveEdit service. Please contact the lender with any questions or comments about the information posted here.]

Home Equity Line Of Credit
| Program | Interest Rate | APR | TERM | Additional Information | Monthly Payment Per $1,000 |
| --- | --- | --- | --- | --- | --- |
| Home Equity Line of Credit | 4.25% | N/A | 240 | 1st Lien - Prime + 0% | Min Monthly Prin Install $ |
| Home Equity Line of Credit | 4.25% | N/A | 240 | 2nd Lien - Prime + 1/2% |   |
A Home Equity Credit Line Puts Your Home to Work for You
A Home Equity Credit Line is a revolving line of credit that lets you utilize the equity you've built in your home. It will provide you with a cash reserve to draw on whenever you need it-for any purpose. You can write a check to meet educational expenses, pay medical bills, buy a new car or boat, make home improvements or consolidate bills.

Your Personal Line of Credit up to $750,000
Credit lines are available on one- to four-family, residences up to $750,000. They are based on your credit and the equity in your home. Once your line of credit has been established, you simply write checks for $500 or more, just as if it were a regular checking account. You will pay interest only on the money that you actually have in use- If you don't have any money in use, there is no charge. As payments are made, the funds become available for your use again.

Convenient, Confidential, & Economical
When you need funds, you simply write an Equity Line Check! No need to visit or even call the bank. The annual percentage rate will be variable and based on the prime rate, plus or minus a margin, as reported in the Wall Street Journal (WSJ) on the first business day of the month. The maximum annual percentage rate that can apply is 14%. Your monthly payment will be 1/240 of the unpaid balance, plus interest; or $100 plus interest, whichever is greater. Payments are based on an approximate 20 year amortization.

Fixed Rate Home Equity Loan
Program
Interest
Rate
APR
TERM
Monthly Payment
Per $1,000
5 Year Fixed
3.375%
3.475%
60
$18.36
10 Year Fixed
3.500%
3.553%
120
$10.12
15 Year Fixed
3.750%
3.789%
180
$7.52
20 Year Fixed
4.250%
4.283%
240
$6.46
 30 Year Fixed
4.750%
4.779%
360
$5.52
A Fixed Rate, Fixed Term Home Equity Loan that Puts Your Home to Work for You.
If you want a fixed rate, fixed term, fixed payment loan, this is the Equity Loan for you. It will let you use the equity you've built in your home for college tuition, a new car or boat, home improvements, bill consolidation or for any worthwhile purpose.

Peace Of Mind
Choose a term that's right for you, and your interest rate will remain fixed for the life of your loan, not subject to the ups and downs of the market place. Loans are available on one- to four- family residences, you may qualify for a loan up to $750,000 based on your credit and the equity in your home.

Want More Info From Oritani Bank?

Oritani Bank
370 Pascack Road, PO Box 1329
Washington Township, NJ 07676-1329
Phone: 201-664-5400
Toll Free: 1-888-674-8264
Fax: 201-497-1223
Visit our site at: www.oritani.com